The Exodus of The Best and Brightest Young Russians And Their Economical Impact
The Russian economy today stands on the precipice of a crisis. A crisis originated from the brain drain from Russia that has been brewing since the collapse of the Soviet Union and has accelerated drastically since February 2022.
It is a demographic crisis, the true silent killer of multiple empires across history.
The meager birth rates would cause problems by themselves (as we explained in this article about dying nations with declining populations), but that would take decades.
However, with almost 1 million young, qualified Russian professionals who already left the country in a matter of months, the massive brain drain that lurked in the shadows, now strikes at the heart of the nation's prosperity.
Russia's decision to invade Ukraine has led to a mass exodus of skilled workers, either because they disagree with politics or because they want to continue their careers with multinational companies that have left Russia.
It also affects the richest parts of the country, like Moscow and Saint Petersburg. This is an especially nefarious effect since Russia is one of the most unequal countries on earth and these cities hold an enormous economic importance.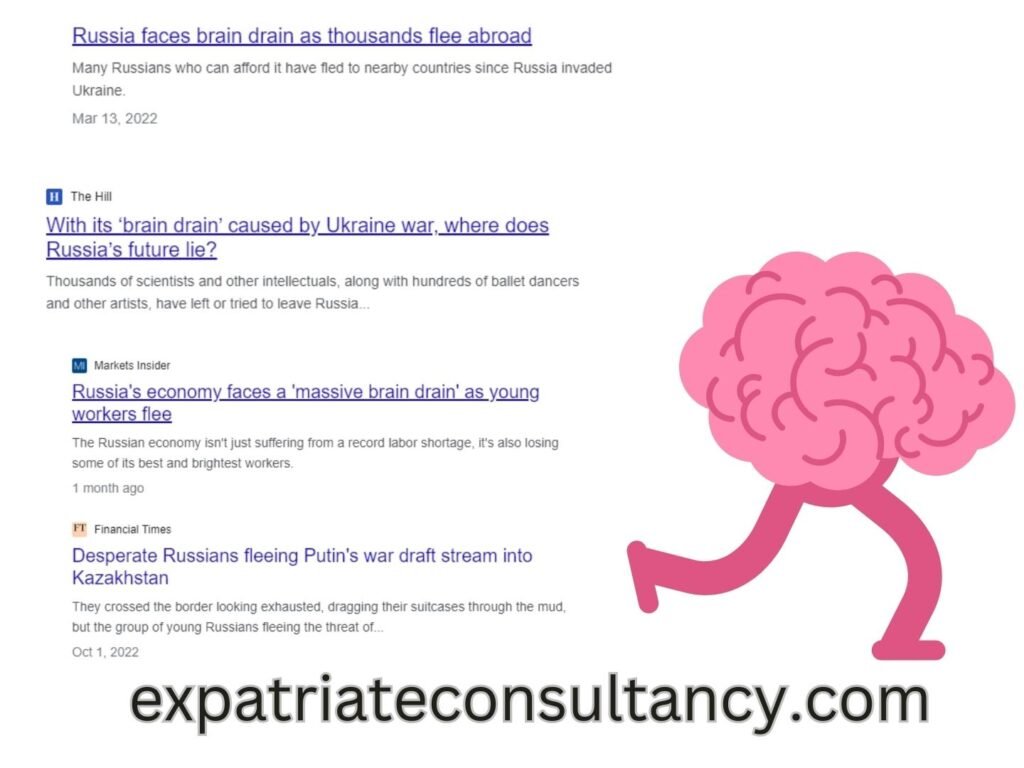 This brain drain, combined with Russia's existing demographic challenges, could lead to a critical situation where Russia could reach the point of no return.
The government is alarmed and both public and private agents are resorting to desperate measures in Russia:
In the next few paragraphs, you will see how the departure of some of the best and brightest young people in Russia is causing already visible economic consequences.
Visit Expat Life: What They Don't Tell You on Twitter for more hot takes, and check our Youtube Channel.
The Brain Drain Phenomenon: A Silent Exodus
The brain drain phenomenon, a term coined to describe the mass emigration of highly skilled and educated individuals from their home country, is a silent exodus that leaves a gaping void in the heart of a nation.
The phenomenon of brain drain is not unique to Russia; it has been a recurring theme in various countries over the past 50 years, often leaving lasting scars on their economies and societies.
One of the most notable examples is South Africa. During the late 20th century, particularly in the 1990s, political instability led many skilled professionals, particularly in the fields of medicine, engineering, and academia, to seek opportunities abroad.
his mass exodus of talent had a profound impact on the country's economy and its ability to provide essential services to its population. South Africa still didn't recover from this enormous loss of human capital.
Argentina is another country that has experienced a significant brain drain. Following the economic crisis in 2001, many educated Argentinians left the country in search of better economic opportunities. The loss of these professionals has hindered Argentina's economic development while boosting industries in places like Mexico and US that received these qualified Argentinians.
Venezuela is another (quite obvious) example. The ongoing political and economic instability in the country has led to a mass exodus of skilled professionals. This brain drain has further exacerbated the country's economic crisis, leading to a shortage of essential workers in fields such as medicine, education, and technology.
Venezuela even lost part of its military experts and needed to resort to hiring Russians to overcome the lack of skilled professionals.
This mass departure of intellectual and professional talent is not just a loss of human capital; it's a hemorrhage of potential, innovation, and progress.
Countries suffering from this phenomenon are left grappling with a severe shortage of qualified professionals, particularly in specialized fields such as medicine, engineering, and technology.
There are also countries that recently had the opposite of a brain drain. For example, due to high economic growth, Poland is bringing back the professionals it lost in previous decades.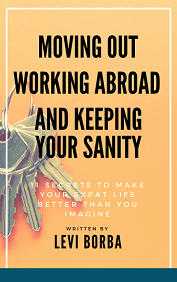 The Economic Aftershocks of Brain Drain
The economic implications of the brain drain are akin to aftershocks following an earthquake.
They may not be immediately apparent, but their effects are long-lasting and potentially devastating. Governments rely heavily on income taxes from their working population to fund social programs, infrastructure projects, and other essential services.
A significant reduction in this workforce, particularly the highly skilled and educated segment, can lead to a precipitous drop in tax revenue. This decline can stunt economic growth and development, leaving the nation in a precarious financial position.
Between 2022 and 2023, Russia experienced a staggering exodus of more than 1 million individuals aged between 20 and 35.
The implications of this are far-reaching and deeply concerning.
The Exchange Rates Already Left the Room
During the first few months of the war on Ukraine, Russia's national currency (the Ruble) surprised the world by gaining value against the US dollar and the Euro. Economists expected that the consecutive sanction packages would cause the opposite effect.
Before the war, 1 US dollar bought around 78 rubles, but 4 months after the war, in June 2022, the Ruble gained so much value that the same 1 dollar could buy only 54 units of the Russian currency.
Even Vladimir Putin mocked the sanctions, stating that it had the opposite effect.
Below is the US Dollar to Ruble chart from January 2022 to June 2022. Despite the peak during the first few weeks after the invasion, the rest shows an impressive performance of the Russian currency, right?
But all this was artificial.
The Russian government, after the beginning of the Russia-Ukraine war, imposed heavy controls in the currency exchange markets that created an artificially high exchange rate for the double.
That would not be sustainable for so long since these kinds of controls quickly deplete currency reserves.
In this article from July 2022, I explained that it was a false exchange rate and debunked the myth that the sanctions were not working. I also alerted them that soon we would witness a quick decline in the Ruble value.
And that is exactly what happened in 2023.
Below is the US Dollar to Ruble chart from July 2022 to July 2023. The Russian ruble in only 1 year lost almost 65% of its value. It went from 56 to 92 rubles per US dollar.
The International Wage Market: The Swan Song for a Devaluated Currency
Imagine a young, talented software engineer named Anastasia.
This means that the value of the money she earns in Russia is worth much less when converted to dollars.
She lives in Moscow and works for a local tech company and is paid in rubles.
She's good at her job, and she enjoys it, but she's starting to feel the pinch of the weak currency. The cost of imported goods, like electronics and certain foods, has increased. Even local goods and services are becoming more expensive as businesses raise prices to cover their increased costs. Holidays anywhere outside Russia? Forget it.
Anastasia starts to think about her future.
She knows that as a skilled software engineer, she could find work in other countries where the currency is stronger. She could earn more, not just in terms of rubles, but in real purchasing power.
She could afford a better lifestyle, save more money, and have more security.
So, Anastasia starts to look for jobs abroad. She applies to companies in the US and Europe, and before long, she gets an offer. The salary is in US dollars, and it's more than double what she's earning now.
The best part: she could save those euros or dollars and once she returns to Russia, buy a really nice house or help her family who remained there.
It is too attractive to resist.
Anastasia makes the difficult decision to leave Moscow.
This is how a depreciated currency can lead to a brain drain. When a country's currency loses value, it can make staying less attractive for young, skilled professionals like Anastasia.
They see better opportunities abroad, and they decide to take them.
In many cases (and I know a few Argentinians who can confirm that), a young professional from a country with devaluated currency can literally build generational wealth just by working abroad and returning home for retirement with all that he saved.
The story of Anastasia is the story of almost 1 million Russians since February 2022.
The Domestic Wage Race and the Demographic Time Bomb
The departure of these highly skilled workers has also triggered a wage race within Russia, as exposed by Joe Blogs in this video.
As companies scramble to replace the valuable employees they've lost, wages are driven up. While this may seem like a silver lining for those who choose to stay, the reality is far more complex.
From an economic perspective, Russia is caught in a perfect storm of a contracting workforce and escalating costs, a combination that could spell disaster for the nation's profits.
Compounding this issue is a demographic time bomb that has been ticking away for the last 25 to 30 years.
A healthy economy should have a balanced population pyramid, with a large chunk of the population being of working age.
However, Russia's population pyramid is alarmingly unbalanced, with significantly fewer males than females in every age category from 35 onwards. This imbalance is a ticking time bomb, set to explode with far-reaching consequences.
The Demographic Cost of Gender Imbalance and Economic Decline
Beyond the economic implications, the demographic cost of this crisis cannot be overstated.
The loss of a generation of young, educated Russians has profound social implications. The departure of Russian scientists, doctors, engineers, teachers, and other professionals leaves a void that cannot be easily filled.
The impact on the quality of services such as healthcare and education will be felt by the population for years to come.
In a country where the Aerospacial industry is relatively important, the lack of engineers may affect the already negative safety records of Russian airplanes.
Moreover, the demographic imbalance, with significantly fewer males than females in every age category from 35 onwards, has societal implications.
Take for example what is happening in China.
China has a similar imbalance to what we see in Russia, but instead of not enough males, they have too many of them. Still, the results are equally bad.
In 2020, China's sex ratio at birth was 111.3 boys to 100 girls, a stark reminder of the gender imbalance in the country. This imbalance has been linked to a number of social issues, such as a lack of marriageable women, increased human trafficking, and a rise in gender-based violence.
This skewed ratio we see in China means that there will be millions of men who will not be able to find a partner due to the shortage of women. This "surplus" of men is often referred to as "bare branches".
The gender imbalance exacerbates the aging population problem. With fewer women to bear children and a preference for smaller families, the birth rate is likely to continue to decline. This means fewer young people to support an increasingly aging population, putting a strain on social services and the economy.
Conclusion – The Brain Drain from Russia and the Demographic Timebomb
The implications of the war in Ukraine on Russia's economy are not just significant; they are potentially catastrophic.
The country may soon face a situation where it has too many older people to support and not enough young workers to generate the necessary taxes.
In 2023, the Russian economy faces a silent strangulation by an unseen force. The lifeblood of the nation, its skilled workforce, particularly Russia's tech workforce, is being drained away. The mass exodus of skilled professionals accelerated at an alarming rate.
The Russian Association for Electronic Communications has reported a mass flight of tech workers, a mass emigration out of Russia since the war began.
Russia's invasion of Ukraine in February 2022 has only exacerbated the situation. Young Russians, professionals like data scientists and information technology experts, have left Moscow and fled Russia for countries like Turkey, United Arab Emirates, Kazakhstan, Uzbekistan, Kyrgyzstan, Armenia and other Asian nations with favorable visa schemes.
The outlook for Russia's economy is bleak. The brain drain and the demographic crisis are twin storms that threaten Russian companies and may capsize the nation's economy. The loss of a generation of skilled workers who already left Russia, and the demographic imbalance pose significant challenges to economic stability and growth.
It is not only another casualty of war.
In the face of these daunting challenges, Russia stands at a crossroads. The decisions made now will shape the country's future for decades to come.
---
If you enjoyed this article about the brain drain happening in the Russian economy today, here are a few other reading suggestions for you:
The Best Cities for Remote Workers in 2023
The Mind-Blowing Tourist Scams You Can Find in Europe
Subscribe (for free) to receive my articles directly in your inbox and receive a special gift. If you enjoy this article, please consider becoming a Medium member by using this link and have access to premium, unbiased content from authors not tied to big media.
Levi Borba is the founder of The Expatriate Consultancy, creator of the channel The Expat, and best-selling author. Some of the links in this article may be affiliate links, meaning that the author will have a commission for any transactions.