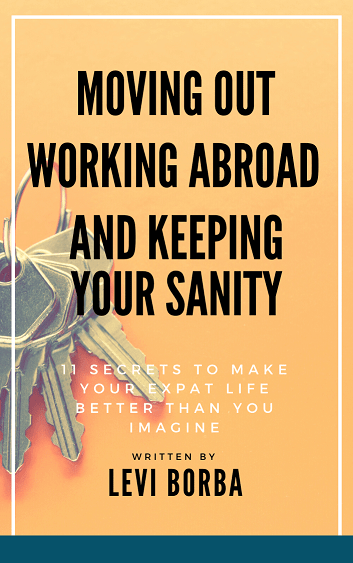 ---
Things to Buy before Moving into a New Home
You are leaving! Time to think about things to buy before moving out! It is a new step in life — an increasingly frequent step. According to FiveThirtyEight, a person in the USA moves on average 11.4 times during a lifetime.
Millennials break this number much earlier. As the author of this article, for example.
I am not a globetrotter, but just a random, simple entrepreneur. Still, in the last 15 years, I moved 17 times, to 6 different cities, in 4 different countries, on 3 distinct continents. There are a couple of things that I learned through practice.
Some of these experiences were painful. Like when you realize you have no tools to fix your new home or no pillows, and the entire country is on a 4-day long holiday. To use a plastic bag filled with clothes as a makeshift pillow is a useful travel hack, but it is far from ideal.
In the next paragraphs, I listed 5 items (or 6, considering the bonus) to avoid regrets, back pain, and coronary disease. Some of these are affiliated links.
All of them are things to make your life abroad easier and free your time to explore the neighborhood and meet interesting people at your new place.
Check also: The Best Books About Living Abroad.
A Tool Set (Or Tool Kit) – The first among the things to buy before moving out.
Why it is one of the things to buy before moving out:
Hammer, knife, scissors, hex keys, screwdrivers, tape measure… Everything you need for DIY around the house are there!
One could argue that an adjustable wrench, instead of dozens of fixed wrenches, could do the same job as half of the pieces of a toolset. They are not wrong. The problem is when you lose (or loan to someone that never returns it) an adjustable wrench, you will have no alternative.
Another plus of toolsets is the cool case that comes together with them, making it easy to organize and use little space in your apartment.
What I recommend: Any decent toolbox with 120 to 150 pieces. My brother-in-law gave me one at Christmas — a nice gift! The Cartman 148Piece Tool Set General Household has everything you will need to assemble furniture, fix a shower, or make basic repairs.
A Good Mattress
Why it is one of the things to buy before moving out:
My father had a mattress store in my hometown. I was raised hearing the phrase:
Do not save money on your mattress, because one-third of your life you will spend on them.
This phrase was convenient for the sellers, but it was true. Or at least partially true: to spend 1/3 of life in a mattress, one needs to sleep at least 8 hours per day, on average. Who sleeps that much? Certainly not me.
Buy the best mattress you can afford. The philosophy is the same for an office chair. These things can either ruin or boost your productivity, therefore, they affect your earnings multiple times more than whatever you are saving.
What I recommend: If you are a man in his 30s and more than 90kg, like me, check the Casper Sleep Element Mattress. It is one of the best-reviewed mattresses in the world for a reason — and it has an affordable price. If you are a lighter person, there is a softer version of it. Always remember to choose a mattress that fits your body weight.
A Pillow Gentle to Your Neck
Why it is one of the things to buy before moving out:
Besides a bad pillow, there are not many things in a bedroom that can cause neck pain — unless you have company.
A person should not save money on a pillow for the same reasons already stated for the mattress above. It is the kind of item that can ruin your productivity and make you lose much more than whatever you are saving.
The world deserves you in your best state. For that, you must rest with good neck support.
What I recommend: Have you ever noticed how the pillows at good hotels are splendid? It is because they know how to choose. To turn your room into a 5-star hotel, opt for the Lincove Hotel Collection. As they describe it, The 90% White Duck Feather chamber surrounded by 10% White Duck Down creates the signature thick and fluffy support you feel on a pillow at your favorite luxury hotel!
There are some types made of memory foam. Some people love it, others cannot adapt to it. I am in the second group.
A Scale
Why it is one of the things to buy before moving out:
To move to a new home is hard work. With so many tasks and a myriad of things to work on, it is easy to lose control of how much you eat and how little you exercise.
When I moved to the Middle East, I gained almost 10kg. My family was thousands of kilometers far away, so there was none of their comment (sometimes cruel but honest) about my terrible shape.
Don't commit the same mistake. It is difficult to return when you go too much off the rails.
What I recommend: Scales are an inexpensive item, so look for one that, besides your weight, it also measures your body fat — how precise they measure it is a subject for another article. The RENPHO Scale does that, and has two extra benefits: an elegant design and synchronization with your cellphone to upload your measures.
Working on a White-Collar Job? Buy a Steamer.
Why it is one of the things to buy before moving out:
You should buy it because wrinkled shirts are ridiculous. People may not tell you directly, but they will talk about it at the coffee shop at the corporate headquarters of your company.
Before opening my business, I worked at a corporate, white-collar job. The steamer was lone of the most useful gadgets to guarantee me a neat appearance — together with a beard trimmer.
What I recommend: Choose a device that has an inbuilt hanger, so you don't need to hold the garment while you steam it — and burn your fingers in the process. The PurSteam Garment Steamer has that, plus a fabric brush to brush away wrinkles.
Why it is one of the things to buy before moving out:
At the beginning of the article, I told that, by moving 17 times across 3 different continents, I committed plenty of avoidable mistakes.
In this book, I tell you all of them. Including:
The source of information to make you like a local, still you are not using it! (hint: I revealed it in this article)
How to adapt to the local behavior and etiquette in a few days.
How to build a time capsule and avoid the death of Harambe — I am kidding, that I am still trying to discover how to do.
---
If you liked this article, you may also check:
Best Cities for Remote Workers in 2021/2022: Save Money and Enjoy Life
Living in a Stressful Place? Consider Moving to the World's Least Stressful Cities
How to Successfully Move Abroad
---
Levi Borba is CEO of expatriateconsultancy.com, creator of the channel Small Business Hacks, and a best-selling author. You can check his books here, his other articles here, or his Linkedin here.