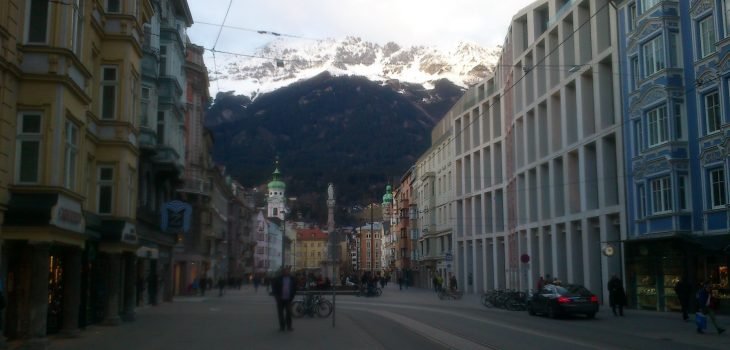 Consider Moving to the World's Least Stressful Cities
---
Do you live in a large, stressful city and always wondered how is your life compared to residents of other metropolises?
Listen to "The 8 Least Stressful Places to Live In the World" on Spreaker.
Back in 2011, while stuck in a traffic bottleneck in São Paulo, Brazil, I wondered if residents of other mega-cities had a comparable level of stress. Because life in São Paulo was stressful: noise, pollution, traffic, floods, pickpocketers, and the awful smell in certain places all contribute to a sense that this is not the life you should be living.
In the end, this contributed to my decision to move out of São Paulo (and Brazil). It turned out that the other large cities that I lived in (Santiago, Doha, Warsaw, etc) had similar problems, but in different dimensions and with different causes.
Days ago, I found a ranking of the least and most stressful cities in the world, and to my surprise, all the mega-cities that I lived had similar positions — that explained why I felt that life, in all of them, were not really as good as it could be — or at least as peaceful as it was in the small city where I was born, in the Brazilian countryside.
All the cities that I lived in are almost equally stressful. So are London, or Paris, or San Francisco. But it doesn't need to be like that.
And that is the most important lesson that the ranking — elaborated by the German-based wellness products brand VAAY — taught me.
The VAAY Ranking
To build the ranking, VAAY used a method considering indicators like:
Governance — Safety, Security, Socio-Political Stability, etc.
Demographic and Geographic factors — Density (population/km2), Traffic Congestion, Weather, Air Pollution, Noise Pollution, Light Pollution.
Finance — Unemployment Rate, Financial Stress, Social Security,
Citizens' Health
VAAY calculated by scoring and averaging each indicator in the following way, as explained by their page:
z-Score = x — mean(X)Standard deviation(X)in short x — μσ
[…] Where present for a factor, scores are normalised such that 1 equals the lowest value in the final dataset and 100 the highest value in the final dataset. The equation for normalization is as follows: score = (100–1) *x — min(X)max(X) — min(X)+1
The final score was determined by calculating the sum of the weighted average score of all the indicators.
Knowing the method and what they considered, I understood why the ranking reflected so precisely my own perception. I had been to some of the least stressful cities (and lived for years during some of the most stressful). From my experience, I could only agree with the results.
But why cities like Innsbruck or felt so… relaxed?
After careful analysis of their results, I will tell you why in this article.
8th Least Stressful City in the World: Innsbruck, Austria
I visited Tyrol's capital 8 years ago. Although the 6-digit number of residents does not allow me to call it a small city, it had the feeling of a local community, except for the crowds of tourists during winter — ski resorts surround Innsbruck.
Innsbruck achieved such a prominent place in the ranking thanks to factors like the low pollution indicators: it is not a noisy city, and the air is as clean as one could wish for. That a large winter resort had such a clean atmosphere, in fact, surprised me. I am used to places like Farellones (Chile) or Zakopane (Poland), where the atmospheric pollution in the winter skyrocket. Since I am not a climatologist, I cannot how Innsbruck can keep such low levels of pollutions, but I attest they are true.
Innsbruck total score (from 0 to 100): 92.2
Read also: What Are the Safest Big Cities In America?
7th Least Stressful City in the World: Copenhagen, Denmark
I also visited Copenhagen, more recently than Innsbruck but for a shorter period. The feeling of a larger city was more present there than in Austria, but the parks and pedestrian paths allow you to go in your own rhythm.
Copenhagen achieved some of the highest results in indicators like safety, health services, and political stability. That makes sense: when was the last time you heard about major riots in Denmark? Maybe in Hamlet.
Copenhagen total score (from 0 to 100): 92.6
6th Least Stressful City in the World: Oslo, Norway
I never had been to Oslo. I planned to travel there two years ago, but I asked for a friend that lived in Denmark and visited Norway a few times, and he told me that the danish complain about the unbelievably expensive prices of Norway.
Since I wished to respect my budget, I traveled somewhere else. Yes, Norway is expensive. The Norwegian capital, even more. A BigMac there can cost as much as a fancy restaurant in other parts of Europe.
But for its residents, Norway offered one of the strongest economies in entire Europe. Plus, the local government uses part of the enormous profits from Oil exportation to boost the quality of life. Unemployment rates below 5%, the — allegedly — best health service on the planet, and world-class public transport services granted Oslo a place in the Top 10.
Oslo total score (from 0 to 100): 93.9
5th Least Stressful City in the World: Melbourne, Australia
One of the two southern-hemisphere cities in the top 8, Melbourne counted with — surprise surprise — excellent results in the climate indicator. Compared to Northern European cities, it looked almost like cheating the fact that the Australian city scored a whopping 71.2 in the weather index — an index measuring how close the city's climate is to the ideal for human life.
This is more than double of Oslo's result, for example.
But it is not only the sunny skies and mild winter that gave Melbourne 5th place. The city scored high in political stability, health services.
Melbourne also scored low in Pollution — as low as Copenhagen. This is remarkable, considering that Melbourne has a population almost 10X larger than the Danish capital.
Melbourne total score (from 0 to 100): 94.2
4th Least Stressful: Wellington, New Zealand
The 4th place is a city close to the previously mentioned Melbourne — meaning Oceania standards of closeness since they are 2500km apart.
Wellington scored a perfect 100 in the indicator of social and political stability. It also had remarkably good results in demographics (because of the low population density) and presented one of the lowest unemployment levels of all cities in the research: 4.6%
Curiously, among the top 8, Wellington has the worst indicators in traffic. Maybe the sheep — New Zealand has 5.6 of them for each human — are forcing the cars to wait too long while they cross the roads.
Wellington total score (from 0 to 100): 95
3rd Least Stressful: Helsinki, Finland
Among the cities in the top 8, the Finnish capital has the second-worst results in the Climate index — ironically, the worst weather belongs to the best city in the ranking, to be revealed soon.
Still, Helsinki reached the podium by having near-perfect governance indicators and excellent health services for the population.
Helsinki total score (from 0 to 100): 95
2nd Least Stressful: Bern, Switzerland
Yes, the ranking of the least stressful cities on the planet would not be complete without a Swiss city. There are not many nations in the world that value peace and tranquility as Switzerland — their non-belligerent approach to diplomacy being a reflex of this culture.
Among all the cities surveyed, Bern has the lowest population density, meaning that people lucky to live in this breathtaking city have space enough for their kids to play, their dogs to run, and to hide their colossal gold reserves.
They also have the lowest unemployment among all the cities of the ranking: 2.8%. This is such a low unemployment level that, in less stable economies, it could be considered harmful. But apparently not in Bern.
Bern total score (from 0 to 100): 96.6
The Least Stressful City in the World: Reykjavik, Iceland
My first reaction to seeing Reykjavik (I have a typing speed of 450 words per minute, but I write the name of this city slower than my Mom) in the first place was:
What about the weather/climate component of the ranking? How can the capital of a country called Iceland take the first place?
VAAY, however, did not forget the climate index. In that component, Reykjavik scored the lowest result of all the top-ranked cities. Their weather index result is even worse than Moscow.
But still, Iceland's capital got first place.
How?
Almost perfect results in Governance
Almost no traffic.
A perfect 100 score in the air pollution index (where 0 is the most polluted and 100 is the least polluted).
Another 100 in sound pollution — Icelanders apparently do not use their car honks that often.
Health services are comparable to Switzerland.
Lesson from Reykjavik? When you are a fairy-tale city with no traffic, no pollution, no noise, and good doctors, you can have a miserable climate and still be the least stressful city in the world.
Reykjavik total score (from 0 to 100): 100
---
If, instead of a stress-free, relaxed life, you are looking for challenges and countries with business opportunities and fast-growing economies. These articles below will help you with that:
The Best Countries to Start a New Life Abroad with No Money
10 Business-Friendly Countries with Low Taxes and Little Bureaucracy
Starting a Business in Europe as a Foreigner 
The best city for Digital Nomads and (some) expats!
---
Levi Borba is CEO of expatriateconsultancy.com, creator of the channel Small Business Hacks, and best-selling author. You can check his books here, his other articles here, or his Linkedin here.