There is no more East-West, and the city now represents reunification and joy. But Is Berlin safe?
"Ich bin ein Berliner" were the words uddered by the late President John F. Kennedy. "I am a Berliner." Berlin is not only the capital of Germany; it's also the center of all things alternative to the "norm."
Berlin is the most populous city in Germany and a cultural hub that is known for one of the most incredible nightlife scenes in Europe, unique architecture, and for its overall trendiness. It rivals Munich as one of the most visited cities in Germany for tourists (although Berlin is really not as beautiful as other European capitals).
Among the large European capitals, Berlin also has some of the most affordable costs of living. Nowadays, it is as inexpensive as Warsaw and it is 41% cheaper than London.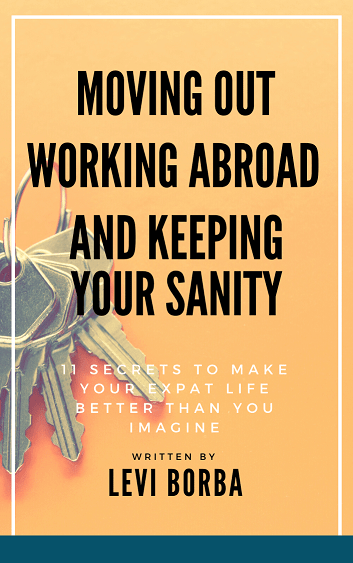 This hot spot in central Europe has a vast atmosphere of art and free-spirited liberalism in the streets. You'll find one of the country's most famous landmarks, the Berliner Philharmonie – a golden-plated, uniquely-roofed concert hall that's a must-see.
After researching all the spectacular things there are to do in Berlin, one question still lingers:
Is Berlin a safe place?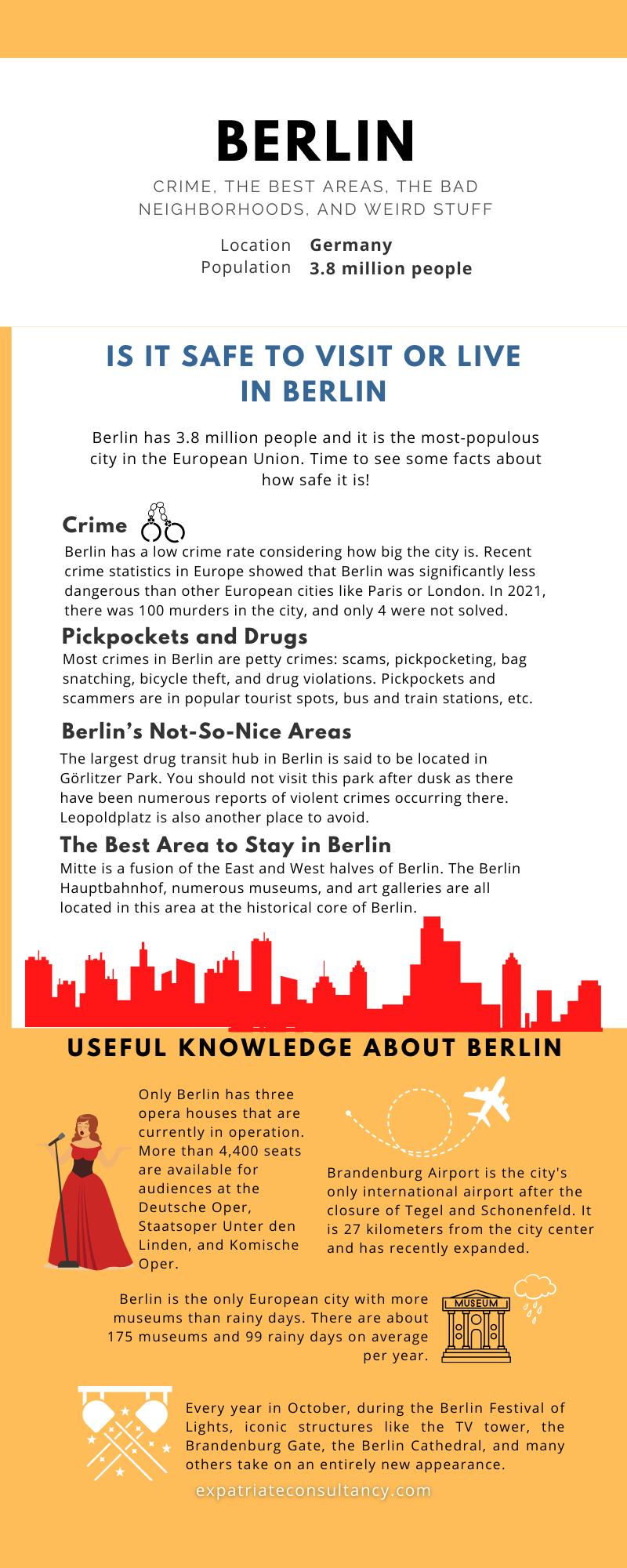 Well, the short answer is yes. While you're never guaranteed to be 100% safe anywhere you go, Berlin comes pretty close. Berlin is a major capital city in Europe that is safe for tourists or digital nomads to visit for a few days or stay for a while.
There are many thrilling parts in Berlin, but also cases of scamming. We wrote a particular article about the most common tourist scams happening in Europe. Read it before you travel.
Even Germany as a nation is relatively safe. According to the Global Peace Index, Germany ranked 16th out of 163 countries. That GPI included many quantitative indicators, including the level of Societal Safety and Security. There's a very positive mindset with Germany as a whole.
Overall GPI Score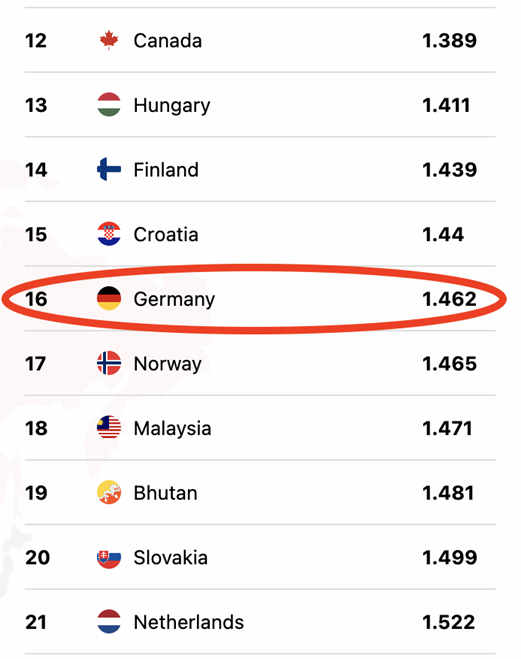 That's not to say that Berlin is without its problems. Crime still plagues some neighborhoods and districts, much like any major metropolitan urban center. The city is moving forward to ensure tourists and fellow travelers that Berlin is open and is still one of the safest cities in Europe.
So sit tight and check out this valuable research we've put together for you. You'll discover the crime rate in Berlin, some areas you might want to avoid, and where the best places to stay are. We'll also share some insider tips everyone should know before heading to Berlin.
So let's get started!
Berlin Crime Rate
For being such a large city, Berlin enjoys a relatively crime-free environment. According to a recent ranking on crime in Europe, Berlin was much safer than other European cities such as Florence, Budapest, and Madrid. Another exciting report found that according to US standards, Berlin is extremely safe. However, no city is without its bad apples. There is still some crime that Berlin faces.
Crime Index of European Cities
So what's the crime rate in Berlin?
Most of the crime in Berlin is non-violent petty crime such as stolen bicycles, pickpocketing, bag-snatching, some drug offenses, and scams. Very little violent crime is reported in the city, but as with any urban center, you should be on guard. Tourist sites, public transportation, metros, train stations, and airports attract many people, pickpocketers, and other scammers.
Despite its low overall crime rate, Berlin still benefits from decreasing rate of criminal offenses. Reports of crime are dropping by the thousands. That trend looks like it's going to continue for the foreseeable future.
Areas To Avoid In Berlin
As mentioned above, the crime rate in Berlin is at an all-time low. Unlike many places worldwide, there aren't many areas in Berlin to avoid outright. This means that where population density increases, so will your chance of being affected by petty crime.
Problems range from people (often young kids) asking and collecting money in crowded streets or transport hubs, eventual drug dealers in sketchy neighborhoods, and petty crimes like purse snatching.
However, even though Berlin has the reputation of being "super safe," you still want the facts at hand when choosing a place to stay. This helpful information we're about to cover will help you avoid selecting areas that might be more susceptible to crime.
Fortunately for you, the Berlin police department has organized its official website to help you identify the areas you might want to avoid. So, what are the neighborhoods to avoid in Berlin? Three of the top areas with the reputation of being the least safe include:
Alexanderplatz

Located in East Berlin, this area has lot of history, as its namesake, Tsar Alexander can testify. However, this neighborhood experiences common breakouts of massive brawls, drunken outbursts, drugs, and violent crime. There are also homeless communities around. Steer clear and keep a safe distance from sketchy characters that you may find there.
Leopoldplatz

The Leopoldplatz is a square located in one of the poorest districts in Berlin. Here you'll find high unemployment and a large migrant community. There is a lot of subsidized housing in this area.
Gorlitzer Park

The main problem of this area is its infamous and most extensive drug commerce, especially at night. This park is not somewhere you want to explore after sunset, as it's been the site of multiple reports of violent crimes. Better just to stay away.
Map of the Areas to Avoid in Berlin
Pickpockets in Berlin – How To Avoid Them
Berlin and Germany in general are known for their high safety standards.
However, like many cities in the world, Berlin is not immune to the issue of pickpocketing.
Pickpockets can target both locals and tourists, especially in crowded areas or on public transport like the U-Bahn and S-Bahn. Popular tourist spots like the Brandenburg Gate or around Berlin's famous Museum Island may also be hotspots for pickpockets.
Here are some safety tips to help you walk around Berlin while avoiding them:
Keep Your Valuables Close: Carry your valuables close to your body. Important documents, credit cards, cash, and keys should never be stowed in your jacket or back pocket. Handbags and traveller backpacks are also easy prey for pickpockets. It is better to store valuables in inside pockets, front trouser pockets, or pouches worn across the torso.
Secure Your Bag/Backpack: Your bag or backpack is probably the most vulnerable area that pickpockets will target. Invest in a bag that has multiple barriers to entry with clasps, drawstrings, zippers, and/or buckles. And always wear your bag across your body, if possible.
Be Aware of Your Surroundings: Especially on public transport or in tourist hotspots like the Berlin wall, Brandenburg Tor or Kreuzberg, be aware of your surroundings. Pickpockets often work in groups and use distractions to their advantage. If you're approached by someone with a petition or a seemingly harmless question, be cautious.
Don't Show Off Your Valuables: Flashing expensive items like smartphones or cameras can make you a target for pickpockets. Keep these items out of sight when not in use.
Avoid Checking Your Valuables in Public: When you see a sign warning you about pickpockets or hear an announcement on a train or in a museum, resist the temptation to check your pockets. This can signal to thieves where you're keeping your valuables.
Use a Money Belt or Neck Wallet: These are less accessible and harder for pickpockets to reach without you noticing.
Travel Light: The less you carry, the less you can lose. If you're out sightseeing for the day, only take what you need.
Where To Stay When Visiting Berlin
Are you thinking of spending some time in Berlin but not sure where to stay? Well then, we've got great news for you – we've put together the top 3 places to stay when visiting Berlin.
The beauty of Berlin is that, on the one hand, it's a city filled with an influential history that almost catapulted us to the brink of an all-out nuclear war during the Cold War. On the other hand, it's a hustling and bustling electric city with a buzzing night scene. And it's got everything in between.
Ps: If you are still in doubt about a move to Berlin or another city, check out our Expat Living City Guides, with information about cities for expatriates and digital nomads all over the world!
What's good to know is that the city offers a great time, and Berlin's neighborhoods also model that inviting atmosphere. So, are you wondering:
Where should I stay in Berlin?
Berlin welcomes any tourist or digital nomad looking to connect with the city. It has a range of places to stay that offer significant landmarks like the historic center of Mitte, the young and fresh Neukölln, and the little-bit-of-everything Friedrichshain-Kreuzberg. So get ready to find out why these top 3 destinations are the places to be.
Top 3 Places to Stay in Berlin
Where you would want to stay in Berlin would largely depend on your travel tastes. Mitte is the city's historic district full of landmarks, while Friedrichshain is known for its robust nightlife. Prenzlauer Berg is ideal for cafes and indie alleys while Charlottenburg offers luxurious hotels. 
1. Berlin Mitte – History and Art Haven
Berlin Mitte is a mix of the East and the West district. This neighborhood is the historic center of Berlin and offers noteworthy sites like the Jewish Memorial Potsdamer Platz and the Berlin Hauptbahnhof (a public transport hub). It is also within walking distance from the Berlin cathedral and the famous museum island, one of the most visited tourist attractions in the city. If you love history and the arts, this area is your spot.
2. Neukölln – Young and Trendy
Neukölln is renowned for being unconventional, quirky, and welcoming to any type of alternate lifestyle. This area appeals to younger generations looking for a hip place to hang out, eat healthy at various vegan restaurants, or shop at one of the many vintage shops and markets. If you always like to keep it fresh and try new things, then this is where you gotta be!
3. Friedrichshain-Kreuzberg – Work Hard, Party Harder
This district has the general "something for everybody" vibe. It has many great coworking spaces for digital nomads and remote workers to meet and connect. It reminds me of the Navigli in Milan, but less elegant. There's a university atmosphere where you'll find a large student population and excellent libraries. It also is home to one of the best party scenes in the capital. So if you're the kind of person who likes to work hard but party harder, this is the spot for you!
There are some excellent and (surprisingly!) inexpensive hotels in the best areas of Berlin. You can find them below.
What More Should I Avoid In Berlin?
Berlin is a very welcoming and open metropolis with diverse cultures that attract tourists worldwide. Having said that, there are also unspoken rules in the culture that you should avoid breaking.
With this essential list of don'ts, we'll have you blending in and shouting "Prost!" with all the locals.
Don't put recycling materials in the ordinary trash can.

Berliners are very forward-thinking and respect the planet and healthy practices more than many other major cities. This goes especially for glass bottles – don't put them in the trash. Instead, leave them next to the bin as many bottles can be taken back to supermarkets and get a refund.
Don't break any crosswalk and traffic laws.

So you're on foot and waiting to cross an intersection, but there isn't a car anywhere in sight. Whatever you do, don't cross! Crossing the road before the indicator flashes green for pedestrians will likely get you fined and embarrass you. Berliners can be very verbal when it comes to the laws. Be respectful of traffic laws.
Don't walk in designated cycle lanes.

The German capital accounts for more than 500,000 daily cyclists, making up about 20% of the total traffic. Berlin has one of the highest rates of commuters on bicycles, with 710 bicycles per 1000 residents. Walking in cycle lanes is a sure way to stand out like a tourist, get verbally harassed, or, even worse, get seriously injured. As mentioned before, be very respectful of traffic laws while visiting Berlin.
So by now, you'll be ready to fit right in when visiting Berlin. This city will be an unforgettable experience for any who stops by – and hey, what's the hurry? Why don't you stick around for a while and get the real Berlin experience? We'll be seeing you there!
Other Tips for Visiting Berlin
Besides using your common sense like in any other major city, here are some extra tips to avoid safety issues:
1st — If you are visiting the city, there are plenty of options in terms of luggage storage, so you don't need to walk around with your carry-on bags. Reliable, convenient, and inexpensive luggage storage services you can find at Radical Storage.
2nd — Areas surrounding airports and train stations can be dangerous.  Book a transfer in advance from the Berlin Brandenburg Airport (or from any station) to your destination and vice versa, so you can avoid scammers and criminals. I often used Get Transfer for that and it always worked fine.
3rd — If you want to walk around and see some historical spots without the risk of getting lost or wasting your time, hire a guide. You can find some amazing and reliable guides and tours at Viator. They will give you insider information about historical facts and curiosities, and also warn you of risky areas and keep you safe.
4th—As travel insurance for a trip to Berlin (or to most cities in Europe), I recommend Ekta.
5th—Stay in a good hostel. Hostels are usually in the safest parts of cities (at least in Europe and South America), unlike hotels. Most hostels have private rooms that are as comfortable as a hotel, plus a friendly staff to give information. When looking for hostels, I visit Hostelworld and filter for those above grade 7.
6th – Taking a taxi in Berlin is generally considered very safe. Most drivers are reliable and operate according to government regulations. However, do ensure you are using a licensed taxi and not a fake one. You can identify official taxis by checking for the Berlin Taxi Association badge.
---
If you enjoyed this article answering the question Is Berlin Safe, here are a few other reading suggestions for you:
The Most Violent Cities in Europe BY COUNTRY
Keeping Warm in Winter and Saving Money with Minimal Heating
THESE Are the Cheapest Cities to Fly to In Europe
Levi Borba is the founder of the Expatriate Consultancy, creator of the channel The Expat, and best-selling author. Some of the links of this article may be affiliate links, meaning that the author will have a commission for any transaction.