Is Edinburgh, in Scotland, a safe place to live or visit?
Edinburgh is an incredible city to explore and live in, a city steeped in history and character, with stunning architecture and home to the biggest arts festival in the world.
Scotland's capital city has so much to offer tourists and locals alike. With outstanding nightlife, arts and cultural festivals, there's a plethora of incredible things to see and do in this historic city.
Wander the cobbled streets of the UNESCO heritage Old Town and partake in a ghost tour exploring the city's gruesome and intriguing past. Stroll down the Royal Mile taking in the sights and sounds. Browse luxury shops and independent boutiques in the New Town. Of course, a trip to Edinburgh isn't complete without a visit to its imposing and majestic castle.
There is something for everyone in this magical city…but with plenty of tourist-friendly things to do attracting around 2.2 million visitors a year, how safe is Edinburgh?
You'll be pleased to hear that Edinburgh is a very safe city to visit and live in. In fact, according to a survey conducted in 2014, Edinburgh was voted the safest city to live in among the top most populated cities in the UK.
No matter where you go, there are always sure to be some key areas to avoid and particular crimes that do occur, so what is the crime rate like in Edinburgh?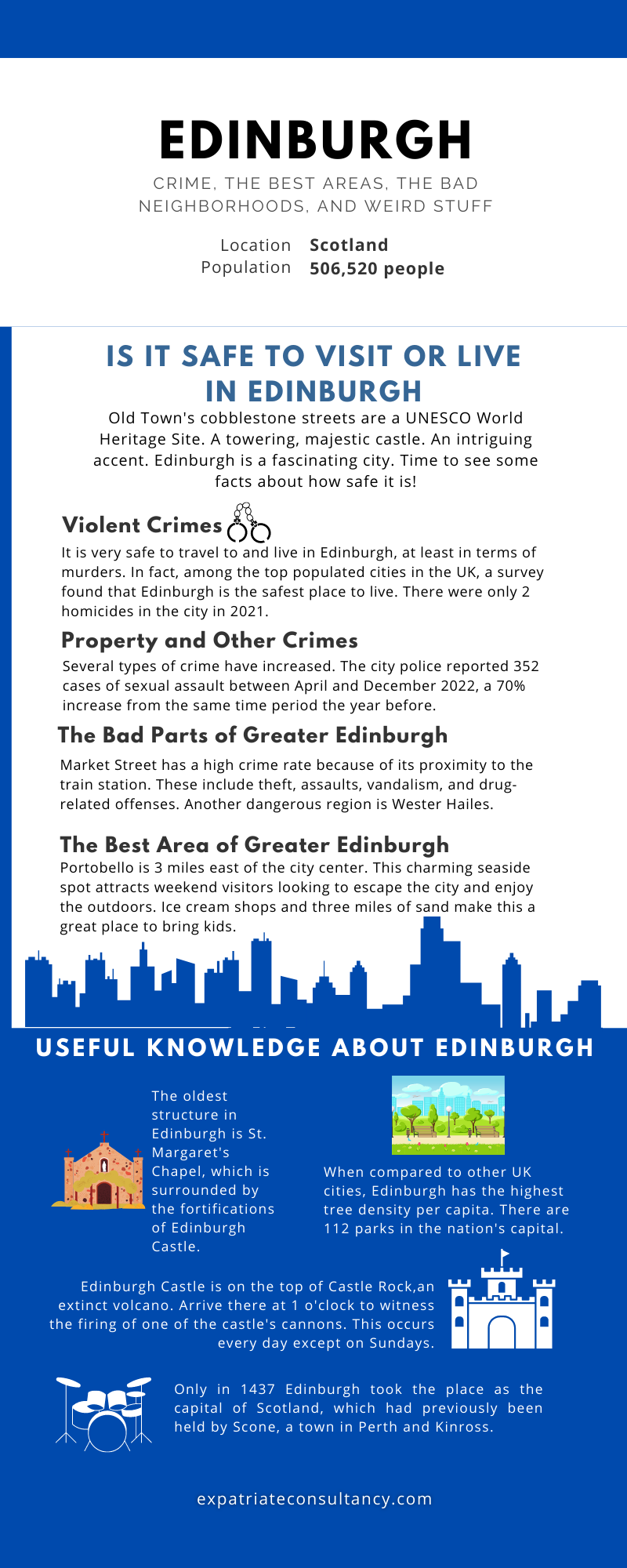 Edinburgh Crime Rate
Statistics released in 2022 show there are several types of crime that have seen an increase. These include sexual assaults, domestic abuse, and violent crime such as serious assaults.
Although this is a worrying fact, the overall statistics show crime within Edinburgh over the past ten years has been on a continuous downward trend. Making the city a safe place to live and visit.
The pandemic has also significantly impacted local crimes such as house burglaries and theft, which can only be good news for this thriving city. 
There are wonderful places to visit in the Scottish capital, but there is also some activity from scammers. Our website has a special report about common (and creative) scams targeting tourists in Europe. Read it before your next trip.
Nowadays, Edinburgh is much safer than Glasgow, the other large Scottish city.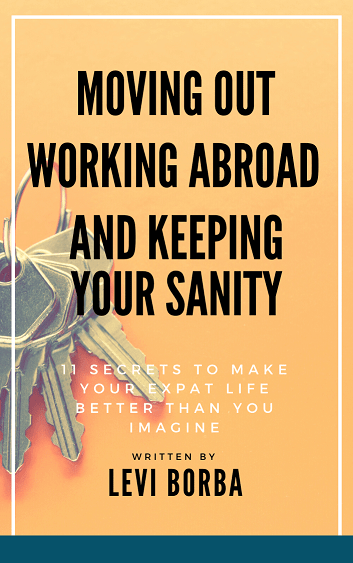 Worst Places To Live In Edinburgh
Edinburgh is a beautiful cosmopolitan city with many incredible sights to see. Still, there are areas in the city that should be avoided if looking for a place to settle in Scotland.
There are areas of high deprivation due to poverty, high crime rates and low unemployment. The lack of local infrastructure and exciting things to do inevitably leads to crime and anti-social behaviour.
A report conducted by the Scottish government called the Index of Multiple Deprivation shows there are eight areas within Edinburgh in the top 100 crime areas within Scotland. Here are a few places that made the list.
If you ever asked yourself "Is Edinburgh safe?", maybe in the Market Street the answer would be not much.
This area, near the Edinburgh Waverley train station, is right in the city's heart and close to main attractions such as the Royal Mile. There are plenty of hotels in this area, and it is the starting point for many visitors arriving in the city. But its close proximity to the train station means it has high instances of crime (check in the end of the article some useful tips for the next time you stay close to a train station!). These include theft, assaults, vandalism, and drug-related offences.
This area, which is located southwest of the city, is known for its high crime rate. The site was developed in the 1970s by building high-rise flats to support a growing population moving out of cramped tenement buildings within the city. Due to these high-rise flats and a lack of infrastructure within the area, crime here is high. Some redevelopment has occurred within the last few years, with newer low-rise flats being built to replace older high-rise buildings.
Leith Street, which leads onto Leith walk and connects the city centre with the buzzing port area of Leith, is a popular spot with an abundance of bars, restaurants and things to do. Being a popular area for late-night revellers means it brings its own problems, such as anti-social behaviour, petty theft and assaults.
Best Areas To Live In Edinburgh
There may be some not-so-savoury places that you wouldn't want to visit in Edinburgh, but there are many more wonderful and thriving areas with so much to offer. Perfect for a weekend of exploring or perhaps to live in?
From the bustling, quaint parts of the Old Town to hip, thriving communities close to the beach, there are many exciting and safe places to live in Edinburgh.
The historic heart of the city, the old town of Edinburgh, will have you wandering around cobbled streets and exploring picturesque lanes and alleyways. Named a UNESCO world heritage site in 1995, this bustling and popular area will be the first port of call for most visitors. There are plenty of landmarks and attractions in this area, and lots for tourists wanting to soak up the unique and diverse history the city is proud to tell. Visit exciting museums, explore shops and restaurants, and take part in a walking tour. The list really is endless in this fascinating part of Edinburgh.
This area, in the west of the city centre, is an excellent commuter area due to its proximity to Haymarket railway station. It has a youthful vibe and is popular with students and young people as it's a relatively affordable place to live. Haymarket is a diverse area with plenty of bars and restaurants. There's an array of independent eateries and restaurants serving food from around the world. It's an incredible place to try a few delicious culinary delights before enjoying drinks with friends.
In the north of the city, Leith is a port area with a buzzing and hip vibe. Due to its redevelopment, it has become a must-visit destination in Edinburgh. It's packed with trendy waterfront restaurants and bars, perfect for enjoying a few drinks in the sunshine. There's plenty to do here. From riverside walks and cultural events to browsing the array of boutiques and independent stores and enjoying delicious food – it's a melting pot of culture and fun!
Situated around 3 miles east of the city centre is the gorgeous coastal area of Portobello. This charming seaside spot attracts weekend visitors looking to escape the city, explore the outdoors, and get a taste of the sea air. It has a fun community feel here, and with quaint ice-cream shops and three miles of beautiful sand, it's a great place to bring kids. It's a nice location to enjoy outdoor pursuits such as walking, paddle-boarding and swimming, although it might be pretty cold!
There are some excellent and (surprisingly!) inexpensive hotels in the best areas of Edinburgh. You can find them below.
Other Useful Edinburgh Tips
Edinburgh is a great city to be explored on foot. Staying centrally close to a train station means you don't need to rely on public transport and expensive taxis. Instead, you can wander the city at your own pace and soak it all up. Traffic is a problem within the city, so you'll also avoid wasting too much time on public transport and more time enjoying the delights Edinburgh has to offer!
Of course, if you want to use public transport to explore different parts of the city, make sure you take care of your bags and personal belongings.
One of Edinburgh's biggest attractions is its incredible festival scene. The city has a jam-packed festival schedule year-round and is home to the world's largest arts festival – The Fringe Festival. The event is an explosion of arts, from theatre, comedy, circus displays, musicals, opera, and so much more; it's a mesmerising month-long affair that attracts people worldwide.
Whilst enjoying the festivities, it's always important to watch for pick-pockets who thrive in busy tourist-packed events. Keep your bag in front of you when walking, and be careful with your phone or camera in public.
Be sure to try the national dish of Scotland whilst you are visiting. Not for the faint-hearted, haggis, made of sheep offal (heart, liver and lungs), onions, spices, oats and fat, is traditionally served with mashed turnips and mashed potatoes, known here as 'neeps and tatties'. It's a hearty Scottish dish served in restaurants all over the city.
The city also has a large expat community, something that often helps with immigrant adaptation.
If travelling internationally to Edinburgh, it may be worth purchasing a local pay-as-you-go sim to make calls and access the internet when out and about. However, free wifi points are available all around the city, and most bars and cafes will have wifi available for customers.
It's a good idea to download the offline version of the city on google maps on your phone before arriving, in case you don't have access to the internet. This is a valuable way of ensuring you know where you are going as soon as you arrive.
Extra Tips for Staying Safe in Edinburgh
1st — If you are visiting the city, there are plenty of options in terms of luggage storage, so you don't need to walk around with your carry-on bags. Reliable, convenient, and inexpensive luggage storage services you can find at Radical Storage.
2nd — Areas surrounding airports and train stations can be dangerous.  Book a transfer in advance from the Malpensa Airport, Bergamo Airport, or from any station to your destination and vice versa, so you can avoid scammers and criminals. I often used Get Transfer for that and it always worked fine.
3rd — If you want to walk around and see some historical spots without the risk of getting lost or wasting your time, hire a guide. You can find some amazing and reliable guides and tours at Viator. They will give you insider information about historical facts and curiosities, and also warn you of risky areas and keep you safe.
4th—Stay in a good hostel. Hostels are usually in the safest parts of cities (at least in Europe and South America), unlike hotels. Most hostels have private rooms that are as comfortable as a hotel, plus a friendly staff to give information. When looking for hostels, I visit Hostelworld and filter for those above grade 7.
There may be times when you need help, and it's essential to have some helpful numbers in an emergency.
999 – Emergency number for police, ambulance, fire service, coast guard, mountain rescue.
101 – A number to report minor and non-emergency crimes.
111 – To be used during out-of-hours, such as evenings and weekends, for health concerns that are not life-threatening.
As you can see, Edinburgh is a fabulous and safe city to explore and live in. There's much to see and do and something on offer for everyone. So grab your coat and get exploring!
---
If you enjoyed this article answering the question Is Edinburgh Safe? here are a few other reading suggestions for you:
Dublin, the city from James Joyce and Colin Farrell, should be on your bucket list, and here is why.
How to Keep Warm in Winter with Minimal Heating
The Most Violent Cities in Europe BY COUNTRY
Levi Borba is the founder of the Expatriate Consultancy, creator of the channel The Expat, and best-selling author. Some of the links of this article may be affiliate links, meaning that the author will have a commission for any transaction.