Dublin, the city from James Joyce and Colin Farrell, is safe (despite the troubled past) and should be on your bucket list. Here is why.
---
Who doesn't enjoy a good story of superation? Stories in which a character, despite all odds, manages to escape a nightmare life and rise to glory.
When the stories are about entire cities or nations rather than just one particular person, I find them to be even more interesting.
And that is the case in the city of Dublin (and of entire Ireland).
The Great Famine: Ireland's Gloomy Past
The history of poverty in Ireland had a turning point (for worse) in 1649 when Great Britain took over the country.
At that time, Oliver Cromwell was in charge of Great Britain, and he didn't like Roman Catholicism. He didn't trust the Irish people, who were mostly Catholic, and tried to get them to behave. Cromwell killed people who wouldn't obey his orders and sent children to work on sugar plantations in the West Indies in order to reduce the number of Irish people.
The idea of population replacement (either by death or deportation) was used by the Brits to control Ireland.
In the 18th century, English landlords took over the farms in Ireland. The landlords did not live on the farms and did not help with the work. They only collected rent. The landlords would force multiple families to live on one piece of property so they could charge more rent. Whoever couldn't pay was kicked out and had nowhere to go.
The main crop on the farmlands was the potato, which was a staple food for the Irish. But potatoes are susceptible to disease, even though the crop doesn't need much care. The Great Potato Famine, which started in 1845, was caused by this.
The famine was caused by a water mold disease called late blight, which killed crops for three years in a row. There were a lot of families who couldn't pay the rent or feed their kids. The famine killed more than a million people and cut the number of people by almost half.
Great Britain contributed to the chronic poverty of Ireland by seizing possession of lands during the Great Famine, but the government did nothing to alleviate the plight of Irish farmers or their families.
Skibbereen, located in West Cork, was one of the areas hit hardest by the Great Famine and became the site of up to 10,000 mass graves. Up to 15% of the Irish people died in the famine.
During the Great Famine, about a million people died and more than a million left the country. Between 1841 and 1871, the population of the country dropped by 20–25%, and in some towns, it dropped by as much as 67%.
The problems didn't remain in the XIX century. During the XXs, the Island was shaken by The Troubles. It is also known as the Northern Ireland conflict, was a violent sectarian conflict that raged in Northern Ireland from roughly 1968 to 1998 between the groups of Protestant unionists (loyalists), who wanted the province to remain a part of the United Kingdom, and the Roman Catholic groups (republicans).
But at the end of the 20th century, things changed…
How Ireland Became So Rich, So Quickly?
A high FDI (foreign direct investment) rate, a low corporation tax rate, better economic management, and a new industrial relations idea known as "social partnership" all contributed to the early 2000s transformation of the Irish economy.
The country started to rank among the top nations in the world on multiple economic indicators, with an unemployment rate of 4% and income taxes that were roughly half what they had been in the 1980s.
Once one of the poorest EU nations, Ireland's GDP is expected to rise to $112,769 per capita by 2025 from $5,128 in 1990. Ireland's improving economic situation has been facilitated by the significant expansion in export-oriented economic models and FDI in general.
Today, Ireland is ranked as the second-wealthiest nation by GDP per capita by the OECD 28 and is one of the best countries in Europe to do business as a foreigner, as well it is listed among the 10 best countries in terms of low bureaucracy.
Dublin Nowadays
There's an aura radiating in Dublin, Ireland. All you need to do to feel it is to stroll through the streets, have a hearty lunch at one of the many cafes, then head inside an old pub to spend the rest of your evening.
The city has a population of around 550 thousand people, making it comparable to Edinburgh in Scotland.
In this city, you'll find the perfect atmosphere, no matter if you're sightseeing old castles and cathedrals or shopping around the latest trends in fashion. You'll even find vintage clothes options that are hundreds of years old. Talk about style.
Dublin is an old city whose history dates back to its founding by the Vikings in 841 (talking about Vikings, check this article about the European capital where bike theft is your biggest concern).
The Irish capital shares a rich history and tradition that attracts millions of tourists annually.
But as great as any place may be, you can't help but want to know:
Is Dublin Safe?
In a nutshell, the answer is more yes than no.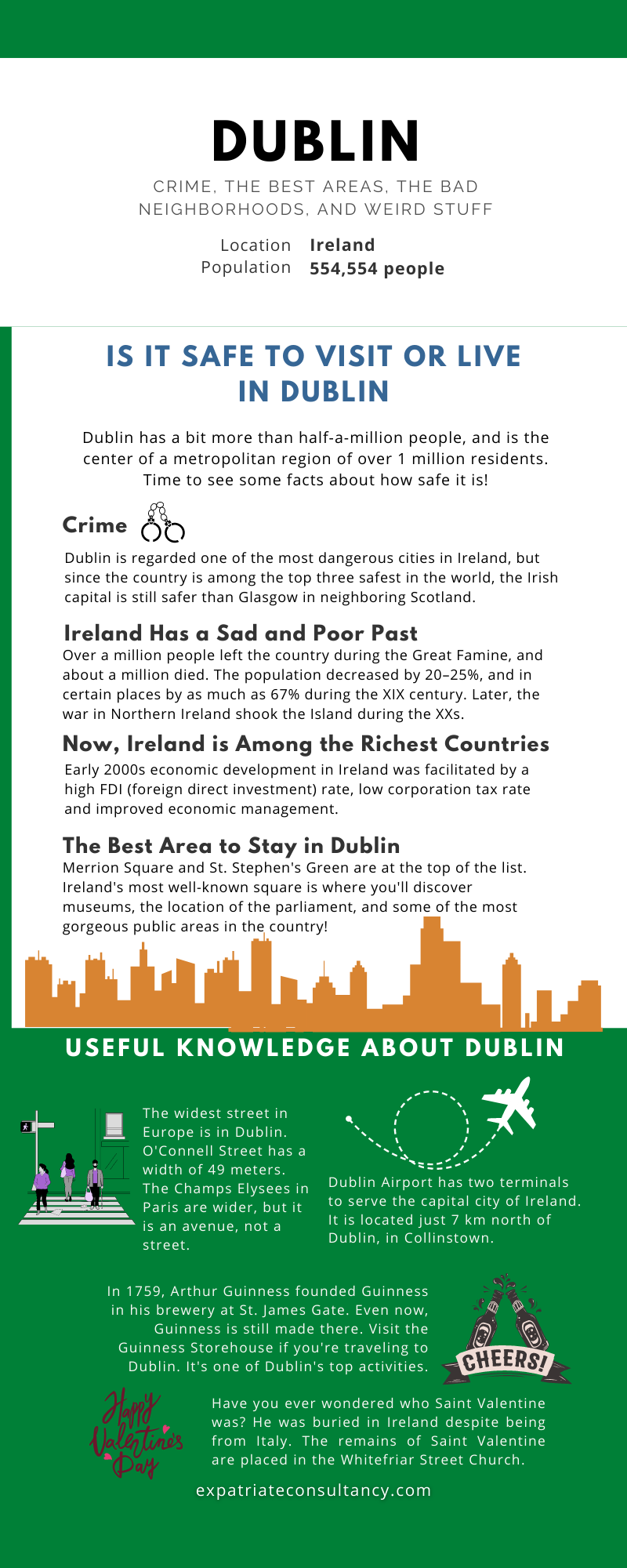 While Ireland ranks among the world's top 3 safest countries, Dublin has to be treated as a separate case. Due to its size compared to the other more rural parts of the country (Dublin is twice the size of Belfast, the next largest city), larger towns almost always have higher safety concerns. Still, the Irish capital is safer than Glasgow, in neighboring Scotland.
A resident from smaller cities like Galway may tell you that Dublin is dangerous at night, and he's not wrong since he's comparing it to his own city.
But when it comes to overall safety, Dublin ranks as a relatively safe city. Deep in the heart of the town, you'll find many spectacular attractions and things to do during your stay; it's what keeps millions of tourists flowing in and out year after year.
However, you should always proceed cautiously when traveling to Dublin, as with any other major city. But even though Dublin has some of the highest crime rates in Ireland, that didn't stop 98% of tourists from feeling safe.
So keep calm and don't worry — there are plenty of steps you can take to ensure you stay safe while visiting Dublin.
Check also: The Most Beautiful Capital Cities in Europe
Dublin Crime Rate
You could almost say that every country's capital cities aren't the safest places to live. Any major urban center will be hustling and bustling with crowds of people, such as London, New York, Paris, or Tokyo.
Still, not long ago, the Irish island had a violent past, especially during The Troubles.
But before you make your final judgment on whether or not Dublin is not secure enough to visit, why don't we take a deeper look into its crime rate?
Crime Rates in Dublin, Ireland
Don't be alarmed to hear that according to the Dublin City Council, Ireland's capital was reported to have the highest crime rates in the country.
Another report was done by Numbeo.com, a Serbian crowd-sourced global database, and found that Dublin's crime perception is primarily low-moderate. Ireland's capital scored better than other capital cities, but as mentioned before, you should always keep your guard everywhere you travel.
However, there is one statistic that has some people slightly concerned — Dublin's crime has increased over the past few years. Dublin is safe, but crimes still happen. And some crimes are increasing at a worrying pace.
There are stunning places in Dublin that deserve your visit, but some sites also have activity from scammers. Our website has a special report about common (and creative) scams targeting tourists in Europe. Read it before your next trip.
Outside of choosing safer areas to stay in, keeping your guard up, or even avoiding going out late at night,
Check also: Her Wallet Was Stolen in Rome For Doing a Little Mistake
What else should I know while in Dublin?
Suppose at any moment you begin to feel in danger and need help. In that case, the *Gardaí will usually be patrolling the streets and will assist you. If you can't find any security on the roads, head inside any of the many shops, and use the phone to call emergency.
*Gardaí, or Garda Síochána, is the national police force of Ireland.
Emergency numbers to know in Ireland:
● 999 is Ireland's emergency number
● 112 is European wide
Important Notes:
Be sure always to keep an eye on your personal belongings and keep your valuables safe and secure. A key tactic in petty theft is to use distraction. There are plenty of options in terms of luggage storage, so you don't need to walk around with your carry-on bags. Reliable, convenient, and inexpensive luggage storage services you can find at Radical Storage.
If you are visiting some more isolated places, hire a guide. You can find some amazing guides and tours at Viator. Not only they will give you insider information about historical and natural curiosities, but they will also warn you of risky areas and keep you safe.
Book a transfer in advance (both to and from Dublin Airport or Central Station) to your final destination. You can use Get Transfer for that.
Is Dublin Safe at Night?
Anywhere you go, the city's nightlife is an entirely different environment. The night is when tourists or locals are most vulnerable to uncomfortable encounters.
Although Dublin is relatively safe at night, it is when most fights break out (alcohol consumption is at its peak). Be sure to keep your eyes open for any suspicious-looking characters after a long night of drinking.
Dublin is an old city with plenty of dark alleys that you should avoid. Keep to well-lit areas and streets as the city that was once easily navigated during the day can become somewhat of a labyrinth at night if you aren't familiar with the site.
Get familiar with the place, the culture, and the people before you embark on any late-night adventures. It's fun to hang out at clubs and bars, so keep your senses sharp, and you'll be fine.
Best Area to Stay in Dublin
The best places to stay in Dublin include Smithfield to the north, Docklands in the east, Portobello to the south, and The Liberties in the west. These districts offer any traveler the authentic Dublin adventure with a mix of history, architecture, culture, and commerce — to name a few.
There are some excellent and (surprisingly!) inexpensive hotels in the best areas of Dublin. You can find them below.
But Ireland's capital offers so many more memorable spots to check out. Let's see what's on the list!
So What are the Top Spots in Dublin?
● Number one on the top spots is Merrion Square & St. Stephen's Green. This spot is Ireland's most famous square, where you'll find some of the most important museums, colonial history, the seat of parliament, and some of the most beautiful public spaces around!
● Another top spot on the list is Grafton Street & Around. This area always has lots of friendly locals and fellow travelers and attracts the best boutiques and artisans in the country. Here is where you'll find some of Dublin's most fabulous shopping!
● One more top spot on the list is Temple Bar. This area is filled with live music from many of the pubs as you walk by, unique shopping, fantastic food, and a nightlife scene you cannot miss! Temple Bar has been rejuvenated and has earned the title of Dublin's "Cultural Quarter."
As we said, there are many more places to check out. Heading toward the center of Dublin will expose you to many of the capital's major sights.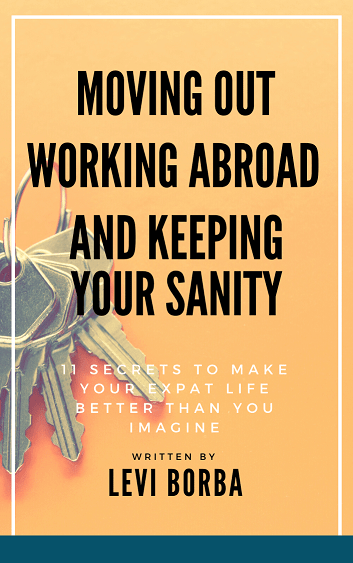 Other Tips for Visiting Dublin and Ireland
1st — If you are visiting the city, there are plenty of options in terms of luggage storage, so you don't need to walk around with your carry-on bags. Reliable, convenient, and inexpensive luggage storage services you can find at Radical Storage.
2nd — Areas surrounding airports and train stations can be dangerous.  Book a transfer in advance from the Dublin airport (or from any station) to your destination and vice versa, so you can avoid scammers and criminals. I often used Get Transfer for that and it always worked fine.
3rd — If you want to walk around and see some historical spots without the risk of getting lost or wasting your time, hire a guide. You can find some amazing and reliable guides and tours at Viator. They will give you insider information about historical facts and curiosities, and also warn you of risky areas and keep you safe.
4th—Stay in a good hostel. Hostels are usually in the safest parts of cities (at least in Europe and South America), unlike hotels. Most hostels have private rooms that are as comfortable as a hotel, plus a friendly staff to give information. When looking for hostels, I visit Hostelworld and filter for those above grade 7.
Is Dublin Safe and Worth Visiting?
Whether or not you'll think Dublin is worth visiting has a lot to do with your preferences, interests, and priorities when you travel. But if we had to answer the question — yes, it's definitely worth it!
Dublin offers tourists many sights and places for free, including most museums and galleries. Once you're in the center of town, you'll find that everything around you is within walking distance. Since the city is very compact, you can explore it with relatively zero transport costs!
Ireland's capital is one of the most unforgettable scenic places in Europe. The medieval architecture that lingers tells a charming story with its ancient buildings, historical sites, memorials, and incredible street art. The streets speak to you.
Travelers visiting Dublin should feel much safer than in some other European capitals like Athens (where my family was a victim of 2 crimes in 2 days) in Greece.
If you're wondering if Dublin will be the right place for you, there's only one way to find out. You'll have to see it for yourself!
---
If you enjoyed this article answering the question Is Dublin Safe, here are a few other reading suggestions for you:
How Belgrade Defeated Criminal Clans and Became a Prime Destination
The Most Violent Cities in Europe BY COUNTRY
THESE Are the Cheapest Cities to Fly to In Europe
Levi Borba is the founder of the Expatriate Consultancy, creator of the channel The Expat, and best-selling author. Some of the links of this article may be affiliate links, meaning that the author will have a commission for any transaction.