Is Oklahoma City a safe place to live or visit?
Oklahoma City is a vibrant city, offering residents and visitors a wide variety of amenities, recreation and entertainment options. The city offers a wealth of exciting employment opportunities, from high-tech jobs to skilled crafts, to finance careers and everything in between. The downtown area is bustling with energy as a newly engaged business community has sprung to life, bringing with it new restaurants, shops and services. But.. Is Oklahoma City safe?
Or: How Oklahoma City compares to the the safest big cities in the US?
Before entering into the gloom of the crime data, some cool facts:
• One of the biggest cattle marketplaces in the world is in Oklahoma City.
• One of the city's many remarkable names is the Oklahoma City Thunder NBA basketball team.
• The Oklahoma City Museum of Art and the National Memorial & Museum are two outstanding attractions in the city's newly refurbished downtown. Other must-visit places are the Bricktown Arts District and the Paycom Center.
• The city is well-known for its cowboy culture and its capitol building (surrounded by active oil wells).
If you're considering moving to Oklahoma City, it's a great place to live, work, and enjoy yourself. This article will examine different places in the city, taking into account the safe neighborhoods and places to stay away from.
Crime Rate In Oklahoma City
It is impossible to answer the question Is Oklahoma City safe? before first examining the crime rate and violence statistics.
Below you can see two tables.
The first table shows the crime rate (as well as the homicide rate and other information) of Oklahoma City and compares it with other cities we analyzed. The source of the data is the FBI reports.
Crime Rate of Oklahoma City (Proportional to the Population) Compared to Other Cities
Here the crime numbers are divided by the population and demonstrated as cases per 100,000 habitants, meaning that they are proportional to the number of residents. By clicking on the name of each city, you will find a complete article with their best neighborhoods, areas to avoid, crime rates, etc.
| | | | | | | | |
| --- | --- | --- | --- | --- | --- | --- | --- |
| City | State | Population | Total Criminal Offenses per 100K Resid. | Assaults per 100K Resid. | Homicides per 100K Resid. | Rapes per 100K Resid. | Robberies per 100K Resid. |
| Escondido | CA | 150,507 | 4,857 | 931 | 3 | 15 | 93 |
| Chula Vista | CA | 275,978 | 3,265 | 718 | 2 | 11 | 91 |
| Palmdale | CA | 169,450 | 1,731 | 315 | 6 | 30 | 91 |
| Pasadena | CA | 135,732 | 2,696 | 412 | 3 | 4 | 132 |
| Santa Ana | CA | 310,227 | 2,698 | 280 | 5 | 47 | 129 |
| Santa Rosa | CA | 178,127 | 2,154 | 374 | 2 | 62 | 76 |
| Anaheim | CA | 346,824 | 2,918 | 196 | 5 | 38 | 119 |
| Huntington Beach | CA | 198,711 | 2,229 | 158 | 2 | 35 | 54 |
| Hialeah | FL | 220,490 | 1,961 | 145 | 3 | 12 | 45 |
| Tallahassee | FL | 196,169 | 3,879 | 545 | 12 | 103 | 122 |
| Honolulu | HI | 985,138 | 4,764 | 958 | 1 | 17 | 73 |
| Oklahoma City | OK | 670,872 | 7,705 | 1,430 | 15 | 61 | 97 |
| Pittsburgh | PA | 302,971 | 4,168 | | | | |
| Salt Lake City | UT | 205,929 | 15,723 | 3,009 | 9 | 132 | 215 |
Crime rate numbers. Total criminal cases, assaults, homicides, rapes, and robberies in multiple American cities we analyzed, in cases per 100K residents. Data from 2022, 2021, and 2020.
Crime Rate of Oklahoma City in Absolute Numbers Compared to Other Cities
City
State
Population
Total
Criminal Offenses
Assaults
Homicides
Rapes
Robberies
Escondido
CA
150,507
7,310
1,401
5
22
140
Chula Vista
CA
275,978
9,010
1,982
6
31
251
Palmdale
CA
169,450
2,934
533
10
51
155
Santa Ana
CA
310,227
8,370
869
15
145
401
Santa Rosa
CA
178,127
3,836
667
4
110
135
Anaheim
CA
346,824
10,122
681
16
133
412
Huntington Beach
CA
198,711
4,430
313
3
70
107
Tallahassee
FL
196,169
7,609
1,069
24
202
239
Honolulu
HI
985,138
46,933
9,438
8
166
719
Oklahoma City
OK
670,872
51,689
9,595
100
406
653
Pittsburgh
PA
302,971
12,629
Salt Lake City
UT
205,929
32,378
6,196
19
271
443
The numbers of total criminal cases, assaults, homicides, rapes, and robberies in multiple American cities we analyzed, in absolute numbers. Data from 2021 and 2020.
In 2020, the violent crime rate in the city neighborhood was significantly higher than the national average. It had a greater rate of property crime than the country as a whole. The tables below display Oklahoma City's crime rate.
Oklahoma City Annual Crime Rate
| | | | |
| --- | --- | --- | --- |
| | Violent | Property | Total |
| Number of Crimes | 4,833 | 25,974 | 30,807 |
| Crime Rate (per 1,000 residents) | 7.10 | 38.14 | 45.23 |
Oklahoma City Crime Rate (Annual). Source: NeighborhoodScout
Oklahoma City Violent Crimes
| | | | | |
| --- | --- | --- | --- | --- |
| | Murder | Rape | Robbery | Assault |
| Report Total | 21,570 | 126,430 | 243,600 | 921,505 |
| Report per1,000 | 0.07 | 0.38 | 0.73 | 2.78 |
Oklahoma City Violent Crime Numbers (Annual). Source: Source: NeighborhoodScout
Oklahoma City Emergency Numbers in case you need help.
Ambulance / Fire / Police – 911
Highway Patrol – (405) 425-2323
Poison Control Center – (405) 271-5454
Drug and Gang Hotline – (405) 232-6272
Bad Parts Of Oklahoma City
You should be cautious around the below-listed Oklahoma City areas. When you're considering staying or exploring these Oklahoma City areas you are strongly advised to be careful.
Flatiron District of Oklahoma City
The neighborhood, also called the Triangle District, is bordered to the north by Northeast 8th Street, to the west by the Santa Fe Railroad, to the south by Northeast 4th Street, and to the east by Interstate 235.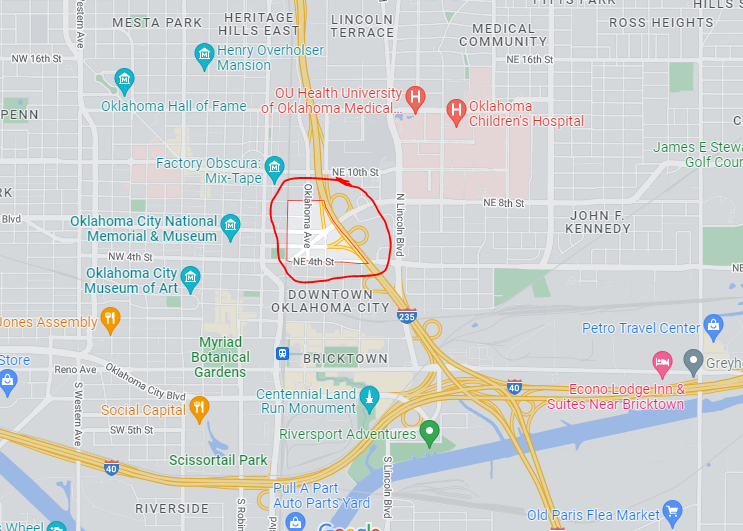 Meridian Avenue (Hospitality Corridor)
One of the major streets in the city runs alongside the Meridian Avenue Hospitality District. While walking down the street, you should be cautious of pickpockets.
The neighborhood is well-known as an adventure destination in Oklahoma City. These include, amongst many other destinations, the Science Museum of Oklahoma, the Oklahoma City Zoo and Botanical Garden, the ASA Hall of Fame Complex, and Remington Park Racetrack and Casino.
Directly to the north of Bricktown is Deep Deuce. This downtown area was home to bands like the Count Basie Orchestra, the Blue Devils, the Charlie Christian Band, and others, making it a hub for jazz music and culture in the neighborhood.
Numerous stores and boutiques with a western motif can be found in Stockyards City, especially Langston's Western Wear, the first western wear business in Oklahoma. This neighborhood was founded in 1913.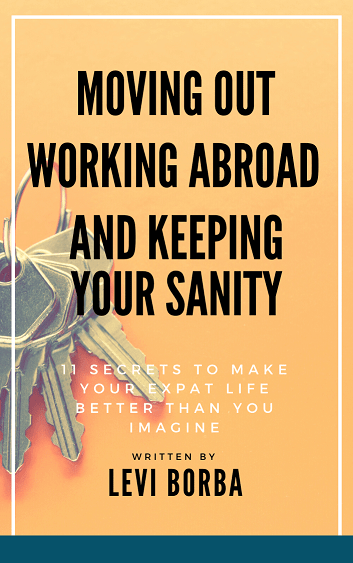 The Best And Safest Neighborhoods In Oklahoma City
Are you thinking about visiting or relocating to Oklahoma City? The city of Oklahoma has stunning tourist attractions, cheap housing, well-paying jobs, and entertaining activities for people of all age groups. Consider visiting or moving to one of these Oklahoma neighborhoods if you're searching for a safe neighborhood.
1. Asian District
Little Saigon is another name for this neighborhood. The Asian District is a vibrant, international neighborhood with a wide range of bars, restaurants, and high-rise residences along with Asian delis and retail stores. People from all around the globe now live there.
2. Forest Park
Forest Park is the perfect neighborhood if you're seeking a family-friendly neighborhood. If you ever asked yourself if Oklahoma City is safe, in this district the answer is a certain yes.
This neighborhood, which is 15mins northeast of the downtown core, features a peaceful domestic neighborhood, excellent schools that are part of the Mid-Del School District, easy transit into Central Oklahoma, and a ton of family-friendly amenities close by. Along with new buildings, Forest Park residents can discover reasonably priced ranch-style homes on roomy lots.
The standard home value here is $193,100, and the cost of rent is $1,213. The Oklahoma City Zoo, Kirkpatrick Planetarium, Lincoln Park Golf Course, and Remington Park Casino are some of the neighborhood's top tourist destinations.
3. Moore
Moore is a great environment to reside in if you are beginning your work career or making retirement plans. It is located roughly 5 – 10mins south of Oklahoma City. The Moore Public Schools District's top-rated colleges are available in this Oklahoma City neighborhood, along with affordable apartments and house choices like multi-bedroom flats, and big single-family houses.
The regular price of a home here is $126,200, while the average rent is $934. The Buck Thomas Park, Museum of Osteology, Yellow Rose Theater, and Moore Golf & Athletic Club are the main local attractions.
4. Downtown Oklahoma City
The American Banjo Museum, the Oklahoma City Museum of Art, and the Oklahoma City National Memorial, which features the "Field of Empty Chairs," are all located in the vibrant downtown neighborhood of Oklahoma City. Fine cuisine, taco restaurants, and Asian restaurants are all available, and a variety of people use the artisan cocktail clubs and bistros. NBA basketball matches and notable concerts attract a larger crowd to Chesapeake Arena.
In this neighborhood stands the 844-foot (257-m) Devon Tower, the tallest skyscraper in Oklahoma.
5. Nichols Hills
There are nice homes along the streets, premium businesses, fine dining restaurants, and the renowned Oklahoma City Golf & Country Club. The Village's housing prices have risen recently as a result of its proximity to the Nichols Hills area and Lake Hefner.
There are some excellent and (surprisingly!) inexpensive hotels in the best areas of Oklahoma City. You can find them below.
6. Quail Springs/Memorial Corridor
Most of the city's largest employers are based in the neighborhood. There is a concentration of medical facilities nearby, such as the Integris Cancer Institute, the Oklahoma Heart Hospital, and Mercy Health System. Due to its abundance of open space and accessibility to a wide range of restaurants, shopping, and recreational opportunities, Memorial Corridor is well-liked by locals.
Must Visit Places In Oklahoma City
Enter the building and you'll find eye candy all around you moving. A turn-of-the-century imitation neighborhood named Prosperity Junction displays highlighting Native American cultural heritage, and cowboy items such as guns, saddles, boots, and clothing may all be found here.
Although the red brick structures in Bricktown were constructed in the early 1900s, the neighborhood is today a lively recreational spot with hotels, ballparks, nightclubs, theaters, boutiques, and eateries. Tourists can also take boat cruises along the neighborhood waterway.
One must not pass this stunning 17-acre dynamic urban wonderland by. You'll adore the recreational delights, which include a beautiful greenhouse, a 6-acre kid's garden and park with two tempting interactive river attractions, and the Grand Event Lawn, a celebrations area for year-round horticulture activities and special occasions.
This enormous oasis, which is a hybrid of a zoo and botanical gardens, offers guests access to a wide range of attractions as well as top-notch areas like Great Escape, Cat Forest/Lion Lookout, Oklahoma Parklands, and Sanctuary Asia. Youngsters like The Kid's Zoo, because they're allowed to have fun, and wonder while discovering more about the environment and the creatures there.
In addition to one of the greatest exhibits of Dale Chihuly glassware in the entire globe, this museum notably features works by Georgia O'Keeffe, Auguste Renoir, and other 19th and 20th century American and European craftsmen. Visit the on-site cinema as well as the lovely restaurant, which offers a breakfast buffet, lunch, supper, and beverages.
Is Oklahoma City a Safe Place to Live? Conclusion
Oklahoma City is a wonderful and safe place to reside in, take a job, and enjoy a nice steak. It is bordered by stunning features, is reasonably priced, has safe neighborhoods, and is simple to get around if you're working, visiting, or looking for a place to eat.
The state of Oklahoma has violence numbers comparable to California, although California has larger disparities and the most dangerous cities there will be far more dangerous than OKC, while some cities (eg: Santa Rosa or Anaheim) are safer than Oklahoma City.
Oklahoma City is a city with a touch of warm southern culture, but it's also a developing cosmopolitan hub with a robust economy, well-regarded schools, and a ton of entertaining things to do such as festivals and recreational sports.
You'll probably enjoy engaging with a lot of nice individuals when exploring or residing in Oklahoma City, from single folks to new couples to young employees and pensioners. Anyone you want to find is always available to give a smiling face, a remark, a jest, or instructions.
Other Tips to Make Your Stay in Oklahoma City even Safer
1st — If you are visiting the city, there are plenty of options in terms of luggage storage, so you don't need to walk around with your carry-on bags. Reliable, convenient, and inexpensive luggage storage services you can find at Radical Storage.
2nd — Areas surrounding airports and train stations can be dangerous.  Book a transfer in advance from the Will Rogers International Airport (or from any station) to your destination and vice versa, so you can avoid scammers and criminals. I often used Get Transfer for that and it always worked fine.
3rd — If you want to walk around and see some historical spots without the risk of getting lost or wasting your time, hire a guide. You can find some amazing and reliable guides and tours at Viator. They will give you insider information about historical facts and curiosities, and also warn you of risky areas and keep you safe.
---
If you enjoyed this article answering the question Is Oklahoma City Safe?, here are a few other reading suggestions for you:
9 Books about Relocating to Gain an Edge in Your Life
The Most Violent Cities in Europe BY COUNTRY
THESE Are the Cheapest Cities to Fly to In Europe
Some of the links of this article may be affiliate links, meaning that the author will have a commission for any transaction.