There is so much a Tanzania and Zanzibar Honeymoon offers beyond a beach resort!
I'd been there, and it was nothing short of spectacular!
---
Are you looking for the perfect honeymoon to go after tying the knot? Have you ever wondered about Zanzibar and Tanzania honeymoon? An increasing number of people do!
But these African spots are great destinations not only for honeymooners. I visited there with my family and girlfriend, and it was wonderful. I would only not recommend it to people allergic to pristine beaches and incredible wildlife.
Located in East Africa, these coastal destinations are a traveler's dream. You get beaches, wildlife, culture, good food and much more.
When we talk about Tanzania and Zanzibar, we are referring to a single country, since the last is part of the first. But to give you a bit more detail:
This is important to understand why Tanzania isn't just about safaris.
The Zanzibar Archipelago, off the coast of Tanzania, is a paradise for beach lovers. The pristine beaches of Zanzibar are perfect for couples looking to relax on the sand or engage in water activities like snorkeling and diving. The place offers inexpensive bed & breakfasts (see more below), or resorts that can offer you an upscale suite or villa.
1. Enjoy Snorkel in Zanzibar or Go for a Serengeti National Park Safari Trip
One of the top reasons to visit Tanzania is the wildlife, be it on the surface or underwater!
You get to see wildlife in their natural habitat. You could spend a day with the magnificent Lions, elephants, zebras, and leopards. Yet, that doesn't even capture the abundance of wildlife.
There is still so much below the water surface, and I saw that myself!
Simply said, Zanzibar is a snorkeling paradise. It is an excellent diving location all year round, with an average water temperature of 27 degrees Celsius and visibility easily above 20 meters.
Mnemba Atoll is a well-known conservation area in Zanzibar that is high on most people's "must-see" list. Year-round visibility is good, up to 30 meters. Snorkeling around Mnemba Island's shore will bring you up close to spectacular coral reefs, many fish species, and other marine life such as dolphins, green turtles, and sea stars.
And it is REALLY inexpensive for such a wonderful experience.
If you prefer to do a more traditional, dry safari, the best time to visit Tanzania is during the wildebeest migration.
The Serengeti is a perfect romantic getaway spot. There are amazing packages for Tanzania honeymoon safaris you can take advantage of. The travel agents arrange everything for you. They can also create custom packages depending on your budget. See unique wildlife and breathtaking landscapes under the African sun.
How about taking your Zanzibar in Tanzania honeymoon safari a notch higher? You don't have to spend the whole time in the resorts. There is the option of camping in the Serengeti.
The thrill of sleeping in a tent, mere feet from animals of prey, is an out-of-this-world feeling. The honeymoon safari service providers will organize bonfires and other night activities. The open starry sky is so romantic that you may never want to leave.
2. In Zanzibar, a Honeymoon Package Means Often a Cozy Lodge and a Pristine Beach
What can be more romantic than miles and miles of pristine white beaches? Tanzania and Zanzibar lie on a coastline and have some of the best beaches in the world. Take romantic strolls, dip in the water, or spend a lazy day basking.
There are also plenty of water activities if you fancy some physical exertion. You will both enjoy scuba diving and snorkeling.
Your honeymoon safari agents can arrange for private escapades at the islets. Some of the popular ones in Zanzibar include Chapwani, Chumbe, and Mnemba.
3. Learn the East African culture
Stone Town, the capital of Zanzibar, is a UNESCO World Heritage Site. It is rich in culture and has so much history. The town has preserved most of the historical influences. There is a mix of European, Persian, Indian, Arabic, and African heritage. It almost feels like you are taking a walk through the past.
Exploring old Stone Town is intriguing, but it's easy to get lost in the area's maze-like, tiny lanes. For less than 40 dollars, a private guide you show you all the gems of the historical city and make the best of your time!
4. Spices and More Spices
Many people know Zanzibar as a spice island. The locals farm all types, including nutmeg, cinnamon, cloves, and turmeric. A trip to farms will teach you about the spices' history, processes, and uses.
There are some excellent and (surprisingly!) inexpensive hotels in the best areas of Zanzibar. You can find them below.
5. Enjoy the Cuisine of Tanzania and Zanzibar During your Honeymoon
A Tanzania and Zanzibar honeymoon trip will expose you to the local cuisine. The night food market in Stone Town is something you want to experience. The aroma of spices and good food is one part of the trip you will remember for a very long time.
In Zanzibar, I ate one of the most delicious grilled fish of my entire LIFE. I don't know the name of the species, but I can still remember the dazzling flavor it had.
The best part: the dinner was served at the beach.
6. Experience the Maasai Culture
One of the best places to visit in Tanzania is the Maasai manyattas or villages. This East African tribe has held on to its culture despite Western influences. The nomadic pastoralist community has managed to co-exist with the wildlife.
You may see humans and animals within the same vicinity during your safari honeymoon. Indeed, there is a special relationship between lions and the Maasai.
7. Angling Excursions in the Indian Ocean
When signing up for the Tanzania safari and Zanzibar packages, ask for the angling excursion. You will both love the sport, even if you are both amateurs. You learn everything about casting, raising, and landing your catch.
The angling occurs in the deep seas, away from the protected reefs. But don't worry; the expert crews will ensure your safety.
8. Appreciate the Wonder of Nature At Ngorongoro Crater
A trip to Ngorongoro crater must be on your list of places to visit in Tanzania. Volcanic Caldera plays host to a wide selection of animals. Expect to see elephants, buffaloes, flamingos, hyenas, and hippos. You may even catch a glimpse of the endangered black rhino.
The Tanzania honeymoon safari service providers can arrange for photography at the site. You will love the stunning backdrop and may also catch a few wildlife species in the pictures.
9. Spend a Day with the Chimpanzees at Mahale National Park
If you ever doubted evolution, a visit to Mahale National Park will change your mind. The main draw is the chimpanzees, which exhibit very human-like behavior. Kids play by themselves while adults sit around, chat, and sometimes squabble.
The park is also home to over 100 animal and fish species. Stick around till evening to catch the stunning sunset. Charge your camera for plenty of romantic photos.
Also, take the opportunity to see the red colobus monkey in the Jozani forest. The colobus is another endangered species that got a new lease of life at the reserve.
10. Strengthen Your Bond with a Mount Kilimanjaro Climb
Climbing Mount Kilimanjaro would be the perfect culmination of a safari honeymoon. Prepare well in advance, though. You will be attempting to climb the highest mountain in Africa. What would be more romantic than you and your spouse getting to the peak?
Indeed overcoming the challenge would be a testament to your strength as a couple. No challenge will ever be too big to overcome as long as you work together.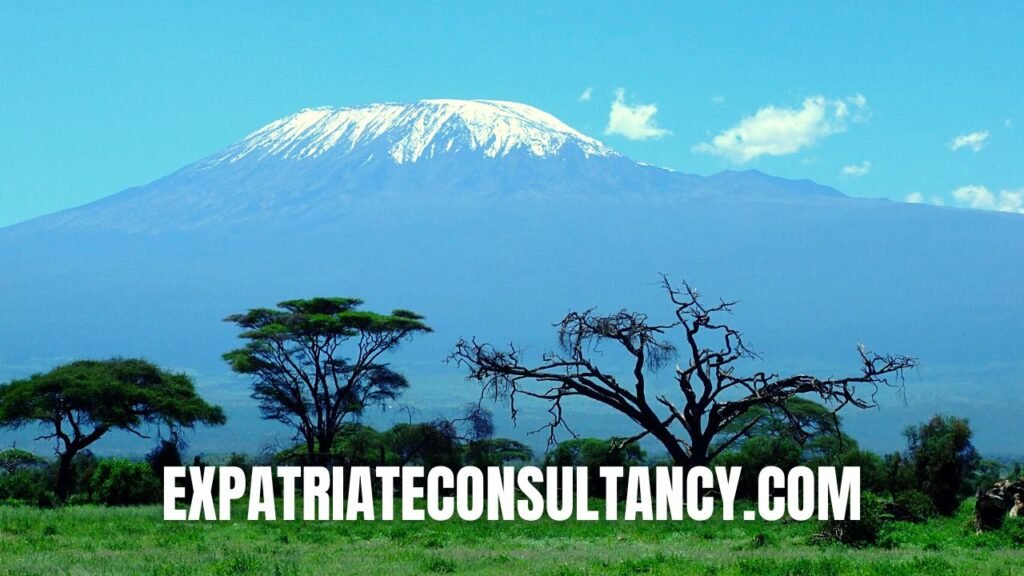 Where is Zanzibar?
Zanzibar is an archipelago off the coast of southern Tanzania in East Africa. It consists of over 250 small islands, with a total area of 236 square miles. The largest island is Unguja and the capital is Zanzibar City (also referred to as Stone Town). Over half the population of Zanzibar lives in the capital.
It is a semi-autonomous part of the country with its own president, who is elected every five years. It is nicknamed "Spice Island" due to its location on the Spice Coast, which derives its name from the spices grown there.
Where to Stay in Zanzibar
When I traveled to Zanzibar, I stayed close to a beach called Nungwi. It is gorgeous (you can see by the picture above), very well conserved, and has some nice beach bars with affordable prices for you to sip a drink or eat something.
I slept at Baraka Aquarium Bungalows, an inexpensive bed&breakfast that has a pond with turtles (you can swim with them!). They also serve a delicious breakfast! Nungwi has also a few other accommodation options for you to choose from.
Nungwi is also in my ranking of the 8 best beaches in the world for holidays.
Check also: Discover how a cashback program can help you recover part of the money spent on flight tickets or Booking.com on our review of the WayAway cashback program.
Honeymoon in Tanzania: A Bucket List Honeymoon Destination! (Final Thoughts)
Tanzania offers an idyllic setting for honeymooners looking for a unique blend of adventure and romance. Imagine starting your marital journey with a safari in the famed Serengeti or Selous Game Reserve. Witnessing the Great Migration or going on a game drive to spot the Big Five adds an element of thrill to your honeymoon itinerary. Luxury lodges and tented camps provide the perfect backdrop for romantic nights under the African sky.
For the more adventurous, Tanzania offers exceptional safari experiences in the southern safari circuit, including walking safaris. You can even opt for a hot air balloon ride over the plains of the Serengeti. If you're up for a challenge, climbing Mount Kilimanjaro could be the ultimate testament to your partnership, symbolizing the highs and lows you'll navigate together in your married life.
Tanzania honeymoon service providers can make bookings stress-free. Partnerships with resorts and transport companies yield good deals. You can save money by booking as a group, plus custom packages let you choose your trip activities. Include some of the above activities.
In summary, whether it's the wildlife-rich plains of the Serengeti, the romantic beaches of Zanzibar, or the cultural richness of Stone Town, Tanzania has something for every type of honeymooner. With a range of luxury safari options, boutique hotels, and beach resorts, planning your ultimate Tanzania honeymoon can be as easy as saying "I do."
If you would like to go a bit more to the south in Africa, check this article I wrote with the top 10 honeymoon destinations in South Africa.
And enjoy your time, hakuna-matata 🙂
---
If you enjoyed this article, here are a few other reading suggestions for you:
The 10 Most Beautiful and Captivating Gardens in Europe!
Levi Borba is the founder of The Expatriate Consultancy, creator of the channel The Expat, and a best-selling author. Some of the links in the article may be affiliate links, which means the author receives a commission on any purchases made by readers.