Moving To a New Country in 2023? Read That.
---
It is simple to make plans for good times. However, to prosper, you must first survive. So to brace yourself for the nasty stuff, I will give you here 4 tips for living abroad.
Maybe by now you already know one thing or two about culture shock, how to arrange a seamless moving company to relocate without stress, and so on.
But once you will be there, in another country, you may also need to know a few other things to make your move a success.
This article list 4 of these little but crucial things that will make the entire process more pleasant.
Just do not anticipate normalcy. (But this advice is not really helpful, different from the tips for living abroad below).
I'll give you four tips in the following paragraphs. All of these are simple to implement, yet incredibly useful in unforeseen scenarios.
Check also: The best books about moving abroad.
These living abroad tips will increase the speed with which you flee from a collapsing environment, minimize the expense of that same escape, or just avoid possible conflicts in your new location.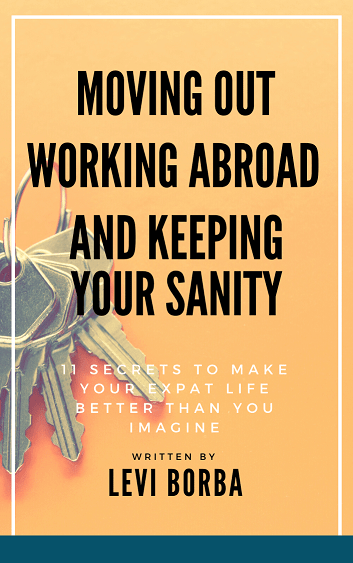 1 – During your life abroad, always have an escape plan on hand.
Assume you need to depart from the city. Now.
This is a valid situation, but most expats (there are six types of expatriates, discover your type here) and digital nomads would rather not even consider it. Still, it happens, and they attempt to address it on the fly, even if it may cost many times as much as if they had prepared.
I'm referring to situations in which an emergency occurs and you need to leave the region promptly, within a couple of hours.
It might be because of the death of a loved relative from your homeland.
It might be because of a sudden shift in the sociopolitical atmosphere.
Or even a chaotic sanitary situation, such as the 2020/2021 pandemic.
Regardless of the cause, you should be able to fly (or move) away as quickly as possible if necessary. If you live in one of the cheapest cities to fly to or out of Europe, this will be easier, but if this is not the case, better be prepared.
In my instance, I know that if a severe emergency occurs before 14:00 every day, I may purchase a trip to Amsterdam in the late afternoon and fly from there to Brazil. There is also an option through Paris, and both would let me arrive on the opposite side of the world the following morning.
Creating an escape plan has a beneficial side effect: You may also check the prices for buying last-minute tickets. For example, I found some time ago that last-minute flights to my parent's state are on sale during certain times of the year.
Establish your escape route and keep it in mind in case of an emergency. And, if you need it, here are some more airport tricks to save money on airline tickets.
2 – Consider your options carefully before purchasing a vehicle.
Before we get started, let's clarify that you don't always need a vehicle. In certain places in South America or the Middle East, having a car (or living with someone who has one) is a must, but not in Eastern Europe. At least not in the major cities, and certainly not for the majority of the population.
This is one of the key arguments I make in my second book, Budget Travelers, Digital Nomads, and Expats: The Ultimate Guide: 50 Tips, Tricks, Hacks, and Ways. It is also widespread concern among my consulting firm's clients.
I mentioned the Middle East in the previous paragraph because there was no underground (or subway, as Americans call it) in Doha while I lived there.
The oppressive heat for three-quarters of the year and the lack of sidewalks made walking a struggle. So driving to work was unavoidable.
But I still didn't want to purchase a car. I wasn't even sure I'd remain in Qatar long enough to recover my expense. What if I left months later and needed to sell the car quickly for a ridiculous price?
The answer to this problem was in the next door. Literally. I agreed with my roommate in which I paid for a portion of his gas and he drove me to and from work. I just utilized ride-sharing apps to go to other destinations.
The monthly cost of this arrangement was far less than the cost of purchasing an automobile. If you don't have a roommate with whom to negotiate this kind of agreement, there are still options that will save you money.
The first option is to rely on ride-sharing apps and taxis. In Chile, I could walk to work, and public transportation was readily accessible, as it was in Poland.
So, when I needed a ride, I used any phone app to hire a driver. Because my use was intermittent, the cost was less than that of auto insurance. For this reason, using ride-sharing apps like Lyft or Uber will most likely save you money if you are not a frequent driver.
Another option is to just rent a vehicle (one of my favorite tools for that is RentalCars).
When you rent a car instead of purchasing one, you will enjoy several advantages that most expatriates overlook:
Often there is no need to pay for insurance.
Not paying for administrative processes such as document transfers or inspections.
Not paying for repairs (unless specified in the rent agreement).
Not losing with depreciation. After three years (assuming 16,000 kilometers a year), a standard vehicle will be worth over 40% of its original price. In other words, you will have lost around 60% of its value at a rate of 20% each year.
When going on vacation, you may return the automobile instead of paying for rental during your absence. You may also sublet it if your lease permits it.
Some rental businesses provide free tire and oil change.
Some automobile rental firms pay the government taxes associated with car ownership.
If you need to leave the area for an unforeseen cause, you don't have to sell your automobile at a loss. This is often one of the most significant losses I've seen expats face while leaving the Middle East for unexpected reasons. If your employer completes your contract, you may have as little as one month to depart, which is sometimes insufficient time to locate a buyer at a reasonable price.
When someone states that paying for a vehicle rental is a waste of money, they often overlook all the preceding reasons. Renting, rather than purchasing, may save money in various situations.
3 – Prepare a basket for your "next visit home."
If you already live abroad, you likely have a collection of miscellaneous objects that are worthless where you reside but necessary for your next trip home:
Keys to your parent's home.
Adapters for power outlets
International currency
Passes for public transportation
Local documents, such as a health insurance card, a driver's license, and any visa you need if the trip back home has stopovers in a 3rd country.
Even if they aren't helpful right now, it's best not to throw them away. You will need them the next time you visit relatives and friends. To prevent losing it, make a compact basket or box containing everything you'll need while traveling back home (or the place that was your home).
If you need to make an emergency trip, documents, keys, and cash are already assembled and quick to get to the airport.
4 – The word expats should learn in any language if they move overseas.
Long-term travelers are classified into two groups. The first are individuals who never learn a single word of the idiom of their new country. They rely only on the assumption that people will speak English, and they believe that there is no need to say Thank You in the local language.
The second kind is individuals who just know a few words (or, for some brave and daring, more than a few). They often start with the equivalents of Hello, Bye, and Thank You. While the significance of those terms cannot be overstated, they are far from the most crucial item to understand at first.
Knowing how to say "Hello" in Russian (Privet) may not help you avoid a problem in Russia. It's wonderful to know how to say Buenos Dias ("Good Morning" in Spanish), but it's unlikely to save you from getting into a fight on the Mexican buses.
If you trip on someone's foot or mistakenly touch someone else's baggage at the airport, there is one expression that may save your skin. It is:
I'm sorry.
The amount of problems prevented when you learn how to apologize in your new idiom is astounding. In the subway, I saw folks upset because a pedestrian accidentally bumped them with a bag, realized what had happened, and then went without saying anything. He probably didn't even know how to pronounce it, but…
First, learn how to say "I'm sorry." It may already be beneficial at passport control when the border officer inquires about your lodging reservation and you realize you forgot to print it.
Conclusion: 4 Tips to Live Abroad Like a Local
1 – Always have an escape plan on hand.
2 – Consider if renting is not more economical than buying a car, especially when you are not sure you will remain in the new country long enough.
3 – Always have a "next visit home" basket ready.
4 – Learn how to say "I am sorry" immediately after arrival, on your first day.
In conclusion, embarking on the journey of living abroad is a thrilling adventure filled with new experiences and opportunities. However, it requires careful planning and preparation. Always have an escape plan at hand and consider the economic benefits of renting a car, especially when the duration of your stay in the new country is uncertain.
Cultural adaptation is a significant part of the relocation process. Learning to say "I'm sorry" in the local language can prevent misunderstandings and ease the transition into your new surroundings. This is particularly crucial when moving to a place where English is not the primary language.
Maintaining a connection with your home country is equally important. Having a "next visit home" basket ready can help alleviate homesickness and keep you grounded in your roots while you're abroad.
No matter if you're studying abroad, taking a new job in a foreign country, or making a permanent move, understanding the local laws and customs of your host country is key to avoiding potential legal issues and ensuring a successful journey.
---
Check also:
Two Fine Benefits of Living Abroad (Hint: They Will Laugh at You)
Tips and Crucial Advice for Anyone Moving from a Warm Country to Europe
Shock! The Cost of Living in London vs Other European Capitals
---
Levi Borba is the CEO of expatriateconsultancy.com, creator of the channel The Expat, and best-selling author.