How safe is it to travel to or live in the capital of Scotland? Is Glasgow Safe?
The city was one of the leaders in the 18th–20th-century industrial revolution, with shipbuilding its main trade. It is also known for its incredible music and art scene and stunning architecture. With so many adjectives, one could wonder about the cons of this city and ask Is Glasgow safe?
Known as "the green place" (its literal translation from Gaelic), this proud and beautiful metropolis, which sits on the River Clyde, was named a UNESCO City of Music a few years ago. Glasgow's past lies in its strong industrial routes to the modern city it now is.
Home to nearly 600,000 people, this incredible city is one of the biggest cities in the UK, as well as the title of Scotland's biggest city.
Maybe you already saw Glasgow's name in our list of the most dangerous cities in Europe, and yes, it is less safe than the rival Edingburgh or the nearby Dublin, but… not time to worry yet.
The Scots, like the Glaswegians, are a friendly, upbeat bunch, and Glasgow has lots more going for it. It's stuffed full of parks and green spaces, and there's lots of outdoor art and sculptures. The city's breathtaking architecture must be seen to be believed, such as the gothic University of Glasgow buildings, which look like something out of a painting!
But now time to jump into some stats about a subject not so merry, and understand how safe Glasgow is.
Read also: The Most (and the LEAST) Beautiful Capital City In Europe
Crime Rate in Glasgow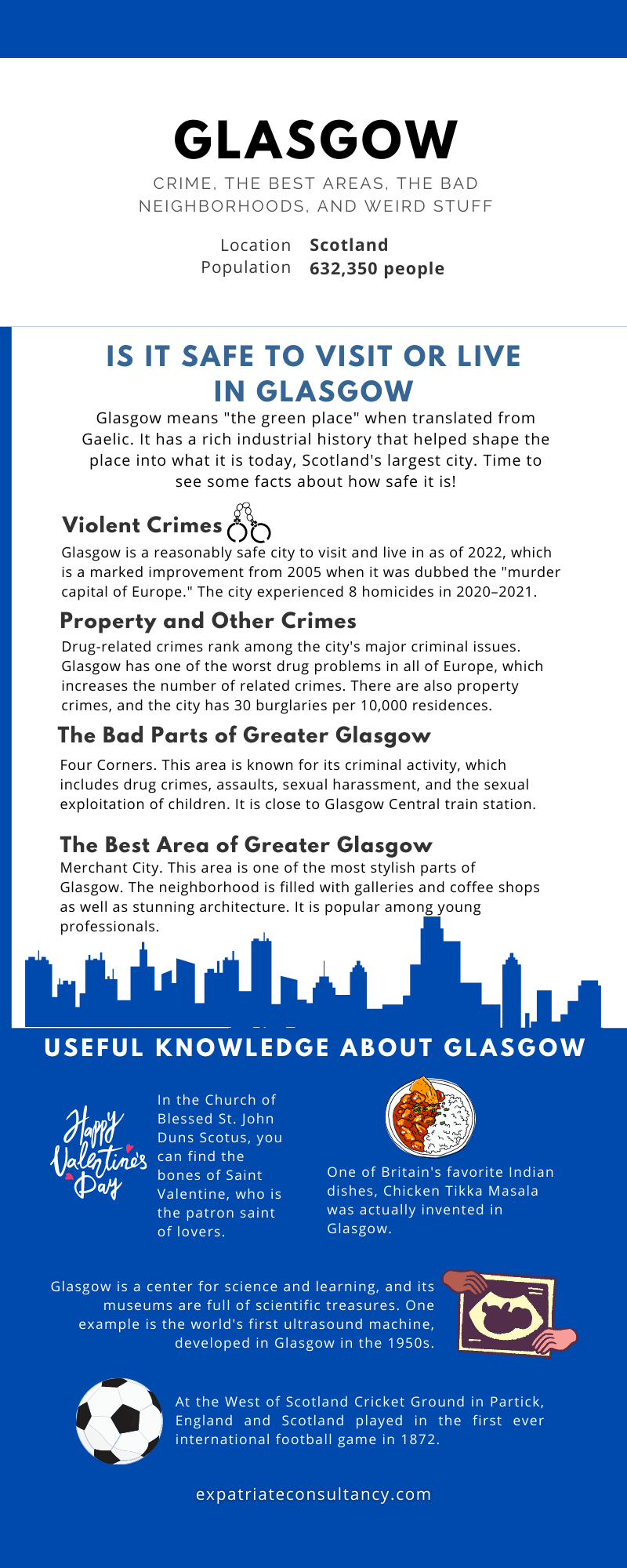 As of 2022, Glasgow is a relatively safe city to visit and live in. Although this hasn't always been the case, In a 2005 report, international organizations named the city the "murder capital of Europe" and called it a dangerous city. More recently, the Glasgow central station was considered the most dangerous in Europe.
This was due to gangs' attempts to control the city's drug trade. Almost half of the murders committed at this time were done under the influence of alcohol or drugs, which was a huge problem back in 2005.
In the seventeen years since this report was conducted, Glasgow has managed to shed its violent image and has become a safe and enjoyable place to live. In fact, Dundee overtook Glasgow in 2022 to become the violent crime capital of Scotland. This isn't just because crime in Dundee is increasing; this is due to violent crime offenses within Glasgow decreasing.
Check also: How safe is Manchester, the 2nd largest city in England? (Hint: It is better than Birmingham).
Although Glasgow has become safer over the years, as statistics show crime within the city is falling, it still has one of the highest figures for crime in the UK. This could have something to do with it being the UK's third-largest city. It stands to reason that larger, more populated cities will have higher crime rates than smaller cities.
One of the main crime issues facing the city is knife crime and gang/drug-related crimes. Glasgow has one of the worst drug problems in Europe, which leads to higher instances of drug-related crimes. There are also cases of brawls inside public transport, and tourist areas smashed by young people under the effects of alcohol.
Mugging risk is real, especially in some areas (more about it below), and if you are alone at night.
There are fantastic places to visit in Glasgow, but there is also some activity from scammers. Our website has a special report about common (and creative) tourist scams in Europe. Read it before your next trip.
Statistics show that crime figures, although decreasing year on year in Glasgow, is still higher than in other cities within the UK. However, with 2.5 million people visiting the city in 2019, this fact doesn't seem to be putting tourists off.
The Worst Neighbourhoods in Glasgow
So you want to visit the city, perhaps for a short weekend getaway, or maybe you are even considering moving to the vibrant Scottish hub. It would be a good idea to find out which areas of the city to avoid and why. Therefore, to ask yourself "Is Glasgow safe?" makes sense, but only if you have specific locations in mind.
So we are here to help you.
According to statistics released by the Scottish Index of Multiple Deprivation, some areas within Glasgow are among the worst in Scotland for crime occurrences.
Glasgow City Centre (including areas of Hope Street, Union Street, and St Vincent Street)
These areas of Glasgow are located right in the city centre, close to Glasgow Central train station. Due to the proximity to the train station, crime is a common occurrence, with offences such as pick-pocketing, drug use, and petty crimes at the top of the list. Drunk party-goers who may have arrived in the city from suburban areas are likely to cause anti-social behaviour and rowdiness too.
Sauchiehall Street
A street with multiple bars. During the day it is generally ok, but after 10 PM it changes completely, and it is best to avoid it. Despite the presence of police in the region, it is still dangerous.
The same is valid for Argyle street, especially in the region close to the central station.
Four Corners
Also close to Glasgow Central train station, this crossroads is notorious for its crime offences, which include drug crime, assaults, sexual harassment, and, worryingly, the sexual exploitation of children. Although much has been done to put a stop to some of these crimes, this area is still one to be avoided, especially at night.
Alongside these particularly troublesome areas, there are a few other places which should be avoided: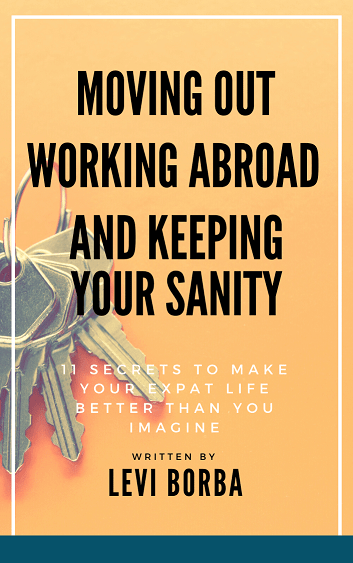 Pollokshields
Pollokshields, located on the south side of the city, is one of Glasgow's most deprived areas. It has high levels of poverty, unemployment, and crime, particularly violent crime. There is a huge divide between the rich and the poor in this area, with many of the poor living in poverty with little to no prospects.
Maryhill
Maryhill, which is located northwest of the city centre, has one of the highest crime rates in Glasgow and, similarly to Pollokshields, has high levels of deprivation, with areas of derelict or vacant land which has been left in disrepair.
Springburn
Another area to avoid is Springburn, an inner-city district in the north of the city. This area has high levels of crime and lower life expectancies than other areas of Glasgow. This could be down to high levels of poverty and unemployment.
The Best Neighbourhoods in Glasgow
We've got the worst areas of Glasgow out of the way. How about we have a look at some of the best neighbourhoods in the city? Whether that's down to what they have to offer, the green space available, or the rejuvenation of a dilapidated area, there are so many great areas of Glasgow to stay.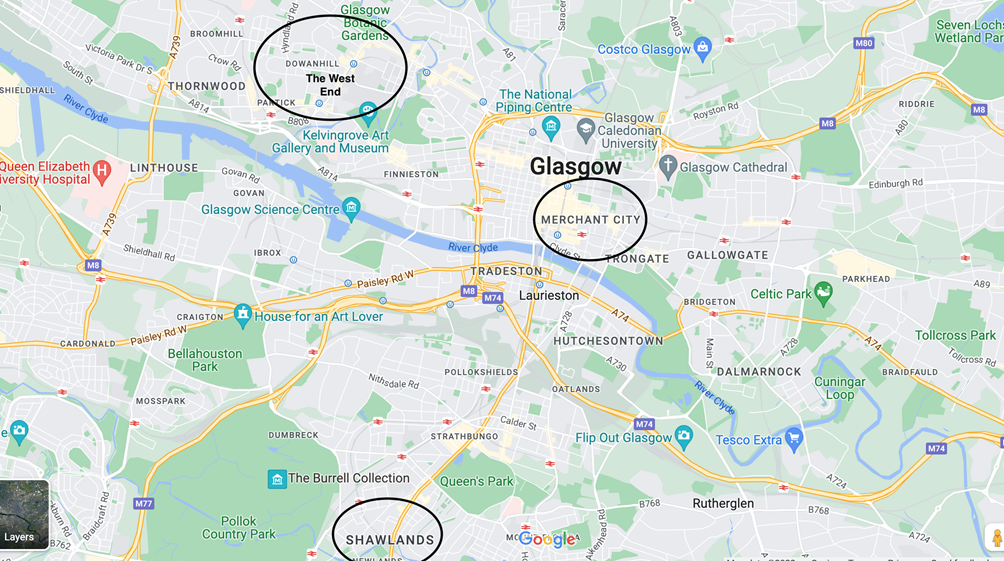 Merchant City
The area known as Merchant City is one of the most stylish areas of Glasgow. The district has stunning architecture, contemporary art trails, and plenty of coffee shops and galleries. All of the designer shops can be found in this area, and there's a plethora of trendy restaurants to choose from. Popular with young professionals who wish to enjoy the delights of the city and all it has to offer before settling down further out of the city.
The West End
The West End is a popular area of Glasgow that is close to many of the best sights in the city. From the Botanical Gardens to Kelvingrove Park, which is home to the Kelvingrove Art Gallery and Museum, and the beautiful University of Glasgow building, This leafy neighbourhood oozes charm, with its cobbled lanes, quirky shops, and gorgeous buildings.
Shawlands
Shawlands was voted as one of the best places to live in Scotland in 2022. The area is home to plenty of hip eateries and coffee shops and has a thriving nightlife. There are plenty of incredible places to eat and drink; it's close to green spaces and parks, and the community feel is well and truly here in this wonderful area. Located further out from the main city centre, it doesn't suffer from any of the city center issues such as pick-pocketing and anti-social behaviour.
Is Glasgow a Good Place to Live?
Glasgow has a chequered past when it comes to its safety and crime levels, but many of its areas have seen these levels decrease in the past twenty years. Combined with an insurgence of young professionals and students, Glasgow is slowly becoming one of the best places to live in the UK.
Oh, and before I forget to mention it, Glasgow is SO MUCH CHEAPER than London.
With its brilliant music and arts scene, vibrant nightlife, and more affordable housing on offer than many of its other Scottish and UK counterparts, it's a wonderful city to explore and live in. It has a lot to offer every traveller, whether old or young.
So get your bags packed, and get ready to explore this Scottish beauty. A city named after one of the world's friendliest cities is sure to be a fantastic place, right?!
Other Tips for Visiting Glasgow Safely
1st — If you are visiting the city, there are plenty of options in terms of luggage storage, so you don't need to walk around with your carry-on bags. Reliable, convenient, and inexpensive luggage storage services you can find at Radical Storage.
2nd — Areas surrounding airports and train stations can be dangerous.  Book a transfer in advance from the Glasgow (GLA) airport (or from any station) to your destination and vice versa, so you can avoid scammers and criminals. I often used Get Transfer for that and it always worked fine.
3rd — If you want to walk around and see some historical spots without the risk of getting lost or wasting your time, hire a guide. You can find some amazing and reliable guides and tours at Viator. They will give you insider information about historical facts and curiosities, and also warn you of risky areas and keep you safe.
4th—Stay in a good hostel. Hostels are usually in the safest parts of cities (at least in Europe and South America), unlike hotels. Most hostels have private rooms that are as comfortable as a hotel, plus a friendly staff to give information. When looking for hostels, I visit Hostelworld and filter for those above grade 7.
5th — As travel insurance for a trip to Glasgow city (and any city in the United Kingdom), we recommend Ekta.
---
If you enjoyed this article answering the question Is Glasgow Safe, here are a few other reading suggestions for you:
Dublin, the city from James Joyce and Colin Farrell, should be on your bucket list. Here is why.
The Most Violent Cities in Europe BY COUNTRY
THESE Are the Cheapest Cities to Fly to In Europe
Levi Borba is the founder of the Expatriate Consultancy, creator of the channel The Expat, and best-selling author. Some of the links of this article may be affiliate links, meaning that the author will have a commission for any transaction.