How safe is it to travel to or live in Manchester in the UK?
When you think of Manchester, you will most likely think of the capital of the North of England. This northern powerhouse has a rich industrial heritage that has shaped the modern city that we know today for its world-famous football teams and its incredible music and nightlife. The question "Is Manchester safe?" may come up with other thoughts.
Manchester has great transport connections across the rest of the UK and is home to Manchester International Airport, the third busiest airport in Britain. Attracting a plethora of young professionals due to more affordable housing than the likes of London and Birmingham (which is also less safe than Manchester, even figuring among the most violent cities in Europe), many businesses have their northern offices or indeed their main offices in the city.
Manchester is a diverse, cosmopolitan hub that has plenty to offer. From museums to stylish restaurants, unique bars, incredible shopping, a famous Christmas Market, and so much more, being bored won't be an option when visiting Manchester.
The city is home to five universities, two football teams, a world-class concert arena, and plays host to many exciting and diverse festivals throughout the year. Manchester is rich in history and culture at every turn, and there are some fascinating and vibrant neighbourhoods to wander and explore.
After reading this article, we strongly recommend you check our list of the most dangerous cities in Europe in 2023 (don't worry, Manchester is not there).
Read also: Are you questioning London's safety? Get the inside scoop that journalists omit.
The Crime Rate in Manchester
Crime in Manchester seems to be standard (in Britain) for the size of the city and the population. There are moderate to high levels of offenses for some types of occurrences. According to Numbeo, the current crime level is classed as "high" and crime within the city is increasing.
The types of crime classed as "moderate" are robberies, burglaries, car robberies, and muggings. The city has been named the second "most dangerous" place to live concerning burglaries, and this is a worrying statistic for anyone wanting to relocate to the city.
Check also: Edinburgh: one of the safest large cities in the UK.
Crimes classed as "high" are violent crimes such as assault and armed robbery. There are high levels of vandalism drug dealing and drug use too. These sorts of crimes don't usually affect tourists, though, and tend to be focused on one area.
One of the most common types of crime in the city center is antisocial behavior and brawls, especially during the night.
On a certain fashion, cities like Manchester and Newcastle are for the UK what Detroit is for the US. No surprise, in the same fashion Detroit is one of the most dangerous cities in Michigan, Manchester is one of the most violent cities in its region.
As in many large cities in Europe, tourist sites also have activity from scammers. Our website has a special report about common (and creative) scams targeting tourists in Europe. Check it before your next trip.
Areas in Manchester With a High Crime Rate
Several areas within Manchester and Greater Manchester have a high crime rate. These "rough areas" have high crime rates, which are usually due to the high levels of unemployment, poverty, and drug and alcohol use that are often seen.
Within the main areas of the city, high crime rates are usually related to anti-social behaviour and drug use, which often occur within city centres. With a large population comes increased crime and disorderly behavior.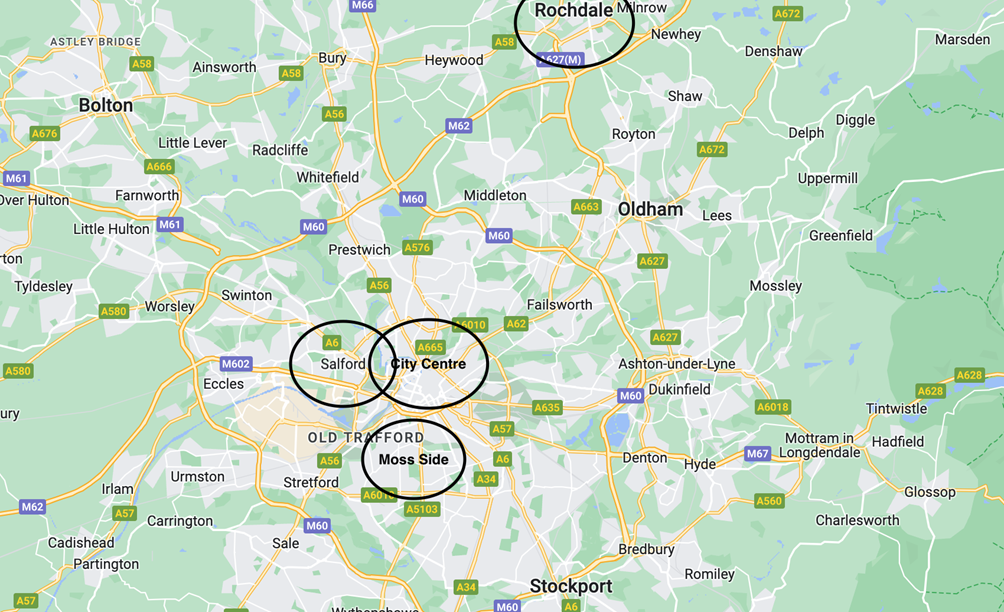 Here is a list of the areas in Manchester and Greater Manchester with a high crime rate:
Manchester City Centre.
The city centre is the epicentre of the most common crimes, such as vandalism, theft, and drug use. The city's transport hubs are usually where these sorts of crimes occur. Take care to avoid these at night, and keep expensive personal belongings hidden.
Rochdale
Located about ten miles northeast of the city centre, Rochdale is a suburb of Greater Manchester that has been voted one of the worst places to live. There are high levels of unemployment here; alcohol use is rife; and the town has been plagued with an unsavoury reputation. One of the biggest sex abuse cases came out of the town of Rochdale and has left the town struggling to shed its notorious image.
Moss Side
Moss Side is an inner-city district of Manchester and is located about two miles away from the centre. It is considered an extremely "rough area" of Manchester and has historically been known for its gangs and gun crime. Unemployment, poverty, and a lack of a strong social infrastructure have led to gang violence and bloodshed.
Salford
Although Salford is located in the Greater Manchester area, it is a city in its own right. Similarly to the city centre, Salford has high levels of crime due to its proximity to the city. It is home to a university and Media City, which is the media hub of the north, but there are suburban areas where vandalism, burglaries, and other crimes occur.
Read also: The most beautiful capital cities in Europe.
The Safest Areas in Manchester
Although crime rates in Manchester are considerably higher than in a lot of the other large UK cities, there are still some safe and pleasant places to visit and live.
Most of these areas are located within Greater Manchester, outside of the main city centre radius. These boroughs usually have town centre amenities such as shops, restaurants, and bars, and they will often have great transport links to the city centre-perfect for city workers who can commute easily while enjoying a calmer way of life.
Here are some of the safest areas in the city, places where yes would be the answer to the question "Is Manchester Safe?":
Sale
Sale is a town in Trafford, a Greater Manchester borough, and it is situated five miles southwest of Manchester city centre. It's been named one of the best places to live in England, and it's a popular area for families and young professionals. It has great schools, a wonderful community feel, and affordable housing, perfect for anyone trying to get onto the property ladder.
Altrincham
Altrincham is a popular market town located 8 miles southwest of the city centre. The market is the primary appeal here, and the town has marketed itself as 'the modern market town'. Open Tuesday to Sunday, you can sample craft beers, and local home-grown produce, and buy crafts, vintage clothes, and furniture. The town itself (also named one of the best places to live in the UK), has excellent schools, fabulous independent restaurants, and plenty of leafy outdoor parks to wander.
Ancoats
Ancoats is located right in the heart of the city centre, next to the hip Northern Quarter. Known for its incredible food scene, this once dilapidated area, which was a suburb for workers during the industrial revolution, has seen a major change throughout the past few years. Nowadays, the area is a hub for international cuisine, trendy coffee spots, and stylish bars.
Didsbury
Located four and a half miles south of the city centre, Didsbury is a desirable suburban borough with its leafy streets and tight-knit community feel. Popular with the affluent and the city's footballers, there's an air of exclusivity here. There are plenty of independent eateries, coffee shops, and boutiques, and the town has lots of outdoor green space to enjoy. This exclusivity comes with a price tag, though, and Didsbury is one of Manchester's most expensive suburbs to live in.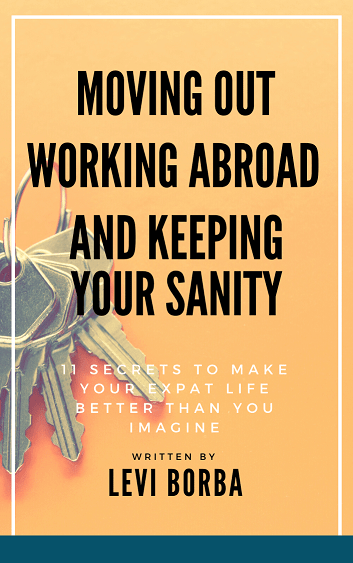 Top 5 popular tours in Manchester on a Budget (Below $99)
🏟️ Visit the Stadium that hosted the 2008 UEFA Cup Final and currently is the house of Manchester City: the Etihad Stadium, on this guided and interactive tour.
⚽ If instead of the Citizens you are a fan of Manchester United, this tour will put you inside the dressing room, tunnel, players' dugout, and exclusive areas of the Old Trafford stadium.
🏡 If you are in Manchester, why not take a day and visit the best of Wales?  This tour will take you to Llandudno, Swallow Falls, the Pontcysyllte Aqueduct, and little Betws-y-Coed, one of the most beautiful little villages in Europe.
🏞️ Explore the Lake District National Park, a UNESCO World Heritage Site, with convenience on a day trip that doesn't require you to rent a car.
🚌 If you are on a tight schedule, this hop-on hop-off bus will drive you across the most famous landmarks in this large city, and you can stop at the places you find more interesting.
Is Manchester a Good Place to Live?
Although Manchester has a high crime rate compared to other large UK cities, it is still an OK place to live (however, I would be cautious to answer yes to the question Is Manchester Safe), especially if you compare it to London (and its VERY high costs). Manchester has many arts and learning facilities, as well as media businesses and a large number of retail businesses.
The city centre itself has many unique areas and a rich heritage, which brings the entire city alive. Outside of the main city centre, there are some wonderful, suburban areas that are perfect for families and young professionals.
Of course, when visiting Manchester or choosing the city as your home, there are some factors to consider. Being a major tourist destination, the city can feel overwhelming and sometimes unsafe. Be sure to use your common sense and be aware when visiting the city at night or during busy periods. The Manchester Christmas Markets attract crowds of people from November to January, so beware of pick-pockets and keep your belongings close!
Don't let the high crime figures put you off, though. This northern gem has so much to offer, and the Mancunians are some of the friendliest people you will meet. So grab your coat and get exploring!
Other Tips for Visiting Manchester and Staying Safe
1st — If you are visiting the city, there are plenty of options in terms of luggage storage, so you don't need to walk around with your carry-on bags. Reliable, convenient, and inexpensive luggage storage services you can find at Radical Storage.
2nd — Areas surrounding airports and train stations can be dangerous.  Book a transfer in advance from the Manchester airport (or from any station) to your destination and vice versa, so you can avoid scammers and criminals. I often used Get Transfer for that and it always worked fine.
3rd — If you want to walk around and see some historical spots without the risk of getting lost or wasting your time, hire a guide. You can find some amazing and reliable guides and tours at Viator. They will give you insider information about historical facts and curiosities, and also warn you of risky areas and keep you safe.
4th—Stay in a good hostel. Hostels are usually in the safest parts of cities (at least in Europe and South America), unlike hotels. Most hostels have private rooms that are as comfortable as a hotel, plus a friendly staff to give information. When looking for hostels, I visit Hostelworld and filter for those above grade 7.
---
If you enjoyed this article answering the question Is Manchester Safe, here are a few other reading suggestions for you:
How Belgrade Defeated Criminal Clans and Became a Prime Destination
Dublin, the city from James Joyce and Colin Farrell, should be on your bucket list. Here is why.
The Most Violent Cities in Europe BY COUNTRY
THESE Are the Cheapest Cities to Fly to In Europe
Levi Borba is the founder of the Expatriate Consultancy, creator of the channel The Expat, and best-selling author. Some of the links of this article may be affiliate links, meaning that the author will have a commission for any transaction.