An itinerary to visit Warsaw in 1 day
---
Warsaw is the Polish capital, but it is not the most popular tourist destination; that honor belongs to Krakow and its surroundings. However, because it has the country's largest airport, many tourists stop there on their way to other parts of the country. A frequent question from these visitors is what to do in Warsaw in ONE day?
This is what I will respond to here, based on what I learned during my six years in this city (and from the feedback of my international guests, since I also operate a Hostel in Warsaw). Living here, I had time enough to learn some curious stuff, like the fact that Warsaw is among the cities with most public libraries in the world.
Because the majority of the recommendations below are based on my personal experience, you may be curious as to who is writing them: some random guy in his 30s who enjoys history, nice views, and a few drinks at night. The best month to visit Poland, in my opinion, is October. This guide will be very useful if you like any of these things.
Cheap accommodation in Warsaw
I could recommend my own hostel here, but I'm not going to do so for one simple reason: my hostel is close to the airport but far from the city center.
If you are only staying in Warsaw for 24 hours and then taking a train/bus somewhere else (for this, I recommend buying tickets via Trainline), it is critical that you stay close to the main tourist attractions and the central train station.
In this link here, I already filtered the best accommodations in the most central districts of Warsaw, with breakfast included.
Yes, choose a place that includes breakfast; it will save you time because many eateries in the city center open only at 9 or 10 a.m., and at that time, we already have your first activity: starting the day with the…
Warsaw bike tour
There are many tours available in Warsaw, including a great free walking tour departing from the royal castle.
The disadvantage of a walking tour is that it is limited by the average human walking speed, so it does not cover a large area (eg: the Vistula river bank).
Since you want to make the most of your time, an idea is to opt for a bike tour with experienced guides — bike rental included, and they can even lend you a helmet if you request. No need to worry about navigation, you'll have a guide.
During the tour, you will spend time outside visiting interesting locations such as:
The Krasinski Palace
The Presidential Palace (Palac Prezydencki, or the Polish White House)
The Tomb of the Unknown Soldier
The Royal Path (Krakowskie Przedmiescie), with its restored palaces, and historical churches.
The tour takes 3 hours, so when you finish it will be already afternoon, and time for the next stop…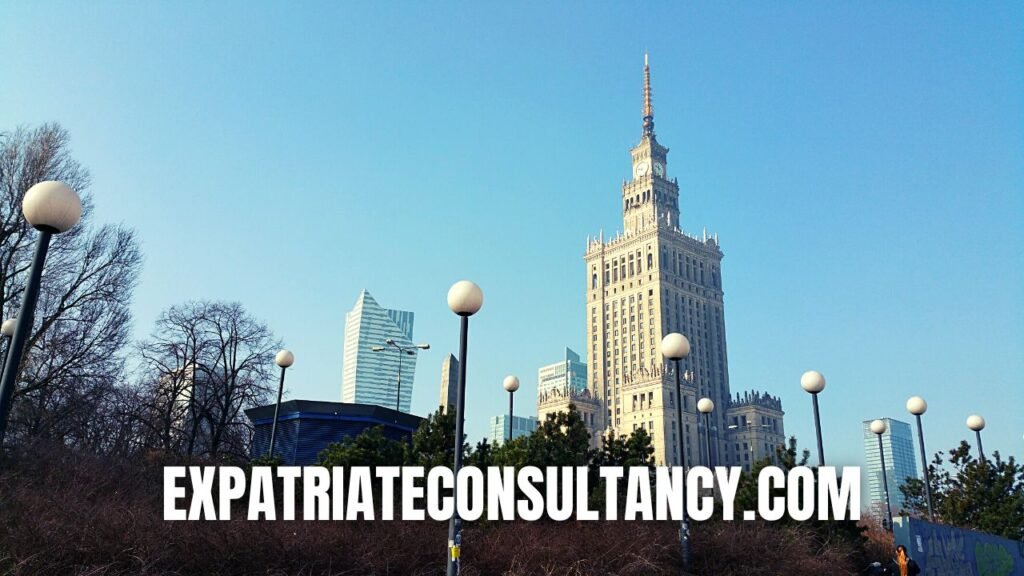 The Palace of Culture & Science
If you are feeling hungry, buy a Zapiekanka at any street food stall. It will give you the energy you need for the next attraction. Or should I say attractions, since they are 2 of the most iconic places not only in Warsaw but in the entire Poland.
The first is the PKiN, or, in English, the Palace of Culture and Science.
For many Varsovians, the Palace is a debatable structure. Many people see it as a historical souvenir from a difficult, painful past. There are also projects to demolish it.
The massive edifice holds approximately 3000 different rooms, including restaurants, a university, theaters, cinemas, offices, conference and performance halls, and even a swimming pool and it is a perfect example of the 1950s soviet style.
The interiors are covered with marble and mosaics, and light pours in through massive windows, all of which add to the one-of-a-kind feel of this site. The visitor is greeted with a magnificent view of Warsaw after reaching the terrace on the 30th level. Simply said, you must see it to understand it.
After spending around one hour at the Palace, head to the next attraction.
The Warsaw Uprising Museum
Attention: This Museum is one of the most popular places in the country, and the lines may be very long. If you have only 24 hours in Warsaw, it is a good idea to buy a tour package that includes guides and a skip-the-line entrance, as well as tickets to the previous attraction (the Palace of Culture and Science) and hotel pickup.
The Warsaw Uprising Museum is unique. Essentially, it transports visitors back to 1944. The multimedia display juxtaposes the growing volunteers' resistance and daily life with the occupation's atrocities, the complex international environment, the communist tyranny after the war, and their fate in that new scenario. Images and sounds depict the days leading up to the rising, its stages, and its final collapse. Over 1000 original exhibits, 1500 pictures, and films are available.
You can watch a 5-minute 3D simulation of a fly over a devastated Warsaw.
A must-see for everyone visiting Warsaw
Polish vodka tasting
The next attraction has a lighter tone.
Poland has been producing vodka for centuries, and nowadays some of the best vodka brands in the world are Polish.
During the Vodka Xperience, you will learn about the various vodka types and pick which vodka you like. Learn how to inspect vodka by sight, smell, and taste. During the 1h30min vodka tasting, you will sample 6 different varieties of Polish vodka while learning about the background of the country's favorite beverage from specialists in the field.
The entire experience takes place at a centrally placed facility known for hosting such tastings. Along with the drinks, you'll get a little appetizer that Poles normally take with vodka. Prepare to have a lot of fun, incredible tales, and a good time.
After the vodka tasting session, take some time to recover, because there is still one last attraction to close your 24-hour tour.
A Pub Crawl with Premium Open Bar in Warsaw
A good pub crawl in Warsaw will immerse you in the boisterous revelry of the Polish capital's nightlife. Visit a selection of Warsaw's most stylish and evocative bars and pubs with a professional guide and enjoy free drinks and exclusive deals at each one. Finish your exciting night in a famous club, where you may dance and drink till the wee hours of the morning.
The #1 Pub Crawl Warsaw is one of the most traditional Pub Crawl organizers in the city, and they offer all that for a price that you will not find in most European capitals.
Hop-on Hop-off Bus in Warsaw: is it a good idea?
It is commonplace to recommend these hop-on-hop-off buses when we have a short time to spend in a large city like Warsaw. That makes sense: they save you a lot of time and take you back and forth to the most important destinations.
But I have 2 problems with hop-on-hop-off tours:
They may get stuck in traffic (and Warsaw has a lot of traffic on weekdays).
The most famous hop-on-hop-off tour operator in Warsaw has a page full of complaints on Tripadvisor — I will not expose them here, but you can check for yourself.
Warsaw Chopin airport transfer
It is perfectly possible to travel between the Warsaw Chopin Airport and the City Center by public transport and it should take around 40 minutes. But if you are traveling in a group larger than 3 people, it is might be cheaper (and certainly faster) to book in advance a transfer from the Airport to your hostel or hotel.
What to do in Warsaw in one day – Conclusion
Warsaw bike tour from 10:30 to 13:00
The Palace of Culture & Science from 13:00 to 14:30
The Warsaw Uprising Museum from 15:00 to 17:00
Polish vodka tasting from 18:00 to 19:30
A Pub Crawl with Premium Open Bar from 19:30 until…?
What do you think about these recommendations? Any other idea that was missed? Do you think you could do such an itinerary in 24 hours?
---
Some of the links above are affiliate links, which means the writer may receive a commission if you purchase through them. This has no bearing on their rating or their status as recommended attractions.
---
If you enjoyed this article about what to do in Warsaw in one day, check also:
4 More Insider Tips to Find Incredibly Cheap Flights
Have You Ever Been to Europe's Culinary Jewel?
5 Things Insanely Expensive In Poland
Best Place to Visit in Europe on Each Month of the Year
3 European Cities to Travel on 25 Euros per Day!
If you liked this article, please consider supporting me and other writers by becoming a Medium member. By using this link, you will directly support me with a piece of your fee; there will be no additional cost to you. Thank you a million times if you do!
Levi Borba is the founder of the Expatriate Consultancy, of the channel The Expat, of a page for aspiring entrepreneurs, and best-selling author.