July, August, September, October, November, and December: The Best Countries to Visit in Europe by Month (2023)
---
If the first part of this list (the best country to visit in Europe from January to July) was dominated by islands, continental Europe will be the sole ruler in this second part. Here you will discover the best countries to visit in November and 5 other months in Europe.
But don't expect the obvious European destinations.
There are no recommendations for Paris or Prague (especially because they disappointed me, as I explained in this article).
Yes, this is a controversial list. But I hope I made a strong case for each nominee. Nonetheless, all suggestions are welcome! (And don't forget: I'm still looking for recommendations for countries to visit in February, which is the only month out of the year where I don't know where to go.)
If you want to discover the most inexpensive way to reach Europe, check our article about the cheapest cities to fly to In Europe.
Best Place to Visit in Europe in July:
Portugal
Why visiting Portugal in July:
Traveling during this time allows you to experience multiple festivities taking place throughout Portugal, such as the Festa dos Tabuleiros in Tomar, the cultural festivity that attracts the most visitors to Portugal and takes place every four years.
July is also considered the best month for beach vacations, as it is the warmest month of the year. Despite the high season, Portugal is also one of the least expensive destinations on the Mediterranean region (no surprise is a country that attracts so many digital nomads and expatriate retirees due to the low costs).
Algarve has a lot of events during this time of year including music and food festivals (discover here what are the best dishes in Portugal). There are several water sports along the coast, especially surf.
What to visit in Portugal this time of the year:
The Palácio da Pena in Sintra, a UNESCO world heritage site.
It is a castle in the town of Sintra (on the Portuguese Riviera), built by Romanticists. The castle is at the top of a hill in the Sintra Mountains, and from there you can even see Lisbon (a laidback capital that is among the safest in Europe). One of the best examples of 19th-century Romanticism in the world, it is a national monument and an amazing example of this type of Architecture in the world. UNESCO named the palace one of the Seven Wonders of Portugal. It looks straight out of a fairy tale.
How is the weather in Portugal in July:
Little rainfall and a lot of sunshine. July has got little rainfall in the major areas, which means that you can expect to enjoy your trip with fewer worries about rain. Temperatures in Lisbon range, on average, from 18°C during the night to 27°C during the day. The southern coastal region of Portugal is a great beach holiday destination with gorgeous scenery and wonderful beaches.
Best Country to Visit in Europe in August:
Bulgaria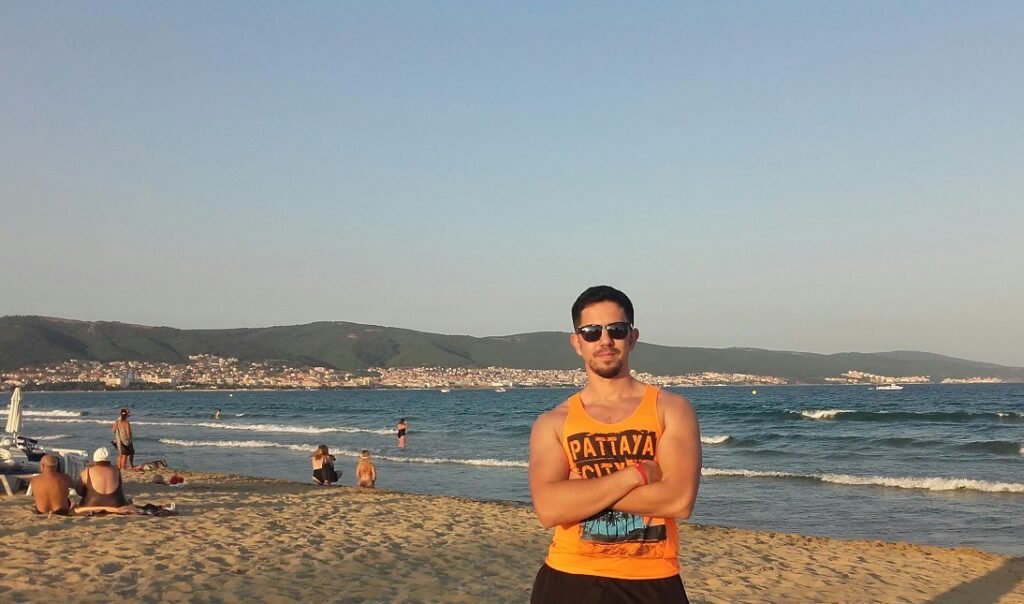 Why visiting Bulgaria in August:
Traveling around Bulgaria in August offers a range of benefits, most notably delightful weather and low costs. Places like Sunny Beach (Slanchev Bryag in Bulgarian) have the infrastructure and a vibrant nightlife comparable to any western summer resort city, with the differential that the prices are simply unbeatable.
To put into perspective, I am talking about beachfront 4-start hotels with breakfast included for less than 50 dollars a night. The city has also bustling nightlife and there are multiple bars where you can buy a pint of beer for 2 Lev (US$1).
What to visit in Bulgaria this time of the year:
Nearby the aforementioned Sunny Beach, there is an ancient city with rich history called Nesebar. It is a short bus ride from Sunny Beach, but you may go walking if you are in the mood for some exercise.
Also known as "Pearl of the Black Sea", it is a rich city museum with a three-millennium history. An isthmus separates the old settlement on the peninsula (formerly an island) from the newer development (hotels, etc.) on the mainland. The older part has been occupied by many different civilizations over time: Thracians, Greeks, Romans, Byzantines, Crusaders, and Ottomans, to name a few.
In 1983, UNESCO added Nesebar to its list of World Heritage Sites due to its abundance of historic buildings.
How is the weather in Bulgaria during August:
The weather in Bulgaria during August is pleasant, with temperatures ranging from 14.9°C during the night to 27.5°C during the day. It is also the month with the lowest amount of rainfall. Enjoy the beach.
Best Country to Visit in Europe in September:
Croatia
Why visiting Croatia in September:
Traveling to Croatia during September brings a lot more advantages than just avoiding the crowds.
Here are some of the main ones:
There are no school holidays, meaning less crowded areas, public transport will be less busy, beaches will be less crowded, and you can have a relaxing vacation.
The weather is still good.
Croatia celebrates numerous festivals throughout September. If you are a fan of classical music, there is the International Late Summer Music Festival in the coastal city of Dubrovnik, which presents internationally acclaimed artists to town. There are also numerous concerts of electronic music and even reggae artists.
What to visit in Croatia this time of the year:
Split. This coastal city may not be as famous for beachgoers as the acclaimed Dubrovnik, but it has also a lot to offer.
From the palace of the Roman Emperor Diocletian to the ancient buildings, city walls, and churches with stunning architecture, many city sights may look familiar if you ever watched Game of Thrones. This is because Split was the main filming location for the fictional city of King's Landing.
It also has some adorable beaches.
How is the weather in Croatia during September:
The weather in Croatia in September is usually great — warm enough for swimming, but not too hot. In Zagreb, the capital, the temperature ranges from 13°C to 24°C, but in coastal cities, it is considerably warmer.
Best Place to Visit in Europe in October
Poland
Why visiting Poland in October:
One could say that the best time to visit Poland is in the winter, so you can enjoy the great Christmas market of Krakow and wander across the snowy Tatra mountains. Others argue that the best time to visit is during the summer when the longer days are filled with life and events in major cities and allow people to visit castles and palaces without freezing.
One of the most obvious reasons why Poland is one of the best countries to travel to in October is that prices, during this time of the year, are much cheaper than during summer.
However, Autumn (or fall, for our American readers) is a hidden treasure in Poland. It is by far the most scenic and captivating time of year, particularly during the few weeks (which vary depending on altitude) of what Poles call Złota jesień (the golden Autumn).
The explosion of orange, golden, and copper colors in the forests and parks, the squirrels and birds scurrying around, the swans in the lake, the maple leaves on the sidewalks… I couldn't possibly list everything that makes this time of year so beautiful.
What to visit in Poland this time of the year:
Białowieża Forest. One of the last primeval forests of Europe and one of the natural wonders of the region. It is almost untouched by human activity, a major character of multiple folk tales and epic sagas, and a UNESCO world heritage. Another good tip is to visit the Beskid mountains close to Bielsko-Biała.
If you visit it in the first half of October, you will witness the previously mentioned Złota jesień. Take pictures.
How is the weather in Poland during October:
The weather in the Polish capital during October ranges, on average, from 4.4°C during the night to 12.3°C during the day. This is also the expected temperature in most places, except in colder mountainous or remote areas.
Best Country to Visit in November in Europe:
Italy
Why visit Italy in November:
Touring Italy in November is a fantastic time to visit because it is not too cold. You can still visit historical sites such as Pompeii or have a city break in Florence without feeling miserable in the cold air.
Italy is the 3rd most visited country in Europe and has something for everyone. It has a varied landscape, ranging from the Alps to the Adriatic coast, multiple UNESCO world heritage sites, as well as cities steeped in history, culture, art, and food.
November in Italy is a great time for history buffs to visit famous monuments such as the Colosseum, Trevi Fountain, St Peter's Square, the ancient ruins of the Circus Maximus, and wander around cobblestone streets. It is a good month because you will avoid the crowds while still having a memorable experience. It is easy to understand why this country has a few cities among the best places to retire in Europe and, together with Viena, the most beautiful European capital city.
Visiting Italy in November will also give you an advantage in terms of cheaper flights and hotel rates.
What to visit in Italy this time of the year:
Besides the eternal city of Rome, you can also visit Milan (the city has some world class museums) and the nearby Lake Como (which is a bit colder since it is in the vicinity of mountains) as well as the many natural wonders of the northern Italy alpine region.
By the way, if you are visiting the Italian capital, remember to avoid taking pictures in certain places and with certain people, and to visit the Sistine Chapel.
How is the weather in Italy in November:
In Rome, the temperature averages go from 6.9°C during the night to 15.9°C during the day. Northern places like Turin or Milan may be slightly colder, while southern cities like Napoli may be warmer.
Best Country to Visit in Europe in December
Hungary
Why visiting Hungary in December:
Budapest is a true one-of-a-kind and one of the best cities to visit in Central and Eastern Europe, especially during the Christmas season. Hungary's capital city is home to a world famous (and one of Europe's largest) Christmas market, which draws visitors from all over the world. It is an unforgettable experience.
In the seasonal market, there are also food stalls where you can taste traditional goulash soup, strudel pastries, and other regional delicacies. You can eat lunch or dinner in the restaurant area, which fills up every evening with people looking to spend their free time in the heart of the city.
Besides food, there are numerous attractions for people of all ages, such as concerts by local bands and dance groups, puppet shows, etc. Due to its landlocked nature, Hungary is also an excellent destination for people that hate beaches.
What to visit in Hungary this time of the year:
Besides Budapest's Christmas Market, December is a good time to check out the famous Hungarian baths (in special Szechenyi with its hot spring waters) and watch locals playing chess in the pools. They say it is a healthy habit, and I believe them.
How is the weather in Hungary in December:
It is cold in Budapest, ranging from -1°C during the night to 3.4°C during the day, and often snowy. All this adds splendor to the atmosphere of Christmas time.
---
Key Takeaways: The Best Country to Visit in Europe From July to December 2023
Europe offers diverse travel experiences throughout the year.
In July, Portugal is one of the best places with events like the Festa dos Tabuleiros and the best beach weather for the sun-loving tourist.
August is ideal for Bulgaria, boasting affordable hotels right next to a white-sand beach and the historic city of Nesebar.
September in Croatia offers fewer crowds and festivals like the International Late Summer Music Festival in Dubrovnik. Activities like snorkel are still possible since the water is not that cold yet.
October is the golden Autumn in Poland, with the Białowieża Forest (and its national park) being a must-visit.
November marks a great time to explore Italy's historical sites like Pompeii and the Colosseum while it is still not that cold. Also, November is a great month due to the cheaper prices (something that makes a lot of difference in Italy).
December in Hungary is magical, with Budapest's renowned Christmas market and thermal baths.
Check the table below and save this page for further consultation.
| | | | | |
| --- | --- | --- | --- | --- |
| Month | Country | Night and Day Average Temperature (Capital City) | Reason to visit it in this month | The Must-See |
| January | Montenegro | 2°C to 9°C | Stunning nature and inexpensive skiing. | Kolašin |
| February | I | DON'T | KNOW | 🙁 |
| March | Austria | 3.5°C to 11.5°C | Longer days, Bustling Spring in Vienna | Innsbruck |
| April | Ireland | 6.4°C to 12.4°C | Less Crowded, and not that wet | Guiness Factory in Dublin |
| May | Cyprus | 14.8°C to 29.7°C | Good weather, still not that crowded or expensive | Ayia Napa |
| June | Malta | 18.4°C to 27.5°C | Pleasant Weather and plenty of package offers | Marsaxlokk |
| July | Portugal | 18°C to 27°C | Great Weather, Little Rainfall | Sintra |
| August | Bulgaria | 14.9°C to 27.5°C | Balmy beaches with unbealivable low costs | Nesebar |
| September | Croatia | 13°C to 24°C | No School Holidays = Less Crowded | Split |
| October | Poland | 4.4°C to 12.3°C | Złota Jesień | Białowieża Forest |
| November | Italy | 6.9°C to 15.9°C | Cheaper and still not that cold. | Rome, of course. |
| December | Hungary | -1°C to 3.4°C | The Budapest Christmas Market | Thermal Baths |
The Best Country to Visit in Europe Each Month of the Year
If you enjoyed this article, check also:
Check also: The 8 Best Beaches in the World for Vacation, Honeymoon, and Families
3 Cheap Cities in Europe to Visit This Winter (And 1 to Avoid)
4 Expert Tips to Pay 40% Less During Your Next Holiday
---
Levi Borba is the CEO of expatriateconsultancy.com, a best-selling author, and the creator of the channel The Expat. You can check his books here.