Is London Still Safe in 2023?
Ps: Check also our Youtube Channel.
Once a friend asked me how safe is Sao Paulo, a huge city in Brazil where I lived in the past.
I told him (and this conversation inspired me to write one of my most-read articles to this date) that violence in Sao Paulo is very localized. Some districts have crime rates comparable to Europe, while others are quite dangerous.
While one could say "But this is true to every city", here is the thing: it is not. Warsaw, the place where I live right now, for example, doesn't have a single district that has a high prevalence of violent crime.
On this point, however, London is more similar to Sao Paulo than Warsaw.
Especially during the last few years, London witnessed a very curious phenomenon: areas of this great city that were already safe, became safer, while areas that were already dangerous, became even worse.
During the new few paragraphs we will dig into the numbers, but first, let's talk about the city as a whole.
Read also: The Most Violent Cities in Europe BY COUNTRY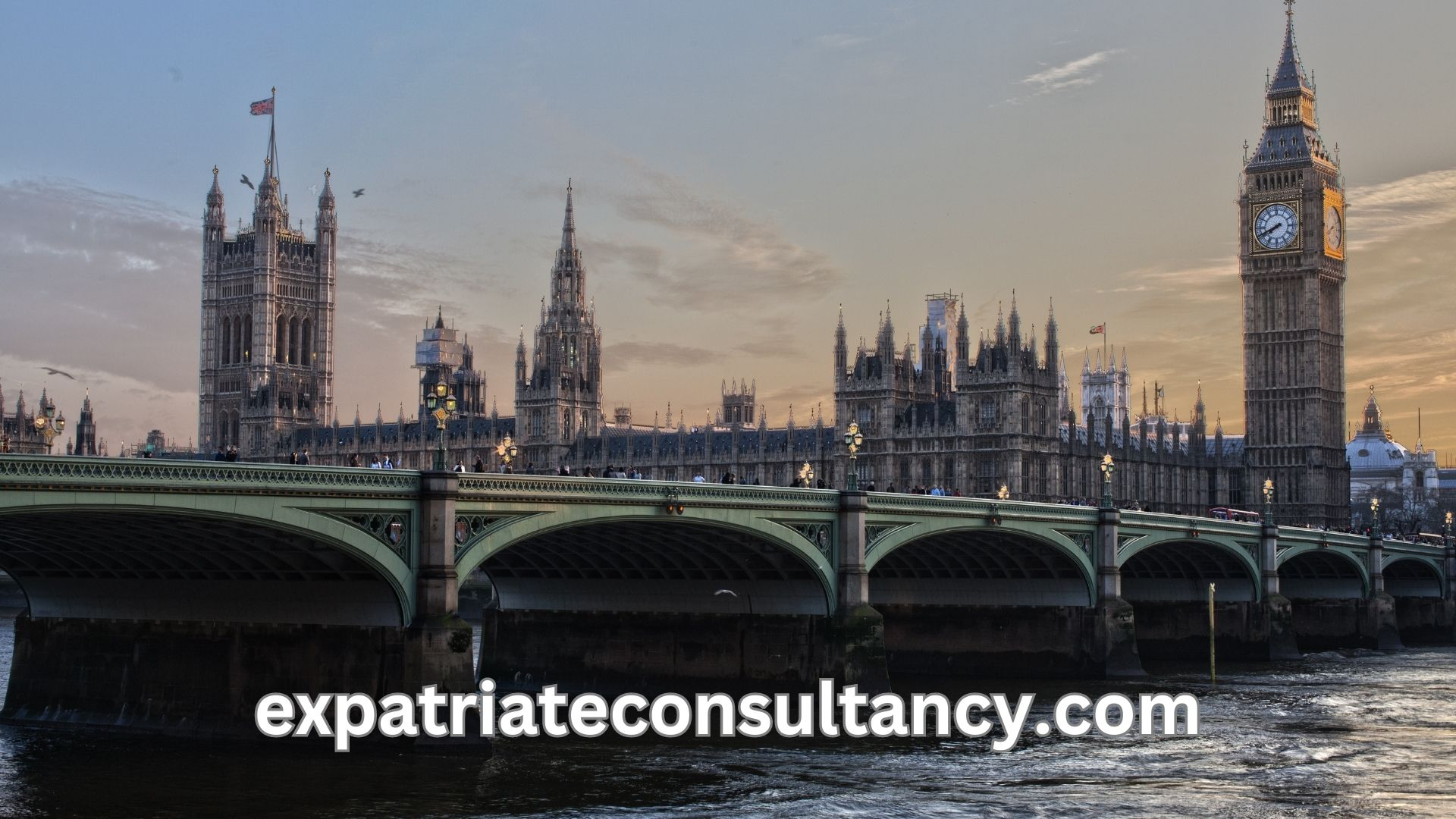 Is London Safe or Dangerous?
If you are asking Is London Safe from the perspective of someone who lives in major cities like Chicago (US), Rio de Janeiro (Brazil), or Cape Town (South Africa), then yes, London is safe.
But if you want to know this answer from the perspective of someone who lives in Europe, then the answer is different.
Below are the violent crime rates in the largest capitals in the European Union:
Budapest, Hungary – 3.1 per 1,000 people (2019)
Warsaw, Poland – 3.3 per 1,000 people (2019)
Vienna, Austria – 3.4 per 1,000 people (2019)
Paris (a city we've discussed safety-wise here), France – 3.7 per 1,000 people (2019)
Bucharest, Romania – 3.5 per 1,000 people (2020)
Rome, Italy – 5.2 per 1,000 people (2019)
Madrid, Spain – 5.3 per 1,000 people (2020)
Berlin, Germany – 5.5 per 1,000 people (2019)
London, UK – 17.6 per 1,000 people (2020)
To put it into perspective, here are the violent crime rate (per 1000 residents) in some notoriously dangerous major cities across the globe:
Detroit, USA – 20.7 per 1,000 people (2020) (Source: Detroit Police Department)
Rio de Janeiro, Brazil – 34.8 per 1,000 people (2020) (Source: Instituto de Segurança Pública)
Cape Town, South Africa – 63.4 per 1,000 people (2020) (Source: South African Police Service)
So I think you got my point.
Still, I must make a disclaimer: the meaning of "violent crime" may change by country, which can affect the comparison.
Not all types of common crime are violent.
Violent crimes are generally defined as offenses that involve the use or threat of physical force against another person: kidnapping, sexual assault, robbery, homicide, etc.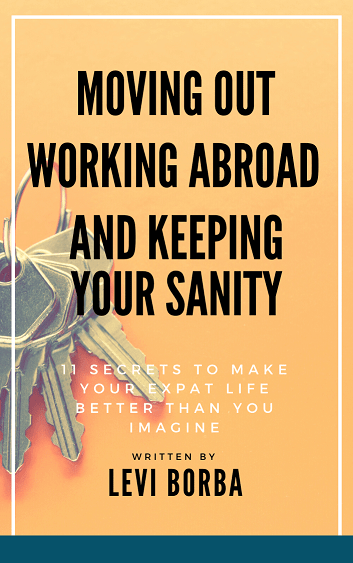 The Criteria to say where is safe in London (and where it is not)
Here we start the interesting part:
Even when we consider the same indicators and the same definitions for violent crimes, there are some regions in London that are quite safe and others that are considered dangerous.
The numbers we will use in this article are from the following sources:
The rate we will show below also considers both violent crimes and sexual offenses, and that is why they can be higher than only the violent crime rate per 1000 residents.
Read also: The 8 Safest Big Cities in the US
Why we didn't consider the numbers from Westminster and City of London?
When comparing the different districts, neighborhoods, and boroughs of London, we preferred to leave out Westminster and the small area known as City of London (the core of central London)
The reason is that any number from this part of the city is probably highly skewed since it has abnormally high traffic of tourists, and a lot of occurrences are related to events like concerts, parades, music venues, protests, etc. that happen in this region.
Without further ado, let's jump into the bad areas of London in terms of safety.
You Will Likely Never Get Shot in London, But…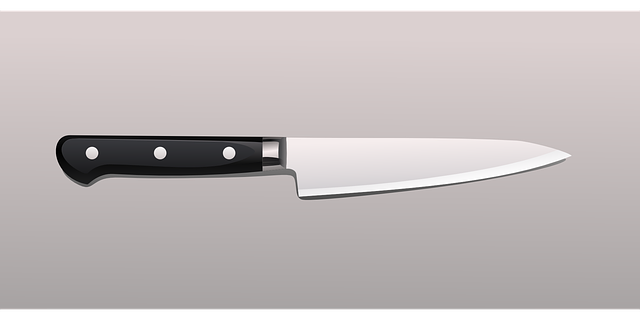 One could think that London is a very safe city from the perspective that it is very unlikely you will get shot like in Latin America.
However…. we are still talking about a big city with over 1000 cases of knife crime per month!
While it is perfectly possible for someone to stay safe in London, the English capital is more violent than other popular European cities, and street crime is considerable in some areas.
The Most Dangerous Neighborhoods in London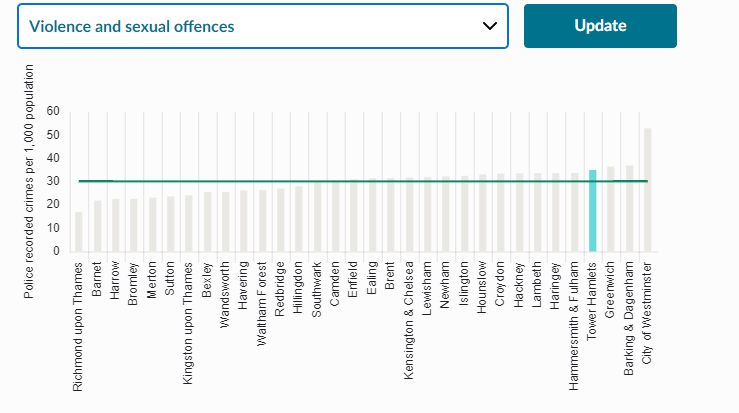 Tower Hamlets
Police recorded violent & sexual crimes per 1000 residents: 35.07 per year.
Tower Hamlets is a borough in East London that is famous for the Brick Lane market. It is also a borough with an extraordinary number of cases of domestic violence, and almost 70% of all victims are female.
There are also issues with street violence, with at least 8 gangs active in the area.
While there is no single explanation for this trend, there are several factors that may contribute to the higher rate of violent crime in this area:
Here is how a former resident of Tower Hamlets described the place:
I lived in Tower Hamlets all my life. I used to live in Bromley by Bow (an area of Tower Hamlets), but there were gang wars and stabbings going on literally every day. I saw kids selling drugs and riding on mopeds, creating noise almost 24/7. Even when I used to go shopping, I used to see boys chasing people with very big knives. Now I live in Canning Town, which is a very quiet place.
Read also: The 10 Most Dangerous Cities in Europe
Greenwich
Police recorded violent & sexual crimes per 1000 residents: 36.49 per year.
Greenwich is one of the nightlife hotspots of London and has some infamous parts that get quite rough during the night.
Reasons that contribute to high violence rates in this region are:
Gang activity: There are reports of gang activity in some parts of the borough, which may engage in drug trafficking, robbery, and other forms of violence. The borough even resorted to offering money for kids so they are not recruited by gangs.
Nightlife and entertainment: Greenwich is a popular area for nightlife and entertainment, particularly around the O2 Arena. Large crowds of people often lead to different degrees of violence.
Proximity to other high-crime areas: Greenwich is located near other areas of London that have higher levels of crime and violence, such as Lewisham and Deptford. This proximity can make it easier for criminal activity to spread into Greenwich.
Read also: Stay vigilant – Unmasking the sophisticated scam tactics prevalent in Brazil
Barking & Dagenham
Police recorded violent & sexual crimes per 1000 residents: 37 per year.
The violence rate in Barking & Dagenham skyrocketed in recent years. From 2016 to 2022, violent crimes increased almost 30%.
Some of the reasons that turned this north east London borough into one of the most violent in the metropolitan area are:
Ethnic tensions. Together with the previously mentioned borough of Tower Hamlets, Barking & Dagenham is one of the most diverse districts in London, and 69% of the population has a non-British background.
Gangs. Organized criminal groups of young males are partially responsible for rampant crime according to many of the residents. In only 3 years, gangs committed over 200 crimes, from kidnappings to murders.
The Safest Neighborhoods in London
If you read until here, probably you are thinking twice about even visiting or moving to London.
But not everything is lost. Many boroughs are still safe, particularly in West London.
Richmond in West London has the lowest violent crime rates among all of them – a beautiful residential district with some of London's finest restaurants and parks.
Other safe areas in London for tourists include Notting Hill (West), Berminghamsey (South East), and Highbury (Northeast).
Read also: Is Rio de Janeiro Safe?
What is the safest area in London?
Below are the 2 boroughs with the lowest violent & sexual crime rates.
Barnet
Barnet is a borough in North London that was created in 1965 by joining parts of Middlesex and Hertfordshire. It's the second largest borough in London with a population of 389,344 people, making it the 17th largest district in England.
It is also very safe, with police recorded violent & sexual crimes per 1000 residents of only 20.91 per year (while London's rate is 28.19).
Below are some of the possible reasons for such a low rate:
Low levels of deprivation: The 2019 Indices of Deprivation report ranks Barnet as the 252nd most deprived borough in England out of 317, with lower levels of deprivation compared to other London boroughs. This indicates that Barnet has relatively low levels of poverty, unemployment, and overcrowding, which can contribute to lower levels of crime and violence.
Strong community engagement and cohesion: The Barnet Community Safety Partnership (BCSP) is a group of organizations working together to address safety issues in the borough. The BCSP is a coalition made up of local government agencies, the local police station, and community groups. Its main goal is to improve safety by building partnerships and working with local people.
Geographical location: Barnet is located in the northwest of London, with a mix of urban and suburban areas. It is far from the most violent parts of the city, contributing to the relative isolation and low-to-inexistent gang related activity.
The Safest Borough in London: Richmond upon Thames
Richmond-upon-Thames, located at the west end of the city bordering the river Thames, remains London's safest area. If you ever asked if is London safe, at least in this part of the city the answer surely is positive.
Some of the possible reasons are:
Very low levels of deprivation: The 2019 Indices of Deprivation report ranks Richmond-upon-Thames as the 272nd most deprived borough in England out of 317, with much lower levels of deprivation compared to other London boroughs. This means low levels of poverty, unemployment, and overcrowding.
Community cohesion and engagement: The Richmond Community Safety Partnership (RCSP) is a group of organizations working together to address safety issues in the borough. The RCSP includes local government agencies, police, and community groups, and focuses on building relationships and engagement with local residents to address safety concerns. This partnership helps to create a sense of shared responsibility for safety in the borough.
Demographic makeup: Richmond-upon-Thames has a relatively affluent and educated population, with a high proportion of residents in professional and managerial occupations.
Is London Safe to Visit for Tourists?
In general, yes. London may look dangerous when we consider the crude statistics, but as we saw, crime is still concentrated in some areas like Tower Hamlets, Barking & Dagenham and others not mentioned like Croydon, or Brixton.
These places are not close to most tourist attractions like Big Ben or the Hyde park (except for Camden Town, which is close to some dangerous parts of the city centre).
If you stay always aware of your surroundings in these areas and take some usual common sense precautions, you should be fine.
Just like most large European cities such as Rome, Barcelona, and Amsterdam, London also has crime linked to tourist targeting.
Tourists in big cities are often targeted by pickpockets (acting inside the public transportation) and other scammers. The same precautions you would take to walk in the La Rambla in Barcelona or in the tourist parts any big city in the US, you take in London.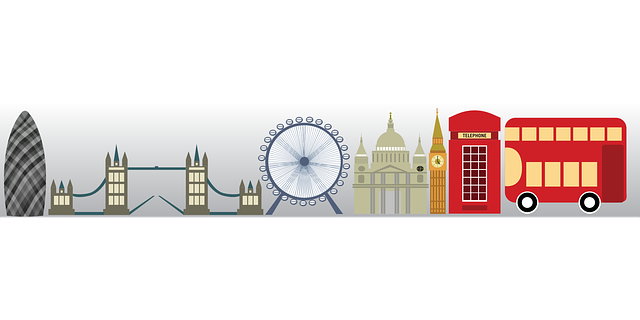 Some Extra London Safety Tips
Here are some more specific, street wise safety tips to visit London:
1st —If you visit London, there are plenty of options in terms of luggage storage, so you don't need to walk around with your carry-on bags while visiting a top tourist destination. Reliable, convenient, and inexpensive luggage storage services you can find at Radical Storage.
2nd — If you are visiting some more isolated place or tourist destination in a major city, hire a guide. You can find some amazing guides and tours at Viator. Not only they will give you insider information about historical and natural curiosities, but they will also warn you of risky areas and keep you safe.
3rd — Areas surrounding airports and train stations can be dangerous.  Book a transfer in advance from one of the many airports in London (or from any public transport station) to your destination and vice versa, so you can avoid scammers and criminals. I often used Get Transfer for that and it always worked fine.
4th — Stay in a good hostel. Hostels are usually in close to the tourist attractions in the safest parts of major cities (at least in Europe), unlike hotels. Most hostels have private rooms that are as comfortable as a hotel, plus a friendly staff to give information. When looking for hostels, I visit Hostelworld and filter for those above grade 7.
Want to enjoy London's nightlife?
London is a thrilling and exciting city, if you want to go to a concert, party or just drink at a pub. However, you should always follow these basic, common sense safety advice:
Never accept drinks from strangers, and never leave your drink unattended.
Be aware of your surroundings, like in any major city.
Avoid walking alone at night.
Avoid wearing football shirts of local clubs, especially during derby days, in pubs that are considered "demarcated territory".
Watch out for your wallet and mobile phone if you visit crowded places like street markets, inside public transportation, or during events like the Notting Hill Carnival.
Don't carry too much cash.
Always have the number of the emergency services and your emergency contacts recorded on your phone.
What More You Should Know if You Travel to London
1. How safe is London for tourist and is it safe to visit in 2023?
London is generally a safe city for tourists and is expected to remain so in 2023. Like any major city, it has its share of crime, but the majority of visitors have trouble-free trips. It's important to follow some basic safety tips to stay safe and make the most of your travel to London.
2. Which part of London is the safest place to stay for a tourist?
Check our previous paragrapahs for some really good ideas, but many parts of Central London are considered safe for tourists. Some popular areas known for being safe places to stay include West London, Notting Hill, and West End. However, it's still important to research your specific accommodation and the surrounding borough to ensure safety during your visit to London.
3. What is the crime rate and the nature of crime in London compared to other major cities?
For specific values, check the previous paragraphs above in the article. The crime rate in London is generally lower than in some other major cities. However, like any big city, it has its share of crime. Common crimes in London mostly include petty crime, such as pickpocketing, rather than violent crime. As long as tourists remain aware of their surroundings and follow safety precautions, they should have an enjoyable time in the city.
4. Is Camden a safe part of London for tourists?
Camden has become a popular tourist destination in recent years, known for its markets, music venues, and pubs. While it is generally safe during the day for tourists, it's essential to be vigilant and keep an eye on your belongings, particularly in crowded areas. At night, be extra cautious to ensure your safety.
---
If you enjoyed this article answering if is London safe, here are a few other reading suggestions for you:
THESE Are the Cheapest Cities to Fly to In Europe
9 Books about Relocating to Gain an Edge in Your Life
Levi Borba is the founder of the Expatriate Consultancy, creator of the channel The Expat, and best-selling author. Some of the links in this article may be affiliate links, meaning that the author will have a commission for any transaction.