The main reason to retire in Puerto Rico might be a word with only 3 letters
---
If you have already read any of my other articles about retirement abroad, you can jump straight to the first subtitle (Retire in Puerto Rico: Sunny Beaches with Low Taxes Just Next Door). If not, keep reading from the beginning to get some context.
My company helps expats. Many of these people know what they want and just need help. What about retiring in X? What's your opinion? they ask me.
Often I don't know what to say. I tell my team to research the destination and write a detailed report so I can give our customers the information they need.
Not surprisingly, most of the destinations are warm places with idyllic beaches.
After a few years doing this, we researched and wrote about multiple Caribbean Islands and Central American countries.
Below is the resumed version of some reports we did, available for free for you:
Republica Dominicana: The Fascination of Retirees and Digital Nomads With This Caribbean Destination
Nicaragua: How a Central-American Country Safer Than Delaware Became Popular Among Pensioners
Jamaica: The Insane Economics Behind the Idea of Retirement in Jamaica
Panama: Retirement in a Low Tax Gem in Central America
El Salvador: Once The Most Violent Country in the World, Now a Retirement Goal
But recently, we had questions about a certain Caribbean island that is not really a country but still receives plenty of attention from Americans looking to retire abroad.
The reasons for so many people consider this island for retirement became clear to us after our research: it is indeed a good place if you want to make the most for your money while living close to the US.
Retire in Puerto Rico: Sunny Beaches with Low Taxes Just Next Door
During our research, we realized that it would be a bit tricky to write about Puerto Rico given the status of the Island as a US territory.
It is not an independent country, but it is also not a US state. When we tried to get the number of how many Americans live on the Island, we quickly realized that, officially, this question was very stupid: every Puerto Rican is also an American since 1941.
US citizens don't need a visa or residency permit to live in Puerto Rico.
So technically, if you are a US citizen and have a Puerto Rico retirement plan, you would not be even moving abroad…
Technically, because in practice things are a bit different, and we hope this article will help you to take a decision.
If not, at the end of the article there are free-to-access versions of our other reports. It will be useful if you are a resident of the US, Canada, or Europe and is planning to retire somewhere else.
Read also: The Best Cities to Retire in Europe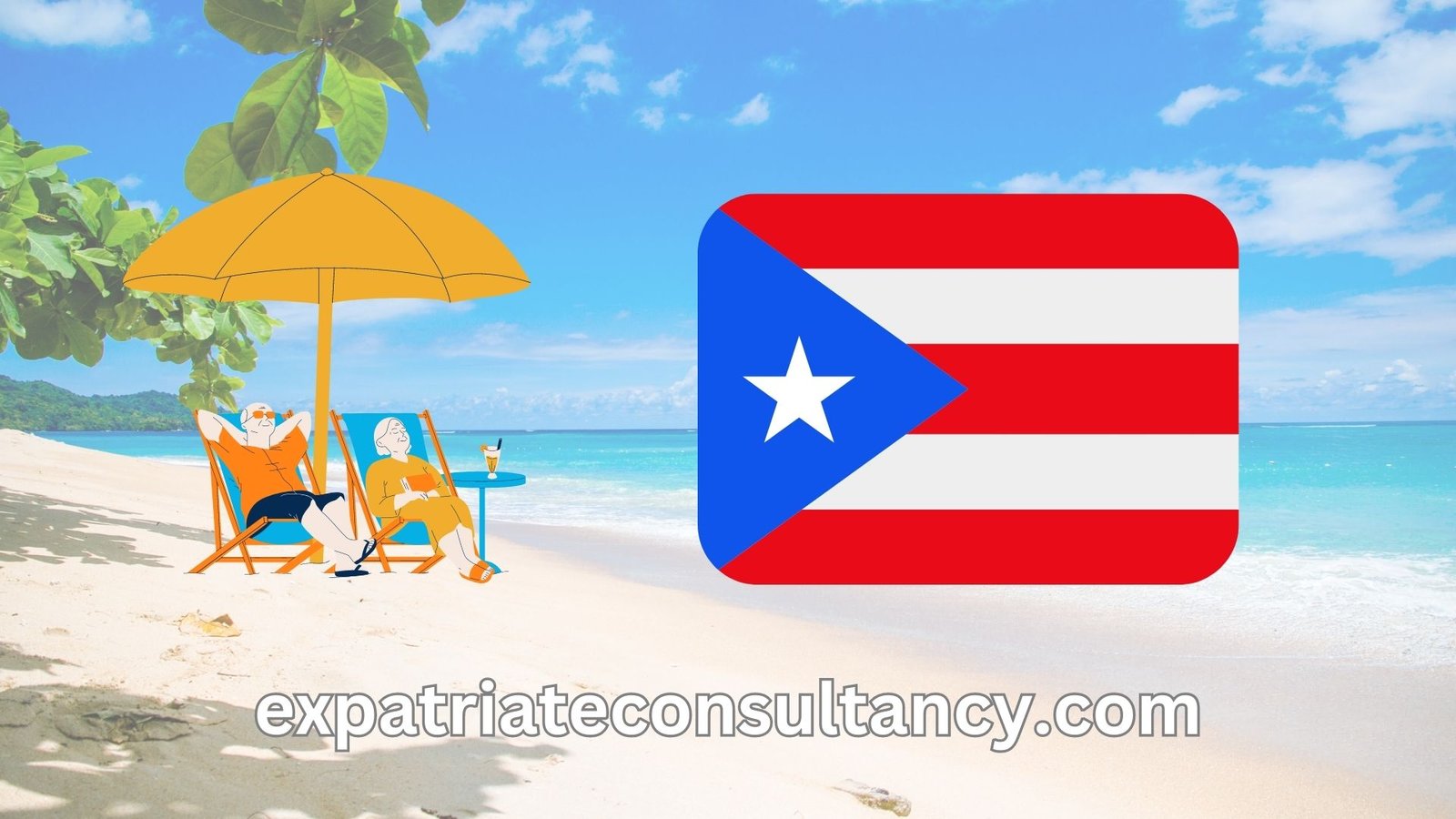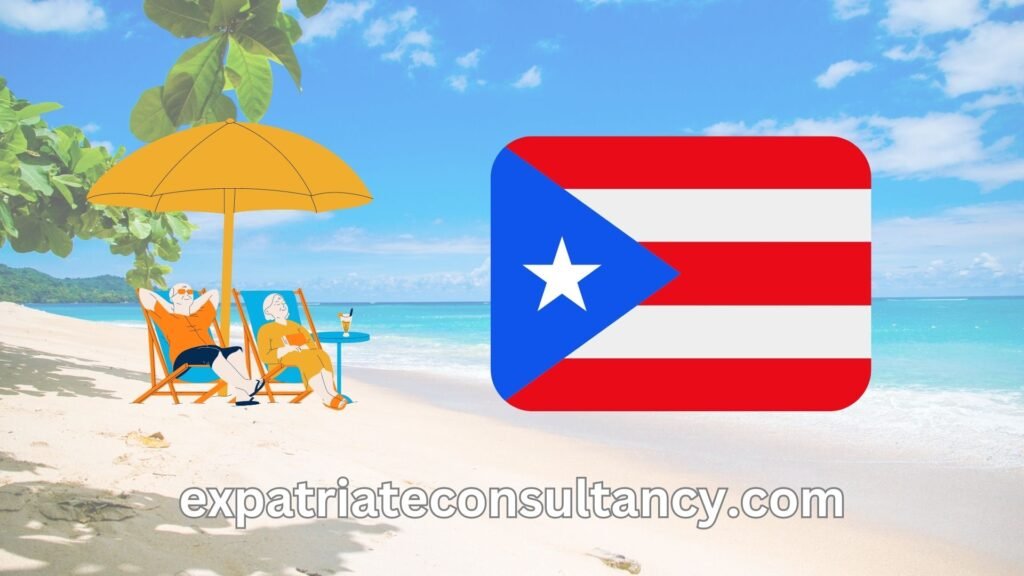 Pros of Retiring in Puerto Rico
Read also: 24 Countries Enticing Pensioners By Offering Retirement Visas
Possible Tax Savings
This is the first item because this is what made us research and write about Puerto Rico.
Why not Panama, or Costa Rica? What's so special about this Caribbean island?
Here is why: there's one key reason that sets Puerto Rico apart from the rest: the island tax system.
Yes, you heard me right — taxes.
Puerto Rico has some of the most generous tax incentives in the entire world for retirees. We're talking about a 0% tax rate on certain types of income, such as capital gains and dividend income.
That's right, zero. Can you believe it?
What are the Tax Benefits of Retiring in Puerto Rico?
Zero US federal income tax: A US person who is a resident of Puerto Rico may be eligible for a full exemption from US federal income tax on all income earned in Puerto Rico. This is because Puerto Rico is treated as a foreign country for US federal income tax purposes.
For example: if you receive home or rental property income from an apartment you own in Boston, you may not need to pay taxes for this income to the Puerto Rican government.
Low-income tax rate: Puerto Rico has its own income tax system, which is generally lower than US federal income tax rates. For example, Puerto Rico's maximum income tax rate is currently 33%, compared to the top US federal income tax rate of 37%.
Tax incentives for businesses: Puerto Rico offers tax incentives for businesses that establish operations on the island, which can potentially create job opportunities for retirees and their families.
No estate or gift taxes: Puerto Rico does not have an estate or gift taxes, which can be beneficial for retirees who want to pass down wealth to their heirs.
Tax-free investment income: Certain types of investment income, such as capital gains and dividend income, may be exempt from Puerto Rico income tax.
Low property tax rates: Property taxes in Puerto Rico are generally lower than in many US states, which can help retirees save money on their housing costs.
Important to remember, however, that these tax benefits have eligibility requirements and restrictions, so retirees should consult a tax professional to determine their tax situation.
Read also: The Cheapest Cities to Fly from America to Europe.
Low Cost to Rent or Buy Real Estate
According to data from Realtor.com, the median home value in Puerto Rico as of May 2023 is $351 per square foot. This is significantly lower than the median home value in many US cities. For example:
Additionally, Puerto Rico has a variety of affordable housing options, including apartments, condos, and single-family homes in regions with solid infrastructure. For example, a search on Zillow for a one-bedroom apartment for rent in San Juan (the capital city) yields many options for less than $2,000 per month.
One reason for the lower housing costs and monthly rent in Puerto Rico is the island's population decline.
20 years ago, the island had almost 4 million inhabitants, but in 2021 this number was less than 3.3 million. Many residents have left Puerto Rico in recent years, which has contributed to a surplus of available housing.
Beautiful Beaches, Energetic Lifestyle, and Warm People
Another clear pro on most plans to retire in Puerto Rico.
The island boasts some of the most stunning beaches in the Caribbean, with opportunities for swimming, snorkeling, and other water activities year-round thanks to the tropical climate. In addition, Puerto Rico has a vibrant and energetic culture that nurtures socialization.
Beyond the physical beauty and cultural vibrancy, Puerto Rico is known for its warm and friendly hospitality. The people are family-oriented, and retirees can expect to be treated with respect and kindness by their neighbors and fellow residents.
This strong sense of community makes Puerto Rico a place where retirees can feel welcome and at home.
Easy Access by Air or Sea
Puerto Rico is easily accessible by air and sea transport, with numerous daily flights and frequent cruise ship arrivals, meaning that Americans planning to retire to Puerto Rico would only be a short flight from the mainland.
The Luis Muñoz Marín International Airport in San Juan is the main airport on the island and is served by a variety of domestic and international airlines, including Delta, American Airlines, JetBlue, United, and Southwest.
Some of the busiest routes to Puerto Rico from the US include:
New York City (JFK, EWR)
Miami (MIA)
Fort Lauderdale (FLL)
Orlando (MCO)
Atlanta (ATL)
In terms of airfare prices, the cheapest way to travel from the US to Puerto Rico is often by booking a flight well in advance and flying during the low season, which is typically from May to October (excluding school holidays).
During this time, round-trip airfare from the mainland US to San Juan can range from around $200 to $400, depending on the airline and time of booking.
The Cons and Negative Sides of the Idea to Retire in Puerto Rico
Read also: Your Retirement is an Illusion: Why Most of Us Will Work to Death
Poor Public Transportation
Puerto Rico's public transportation system is unreliable and expensive, making it difficult for residents to access employment and other essential services. The most popular form of transportation, the bus system run by the Metropolitan Bus Authority, is outdated and plagued with breakdowns and unreliable schedules.
The system's challenges include overcrowding, long wait times, and limited routes in rural areas. While improvements are underway, such as investments in new buses and infrastructure, much work remains to ensure safe, reliable, and affordable transportation options.
Bad Roads
The roads in Puerto Rico are also known to have significant issues.
One major issue is the prevalence of potholes, which can be a significant hazard for drivers. Potholes can damage vehicles and cause accidents and are especially prevalent on older roads that have not been resurfaced in many years.
Eventual natural disasters (Puerto Rico is a major area prone to tropical storms) like Hurricane Maria also contributed to the poor shape of some roads.
One of the worst highways in Puerto Rico is Route 2, which runs between San Juan and Ponce. It has been criticized for its poor condition, with significant potholes and uneven surfaces that can make driving treacherous. Route 3, which runs between San Juan and Fajardo, is also known to have significant issues.
High Cost of Electricity and Goods
Puerto Rico's high cost of electricity and goods can be attributed to several factors, including the island's reliance on imported fossil fuels for energy generation, an inefficient and outdated electricity infrastructure, and unique trade policies due to the island's territorial status.
In addition to the factors mentioned earlier, the fact that Puerto Rico is an island also contributes to the high cost of goods.
The cost of transportation, including shipping and handling, is higher for goods imported to the island than for goods transported within the continental United States. These added transportation costs are passed on to consumers, making goods more expensive overall.
Relative Lack of English Speakers
English is one of the official languages in Puerto Rico, but only around 20% of the population speaks the language fluently. This can make communication challenging for visitors who don't speak Spanish, especially outside of tourist areas and major cities.
However, many businesses and services in Puerto Rico cater to English-speaking visitors, and locals are generally helpful in navigating the island until any new resident learns the widely spoken Spanish language.
Violent Crime Rates
Puerto Rico has a high violent crime rate, with high rates of homicides and robberies. Crime rates vary across the island and newcomers need to research the crime rates of the specific areas they are considering living in and to take appropriate precautions.
This is one of the reasons that the number of gated communities increased in the country.
The areas we recommended at the end of this article in general have a lower crime rate than the rest of the country.
Cost of Retiring in Puerto Rico
Housing in Puerto Rico
The price of housing varies drastically across the island.
Some of the most expensive parts of Puerto Rico include Condado, Old San Juan, Dorado, Isla Verde, and Guaynabo (soon we will give you some numbers and prices in these cities).
These areas are popular among tourists and locals alike and offer a high standard of living and convenient access to amenities such as shopping, dining, and entertainment.
One reason why these areas are so expensive is their prime location. Many of these neighborhoods are situated along the coast or offer easy access to beaches, which drives up property values. Additionally, these areas tend to be more developed than other parts of the island, with modern infrastructure and a high concentration of luxury homes and condominiums.
Overall, while these areas may be more expensive than other parts of the island, they offer a high quality of life and a desirable location, making them a popular choice for those seeking a luxury lifestyle in Puerto Rico.
Healthcare in Puerto Rico
Healthcare in Puerto Rico is generally considered to be of a high standard, with both public and private options available. The island is home to some world-class hospitals and clinics, many of which specialize in areas such as cancer treatment, heart disease, and neurology.
One example is the Centro Cardiovascular de Puerto Rico y el Caribe, located in San Juan, which is a leading center for the diagnosis and treatment of heart disease — it is the only place in the Caribbean that performs heart transplants.
Another is the Hospital Auxilio Mutuo, which is known for its cancer treatment facilities and advanced technology.
The average prices for different procedures are way cheaper than in major cities of the United States, and for this reason, private insurance also has lower costs.
Cost of Living in San Juan (Puerto Rico) vs Valência (Spain) and Tampa (the USA)
It's time for a comparison of the cost to retire in Puerto Rico. I will not compare the living costs for Puerto Ricans with those of New York or London, because nearly anywhere in the world is cheaper than those two cities.
Let's compare the cost of living in San Juan (Puerto Rico) with the best city for retirement in Europe (Valencia, Spain) and one of the favorite cities for pensioners in the USA (Tampa, Florida).
All prices are from Numbeo and Expatistan, two websites that crowdsource prices and living costs from thousands of users and contributors. Be aware that San Juan is likely one of the most expensive places in Peru, and smaller cities tend to be even cheaper.
| | | | |
| --- | --- | --- | --- |
| Values in USD | San Juan | Valencia | Tampa |
| Meal for 1 Person, Inexpensive Restaurant | 16 | 12 | 21 |
| Domestic Beer (0.5-liter draught) in a Supermarket | 3 | 2.9 | 1.57 |
| Eggs (regular) (12) | 4.98 | 1.98 | 3.29 |
| Chicken Fillets (1kg) | 10.3 | 7.5 | 11.24 |
| Gasoline (1 liter) | 1.02 | 1.56 | 1.2 |
| Utilities (Electricity, Water, Garbage, etc.) for 85m2 Apartment, monthly | 198.29 | 128.6 | 182.51 |
| Internet (60 Mbps or More) | 58.12 | 31.88 | 63.85 |
| Cinema, International Release, 1 Seat | 9 | 7 | 14 |
| Short visit to private doctor (15 minutes) | 51 | 73 | 98 |
| Standard men's haircut in an expat area of the city | 21 | 20 | 23 |
| Rent of an apartment (1 bedroom) | 2053.12 | 720.77 | 2,035.75 |
| Price per Square Meter to Buy an Apartment | 3,417.54 | 2,999.91 | 4,635.63 |
Cost of different items in San Juan (Puerto Rico), Valencia (Spain), and Tampa (Florida, the USA).
What are the best places to retire in Puerto Rico?
Read also: Best Countries to Retire in High-Style (Even If You are Not a Senior)
San Juan
San Juan, the capital and largest city of Puerto Rico, is a popular destination for expatriates and pensioners due to its vibrant culture, the scenic historical town full of Spanish colonial architecture in old San Juan, top-notch dining and entertainment options, modern amenities, and close distance to things like airports or top-notch hospitals.
Additionally, San Juan's prime location on the northern coast of Puerto Rico offers easy access to the island's natural attractions and pristine beaches.
Living Cost in San Juan
For more information about the living costs in San Juan, check the comparison we made a few paragraphs above between the Puerto Rican capital vs Tampa and Valencia.
Dorado
Dorado, a town located on the northern coast of Puerto Rico, is an attractive retirement destination for US citizens seeking a quieter and more relaxed lifestyle than that of San Juan.
It has a small-town charm and a more laid-back atmosphere, magnificent beaches, lush greenery, and tranquil residential neighborhoods, making it an ideal place for retirees who want to escape the crowds and noise of the city.
Additionally, Dorado offers a range of high-quality amenities and services, including several top-rated golf courses, luxury resorts, and fine dining options. The town also has several modern conveniences, such as shopping centers and medical facilities, which make it a comfortable and convenient place to live.
The town is also just a short drive away from San Juan, making it easy to enjoy the city center's culture and entertainment options without having to deal with the noise and congestion of urban living.
Living Cost in Dorado
Some average prices you will find in Dorado are:
A 3-course meal for 2 people in a mid-range restaurant: $70.00 (if we talk about an inexpensive restaurant, the price is half of that).
Fitness club monthly pass for 1 adult: $52.50
Median listing home price per square foot: $481 (it is a bit more expensive than San Juan since it is a more upscale city)
---
If you enjoyed this article about how to retire in Puerto Rico, here are a few other reading suggestions for you:
Subscribe (for free) to receive my articles directly in your inbox and receive a special gift. If you enjoy this article, please consider becoming a Medium member by using this link and have access to premium, unbiased content from authors not tied to big media.
Levi Borba is the founder of The Expatriate Consultancy, creator of the channel The Expat, and best-selling author. Some of the links in this article may be affiliate links, meaning that the author will have a commission for any transactions.