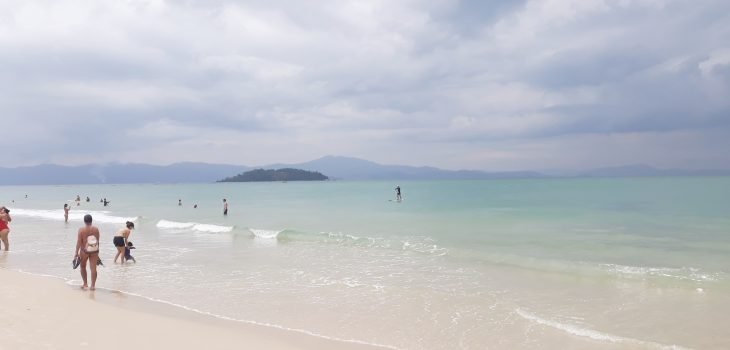 Here Is One of the Best Places to Live in South America for Expats
For already a while, southeast Asian hotspots like Chiang Mai (Thailand) and Bali (Indonesia) are on the top list after list of the finest cities for remote workers. In a year with enormous economical and social changes, a new serious competitor rises. Right now, this is the first among the best places to live in South America for expats! Forget Chiang Mai!
But… Why some? Because this applies only if your income is not in the local currency.
Here Is One of the Best Places to Live in South America for Expats
How the Brazilian Ibiza rose to first place in the hearts of expats in Brazil
Florianópolis is a city with almost 500k inhabitants in the state of Santa Catarina. This state in the southern region of Brazil was called, for a few occasions, the Brazilian Ibiza, for being the darling of South American upper-class youth. It is now a favorite place of national celebrities that turned (very) affordable.
Reasons like delightful beaches, pleasant climate, and 3 of the best clubs on the planet (including the 1st place in the annual DJ Mag club ranking, Green Valley) contributed to the just comparison between Santa Catarina and the Mediterranean islands.
Cost of Living in Florianópolis, Santa Catarina, Brazil
But how comparisons with an overpriced European island are useful for digital nomads looking for low living costs?
It is because Florianópolis is not overpriced anymore. Anyone earning in dollars or euros can call this Atlantic coast gem the best city for digital nomads.
There are two reasons for this city turning inexpensive in the last years. The chart below explains the first one better than I could:
The devaluation of the Brazilian real made ​​life in Florianopolis much cheaper for tourists. In 2014, the dollar was worth 2.3 reais and now it's worth 5.2 reais. That means you can spend less than half while buying more things like clothes, food or entertainment.
Real Estate Florianopolis
Let's imagine a good-located, beachfront 1-room apartment. In 2012, it had a monthly rent of 1400 reais. This is equivalent to 700 dollars. Due to its attractiveness, since 2012 real estate in Florianópolis inflated near 53%, so this apartment would cost now 2140 reais.
But since the real lost a ton of value in the last decade, this price is equivalent to only 430 dollars nowadays. For a beachfront apartment.
The devaluation of the Brazilian real (BRL) against the US dollar has made properties in Brazil increasingly attractive to international buyers.
The Real has been a free-floating currency since the mid-1990s but it has suffered from a variety of factors including political instability, low economic growth, and weak investor confidence, which has seen it lose almost half its value against the US dollar over the last five years. This means that overseas buyers are able to benefit from some very attractive exchange rates when purchasing property in Brazil.
Not believing me? Just take a look at the properties available in Florianópolis at Airbnb and you may find even cheaper deals.
With the strong devaluation of the Brazilian currency in the last 10 years, the once pricey Ilha da Magia (Magic Island in Portuguese, one of the many nicknames for this place) have prices similar to cheap backpacking destinations in Asia.
The second reason that made the capital of Santa Catarina more affordable is the years of economic turmoil in the region. By region, I mean not only Brazil but also neighboring Argentina. In fact, not long ago, Argentinians drove there in such considerable numbers that some places like Canasvieiras beach had restaurants with menus in Spanish instead of Portuguese (many of them still have, although you can ask for one written in Portuguese or English).
The last time I stayed on that beach, the Uber driver told me:
Oh, you are going to the Argentinian enclave!
Today the numbers of tourists from Argentina and other neighboring countries (Uruguay and Paraguay) are still significant, but not close to what they were in past decades.
Living in Brazil as an Expat
So, are you telling me Brazil is one of the best South American countries for expatriates?
Definitely, I am not telling you that, although this could be a possibility (maybe I will explore it in another article).
Here we are not talking about entire countries, but about one very specific place.
Therefore, what I am telling you is:
Florianopolis is absolutely one of the best places to live in South America for expats.
Being a continental country, Brazil has immense contrasts, with the same order of magnitude someone can see in Europe between Portugal and Ukraine, for example.
Brazil has many problems. The most famous of them is violence. And at this point, the state of Santa Catarina is like an oasis.
While in 2019 Brazil had a homicide rate of 19.7 per 100 thousand people (a considerable reduction from the 32.4 of 2017), Santa Catarina has a rate of 2.8 per 100 thousand. This is a similar level to European countries like Hungary.
Another common problem of Brazil is the small share of the English-Speaking population. This is a fair complaint. According to the British council, only 5% of Brazilians speak English. However, due to its touristic-driven economy, high standards of living, and level of education, in Florianópolis, you will not find many problems to live without speaking Portuguese.
Right, so going back to costs: The rent is cheap (in dollars) in Florianópolis, but what about the rest?
The comparison I made at the beginning of this post was not an accident. According to Expatistan (a great source for global prices), Chiang Mai and Florianópolis have virtually equal costs.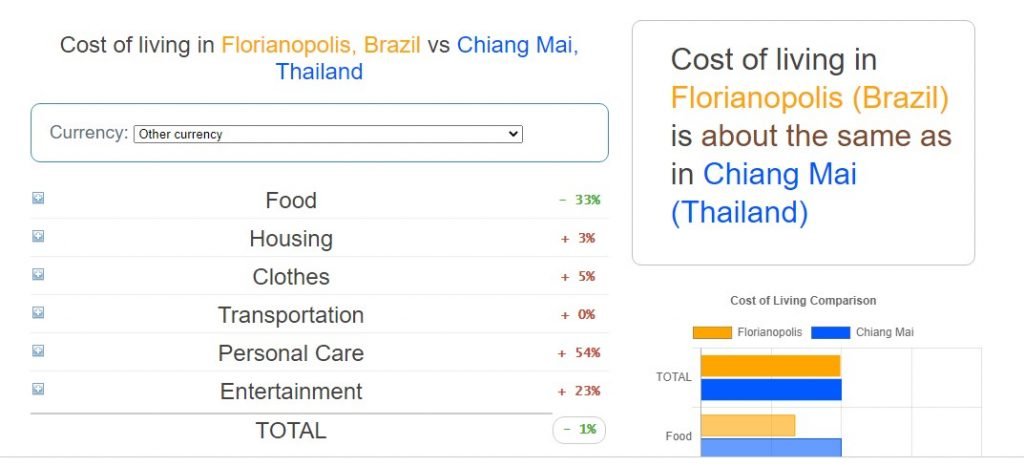 In the comparison jumps to the eyes how cheap are the food costs in Florianópolis. In fact, even though Brazilians complain that everything is expensive there, when they travel out, they realize how in fact grocery articles are more expensive worldwide. After all, you can buy a liter of milk in Brazil for less than 70 cents a dollar.
The entertainment prices in Florianópolis may look expensive in the comparison above, but as you may remember from the beginning of this article, in the summer it turns into a party island for jet-setters. However, cheaper alternatives exist in plentiful numbers.
A Caipirinha at the beach (except for the overpriced Jurere beach) will cost around 10 reais or 2 dollars. This is almost half of the price of other Brazilian touristic cities like Rio. Depending on the type of nomad you are, this will be more important than the lower milk prices.
If you already have your conclusion about the best city for Digital Nomads and is planning to move, first check this book!
What Is Florianopolis Known For?
Safe, inexpensive apartments and cheap drinks! I am almost convinced that Floripa is the best place for expats in South America. But what can I do there in my free time?
1st – Beach hopping
Some people say Florianópolis has 42 beaches. Others put this number near 100. What you can be sure of is that there are options for every taste. On the eastern side, surfers have an ideal playground at Mole and Joaquina beaches. In the North are popular beaches like Canasvieiras. Just at the side of Canasvieiras is Jurerê Internacional, with its beach huts called "paradores", bars, and nightclubs. Upper-class youth have sunset beach parties in clubs like P12 and Posh. In the south, fishing villages offer peace and typical cuisine, as well as empty spots like the beaches of Pântano do Sul and Ribeirão da Ilha.
In the summer, the tanned and good-shaped youth of the region flocks to its sunny beaches. The daily physical practice is almost a rule. Besides beach football and volleyball, there are two other sports whose practice has privileged conditions on the magical island. They are Surf and Sandboard.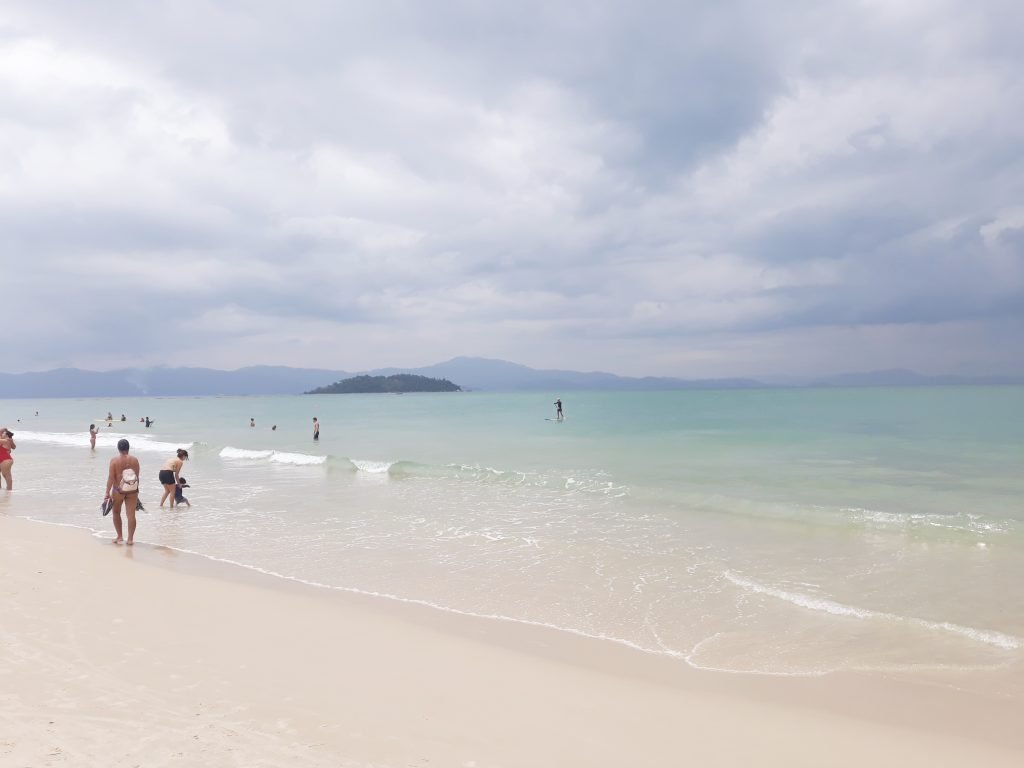 If you are more into a winter vibe, check our list of the best cities for remote workers in Europe.
2nd – Party and Nightlife
This city once won the title of 'Party Destination of the Year' by The New York Times. In a 100 km radius, you have three of the best clubs on the planet. Many other party places of the region could easily be in the same ranking.
3rd – Surf or sandboard lessons
Florianópolis, or to be more specific, Joaquina Beach, has a unique characteristic: only a few meters separate you from "surfing" sand dunes and sea waves. With instructors available, it is a perfect opportunity to learn both sports in a privileged scenario.
Florianopolis is also relatively close to some of the most beautiful places in Brazil, like the Iguaçu Waterfalls.
Check also: The best countries in the world for education.
Expats Living in Florianopolis
Communities are alive in all the best places for digital nomads in South America and the entire world, and Florianopolis is no different.
Maybe this is the single point where my comparison between Floripa and Chiang Mai favors the Thai city. The nomad community and the expatriate (there are six expatriate types) numbers are much greater in Chiang Mai, however, they are quickly developing in the capital of Santa Catarina state.
One common type you will find there is the tourist-turned-a-resident. Being such an attractive place with remarkable quality of life and good-quality real estate is not uncommon to find foreigners that bought apartments or villas to spend long periods on this magical island. There are also multiple international students there.
American expats in Brazil will also adapt better in Florianopolis due to a higher percentage of the population that speaks English.
Conclusion – How Floripa became one of the best places to live in South America for expats.
The city is booming with entrepreneurship, especially in technology. The IT gross product is nowadays bigger than tourism itself! The devaluated local currency, networking opportunities, and good infrastructure make it a very promising destination for remote workers with dollarized income. Many of the best jobs for digital nomads can be done from Floripa.
There is a crescent number of coworking spaces and cafés friendly to remote workers. You can check a map of them on the island here. In Facebook or Meetup it is possible to find a broad range of networking events and social occasions for expatriates and nomads. Examples are groups like Digital Nomads Floripa on Meetup or the Gringoes in Floripa on Facebook.
Before finishing this article, an important piece of advice: even though the expatriate and digital nomad community in Florianópolis are growing, it would be a wasted opportunity to restrict your social meetups only with fellow foreigners.
Meet the locals too! Brazilian people are very social, and the catarinenses are no different, even though other Brazilians make jokes with the smugness about their land.
Since their island is one of the most beautiful places in the country, who can blame them? ☺
---
Author: Levi Borba, founder of Colligere Expat Consultancy, former RM specialist for the world´s greatest airline. Co-founder of Nearby Airport Hostel Warsaw and of the channel The Expat and author of the books Budget Travelers, Digital Nomads & Expats: The Ultimate Guide: 50 Tips, Tricks, Hacks and Ways to Free Stuff & Cheaper Flights in a Practical Guide to Travel Plans and Moving Out, Living Abroad and Keeping Your Sanity.