These 3 cities in Europe, besides being cheap, are gorgeous during winter
---
In this article, I will tell you about 3 European cities to visit for a winter trip (they are also great in other seasons, but the magic of the snow season makes them outstanding), and 1 city to avoid.
Check also our other articles for additional tips on how to save money on travel and the exclusive post where we revealed the cheapest day of the week to fly.
But before starting, one disclaimer: This entire article was written under the optics of a budget traveler. If you are a deep-pocketed luxury jet-setter and frequent guest at Ritz, chances are your perceptions are different.
We also know that, since 2022 and the gas price hikes in Europe, the words winter and cheap should not be together, but don't worry: there are some extreme ways to keep warm during winter.
You can be sure that all these 3 choices are among the most affordable cities to visit in Europe at any season.
(If you are somehow afraid to fly, don't worry: some planes are much safer than others. Check in this article what are the safest airplanes, and don't miss our list of the best countries to visit in Europe from August to December.
Check also: The Best Places to Retire in Europe
3 Splendid Cities to Visit in Winter in Europe
1. Brasov, Romania: Castles, the Black Church, and Ski in Poiana
Brasov tops the list of budget winter destinations for a few reasons.
First, because it has plenty of budget accommodation, from world-class hostels to chain hotels. You will find plenty of rooms with great value for money there.
If you are a history lover, go for a free walking tour. They start at the main square almost every day. Local experts will guide you across the most interesting points of this city built by 3 different cultures — Saxons, Hungarians, and Romanians.
Brasov's old town is very well-preserved and safe. If you are looking for nightlife, there are many options around but don't believe that the ads for free drinks are always true. While Bucharest, the Romanian capital, may be one of the least beautiful European capitals, Brasov is one of the most enchanting old towns.
Another attraction (and for me, the most spectacular one) of this city is reserved for nature and trekking fans. If you enjoy walking around forests, this is one of the finest cities in Romania.
Lush Transylvanian woodlands surround Brasov and you can spend entire days on the trails departing from the city. I recommend the one to the Tampa mountain top. From there, it is possible to see the whole old town in its full splendor. If you are fit, another good idea is to hike to the nearby ski resort of Poiana. There are marked trails all the way, but be aware that during winter, there is plenty of snowfall and trails may be risky.
Accommodation (per day): 14 euros for a dorm bed, or 30 euros for a 2-people private room.
Meal price: Around 25 Lei (less than 5 euros).
Beer in a pub: Approx. 8 Lei (less than 1.7 euros).
Transport: 0. The city is walkable.
Attractions: Many of them, like hiking trails, are free. The free walking tour is, of course, free, but it is nice to tip the guide.
2. Kraków, Poland: Tour of Salt Mines, Christmas Markets, and the Train to Zakopane
Formerly the capital of the enormous Polish-Lithuanian Commonwealth — one of the largest states in European history — Kraków will amaze you with a myriad of attractions. From the historical Wawel Royal Castle to romantic gardens and buzzing nightlife, you will have plenty of places to visit in this UNESCO heritage site.
Most of Krakow's attractions are within walking distance. There are also organized tours to visit the nearby Wieliczka Salt Mine, old town and historical quarters, and the ski resort of Zakopane.
Kraków is preferred over Warsaw both by tourists and locals. The city offers multiple fine, budget-friendly hostels and inexpensive hotels. Find one near the old town to make the best of your time.
Accommodation (per day): 40 Zlotys (approx. 9 Euro) for a dorm bed, or 130 Zlotys (around 28 Euros) for a 2-people private room.
Meal price: Around 23 Zlotys in a Bar Mleczny (5 Euro).
Beer in a pub: Approx. 9 Zlotys (2 Euro).
Transport: The city distances are walkable, but a ticket for public transport is less than 1 Euro per trip.
Attractions: Multiple places are free of charge. A tour to the Wieliczka Salt Mine with hotel pickup will cost 201 zlotys. Not far from Krakow is also the Podhale region, with multiple ski resorts and the Tatra mountain range.
3. Podgorica, Montenegro: Cevapi, Rakia and Kolasin 1450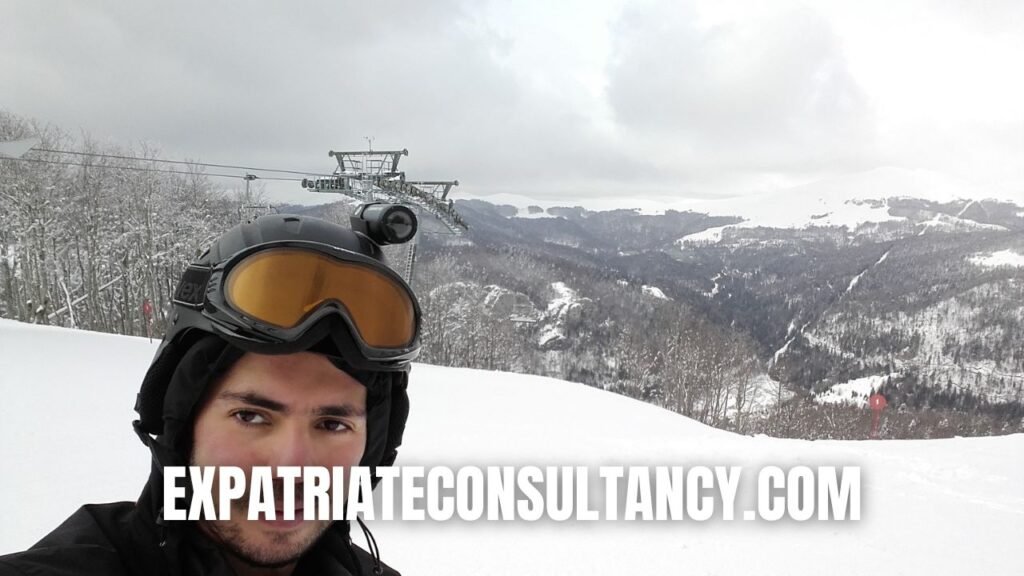 Often budget travelers already heard about Kraków or Brasov, but Podgorica is still new in their routes of cities to visit in winter. It is the capital city of one of the newest countries in Europe — Montenegro regained its independence in 2006. The infrastructure, cuisine, and beauty of this former Yugoslav city can surprise you.
Between one plate of savory Cevapi and a shot of Rakia (the Yugoslavian signature liquor), you will see a city developing at a quick pace while preserving its heritage.
The nearby mountains have some of the most beautiful rivers and streams I saw in my life. I am still puzzled about how they can have such a beautiful degradé of greenish colors.
If you are lucky to visit Podgorica in the winter, not so far is the ski center of Kolasin 1450, a modern resort with inexpensive prices to European standards. It has good slopes for beginner/intermediary skiers and snowboarders, and you can go either by using a car rental or taking a taxi.
We also listed Montenegro as the best place to visit in Europe in January.
Accommodation (per day): 14 Euros for a dorm bed, or 29 Euros for a 2-people private room.
Meal price: Approx. 4 Euros.
Beer in a pub: Approx. 2 Euro.
Transport: The city is walkable. Kolasin is reached by car, or by local transfers.
Attractions: Historical places like churches are free. The Museum of Podgorica has a small entrance fee (only 1 euro last time I visited).
Remember to always check online the reputation of hotels/hostels and transport providers. If you are a fan of budget traveling and want to avoid the disaster of ending in a bedbug-ridden room in a dreary neighborhood, I wrote a book with some techniques I use.
One Place NOT in My List of Cities to Visit in Winter: Prague
Currency and Taxi Scams, Tourist Traps, and Lousy Visitors.
Above I told you about some cities to visit in winter in Europe. Now let's talk about one that, IMHO, you can skip.
8.8 million tourists visit Prague, the capital city of the Czech Republic, every year. It receives more visitors than entire countries like Tunisia or Brazil (respectively 8.3 and 6.6 million).
We recognize the Czech capital for its excellent beer and economical costs. Notably for young tourists.
While they certainly make great Pilsen (a type of beer named after the Czech city of Plzeň), I refute the idea that Prague is a good deal, based on the 3 points below.
1st — Scams. Currency exchange scams are everywhere.
The hype about the city made scammers flourish. Unless you gained some serious budget-traveling skills (like those that I describe in my book), you risk being ripped off.
The old town of Prague is full of scams (and they are very creative) that are rare in eastern or central European capitals like Warsaw or Vilnius.
To exchange money in the old town of Prague is ranked among the most stupid things to do in Europe.
The Czech Republic has its currency (Czech Koruna), so take care when converting your euros.
A famous scam occurs inside currency exchange offices. Those companies got a sort of method to deceive tourists. For example, often they have a very attractive rate to exchange Korunas for Euros. At the same time, they hide the rate to exchange Euros to Korunas, which is the one that matters for visitors. Without the correct rate, tourists fall into the trap and lose up to 40% of their money.
They also trick travelers by announcing a small commission to buy currency, but in the small letters, have a commission much higher to sell currency. Since the concept of buying or selling currency depends on interpretation (who is selling and who is buying when both are exchanging money?), they will again attract innocent victims to grab their money.
After losing their money, angry travelers often return to the cheating establishments, but arguing will not work and they may even face aggressive security personnel.
Ridiculous.
2nd — Tourist Traps
While scams are attempts to cheat or defraud an unaware passerby, tourist traps do not have the same malicious character. However, they are simply…
A waste of time and money.
The most popular tourist traps in Prague are those disguised as typical Czech when they are, in reality, imported stuff, unrelated to the region.
For example, the Trdelník, a sweet-bread sold in the streets as a local dessert. It is actually from Hungary, where it is called Kürtőskalács. It is tasty, but I would recommend trying some real local desserts.
The Trdelník is an innocent tourist trap, not irritating at all. Differently from the street-sellers of the Charles Bridge. They are excessive and break the atmosphere of such a breathtaking place.
What puzzles me is why a person would go to Prague to buy cartoons of Hollywood stars?
3rd — Uncontrolled lousy, flashing tourists.
Tourism is important for the local economy. But tourists can be lousy.
To keep attractions intact and the experience of museums, churches, and historical landmarks remarkable, a city must enforce rules.
Why I am telling you that?
Because the acoustic of medieval Czech Churches can be fabulously efficient, more than enough to make a group of talking tourists unbearable.
Then there are also the flashes. It is for debate how harmful camera flashes are for artistic masterpieces, but even if not destructive, it is obnoxious to have multiple blinking lights in a dimmed ambient like a museum or cathedral.
85 decibels of loud talk and flashing lights are not beneficial to the atmosphere of a historical castle, but to a club.
One of the few calm and peaceful attractions in Prague is the Vrtba Garden, which is also one of the most beautiful of its kind in Europe.
Maybe that is why they call Prague a party city. And in this aspect, I think people may not be disappointed.
---
If you enjoyed this article about cities to visit in winter in Europe during winter, check these:
International Cheap Flight Tickets: One Single Hack to Pay Less!
4 Insider Tips on When to Find Cheap Flights
What to Do in Warsaw in One Day
In What Cities Uber is the Cheapest and Most Expensive
---
If you wish to become a Medium member and have access to articles like this, check this link. It is only $5 per month.
---
Levi Borba is the CEO of expatriateconsultancy.com, creator of the channel The Expat, and best-selling author. Subscribe to my articles (for free) and receive (also for free) the ebook "The Blueprint for First-Time Business Owners".