Is Belgrade Safe? How The Serbian Capital Defeated Criminal Clans.
---
Belgrade is the capital and largest city of Serbia. It is located at the confluence of the Sava and Danube rivers and the crossroads of the Pannonian Plain and the Balkan Peninsula.
The city has a population of 1.27 million, while its metropolitan area has a population of 2.24 million, making it the largest city in Serbia, with a total population of close to 3 million people.
The city has a rich history and culture, and there are many things to see and do. The best way to explore Belgrade is by foot or bike, so bring your sneakers and enjoy the beautiful city, unless….
You took a time machine back to 1999 when Belgrade was being bombed by NATO, or to the early 00s when organized crime was rampant in the Serbian capital.
Because the Serbian capital was not always the relaxed, tourist-friendly city that it is nowadays.
In the next paragraphs, you will discover a bit about this so-many-times destroyed and so-many-times rebuilt city, and how it overcame its problems and turned into one of the best cities in Eastern Europe to visit.
Check also: Some surprising conclusions about the most dangerous city in each European country.
Is Belgrade Safe?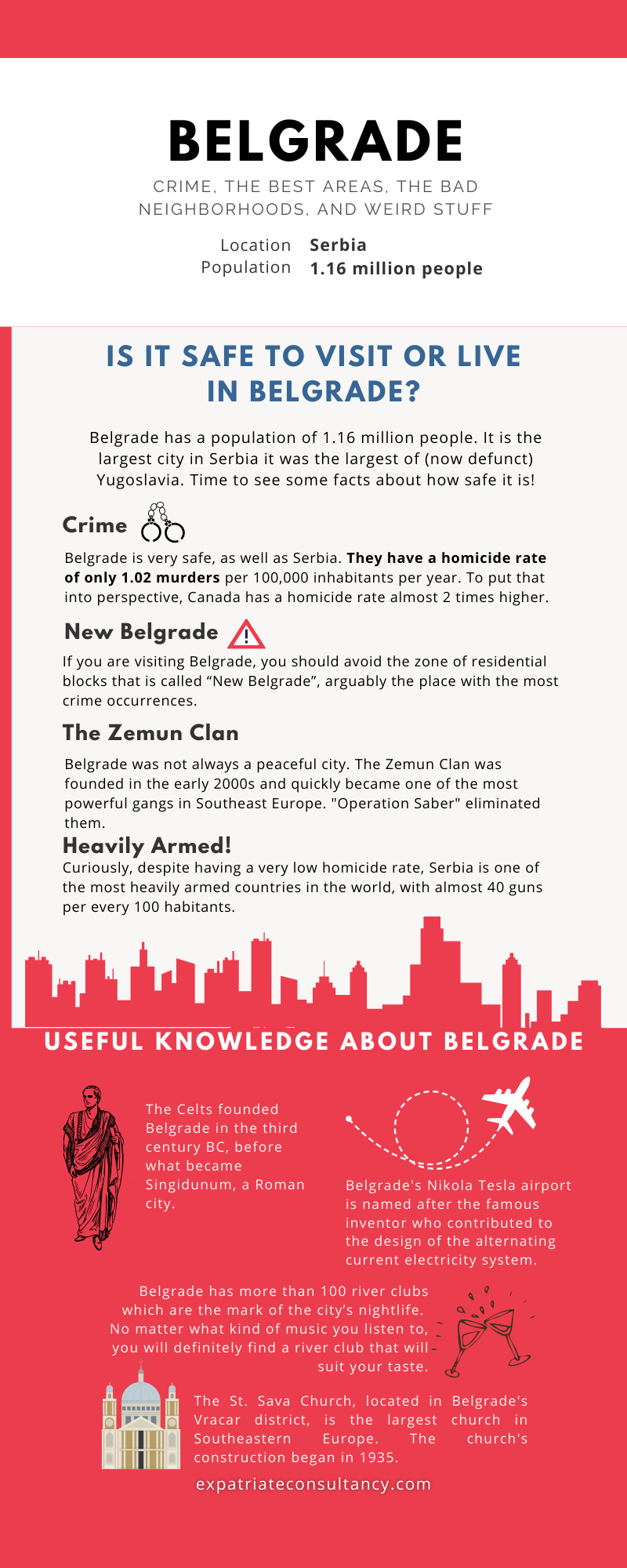 In general, Belgrade is quite secure, so visitors, in particular, shouldn't run across any major issues. However, it wouldn't hurt to exercise additional caution, just as in any other capital (check some practical tips at the end of this article).
Serbia has a low homicide rate of only 1.02 murders per 100,000 inhabitants per year. To put that into perspective, the USA has a homicide rate of 6.3, while Canada has a rate of 2.0. Russia has a homicide rate exceeding 7.
Curiously, despite having a very low homicide rate, Serbia is one of the most heavily armed countries on the face of the earth, with almost 40 guns per every 100 habitants. This is a fact that many people find puzzling.
What Crimes Are Still Common in Belgrade?
While more serious crimes are uncommon in Belgrade, pickpocketing and bag snatching are the main occurrences of street crime, so if you have any issues, they will likely be related to pickpocketing, which primarily occurs in public transit.
There are multiple fascinating areas in Belgrade (like the Danube river banks), but some tourist areas have cases of scamming. We wrote a special article about common (and inventive) tourist scams in Europe that you should know about.
In Serbia's capital, you need to exercise extra caution while boarding any bus since the country's pickpockets are exceptionally skilled, and you won't even realize anything is gone until you get off the vehicle.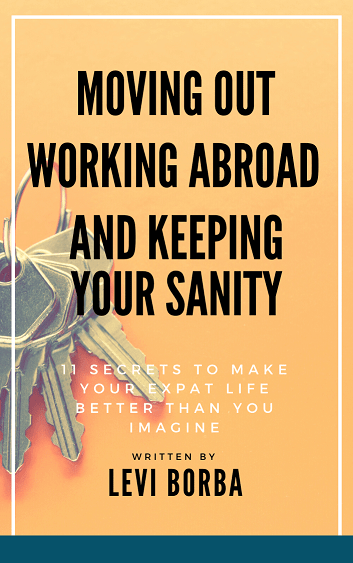 Belgrade Crime
Serbia, and especially Belgrade, was not the peaceful city it is nowadays, but to not dig too deep into the past, let's talk about organized crime.
The Zemun Clan was founded in one of Belgrade's neighboring cities (Zemun) in the early 2000s. In 2003, when it was at its strongest, it was the most powerful criminal group in Southeast Europe.
The Zemun Clan
At the height of their power, they controlled the drug market in the local region, and they especially "stood out" with cruel executions, the murders of all serious players, competitors, and those who could become such. When they connected with Milorad Ulemek Legija at the beginning of the last decade, there was no end in sight to their power.
After the demonstrations of October 2000 in Belgrade, the ruling Democratic Party, led by Djindjic, announced a decisive crackdown on organized crime. Spasojević and Zemunec were not yet known at that time.
They hid under the guise of a secret group led by Ljubisa Buha Čumet until investigators intercepted their phone conversations in Paris, where they spent the money from the kidnappings and planned to start a new business: cocaine trade from Colombia.
The first shipment of half a ton had already been arranged, but the team was arrested at the airport and then extradited to Serbia. Soon, despite the evidence, they were released. Only then did it become clear to everyone who Spasojević was and what a powerful empire he had built.
Their golden period followed in 2002. They did what they wanted; the number of brutal executions grew; they held the top of the state in their hands due to their merits during the October 5th events and partnership with the Legion. Everything changed after the Law on Collaborating Witnesses was passed.
It was a step that the people of Zemun could not overcome. Ljubiša Buha, their former friend turned mortal enemy, was chosen as the witness. Everything was clear-with his testimony as a direct participant in most of the crimes of Spasojević's group, the largest clan in the country would fall.
Something big was about to happen, something that would fundamentally change the balance of power on the ground. They chose to kill the prime minister, and what happened afterward, I guess no one, not even they themselves, could have guessed.
The Operation Saber
Operation Saber started, and as journalists stated:
"In Operation Saber, the entire top of the Zemun Clan was arrested; Legija fled, Spasojević and Luković were killed during an attempt to apprehend them; and in the state of emergency that was declared in Serbia, more than 10,000 people were arrested. The immediate perpetrator of the assassination and member of the Red Berets, Zvezdan Jovanović, confessed to the crime, and later retracted his statement during the court process. The arrest of members of the infamous clan continued during the following years; the Legion itself surrendered, and the top of the organization was beheaded forever. "
However, people are convinced that the Zemun clan still exists and that they are responsible for most of the bad things that are still happening. It's just that now they do their jobs more from Croatia. Although the three main people are still in prison, 14 important people from the Zemun clan have been free for years, setting people's imaginations free.
Check also: The 10 Most Dangerous Cities in Europe in 2022
Areas to Avoid in Belgrade
If you are visiting Belgrade, the places you should avoid are:
Despite the quick improvement of the city's safety indicators, crimes are more common, even during the day, in those places.
Check also: The Most Beautiful Capital Cities in Europe
Is Belgrade Safe to Visit? Conclusion
Yes, visitors to Belgrade, Serbia, can relax because, in my opinion, there are fewer risks there than in places like Athens, Greece.
A Safer City
Over the years, Belgrade has transformed from a city once plagued by violence and crime to a much safer destination for travelers and locals alike. The reduced criminality in the Serbian capital can be attributed to the efforts of local authorities and the police in maintaining law and order. In fact, Belgrade now poses less risk than many areas in the UK, such as Bradford, making it an attractive destination for tourists seeking a unique and safe travel experience.
Improved Public Perception
The media has played a significant role in changing the public's perception of Belgrade. As the city's safety improved, positive stories about its vibrant culture, rich history, and friendly people began to dominate the headlines, encouraging more travelers to visit Serbia3. This shift in media coverage has helped to dispel misconceptions about the city's past and present a more accurate picture of Belgrade as a safe and welcoming destination.
A Bright Future for Belgrade
In conclusion, Belgrade has come a long way from its turbulent past and is now a much safer city for both locals and tourists. The efforts of the police, local authorities, and the better portrayal in the media have contributed to this transformation.
As more travelers discover the beauty and charm of Belgrade, the city's reputation as a safe and exciting destination will continue to grow. So, whether you're planning a short visit or a longer stay, Belgrade offers a unique and secure travel experience that is well worth exploring.
You can enjoy a stroll along the Knez Mihailova (the beautiful pedestrian street in the center of Belgrade) with fewer concerns about pickpockets than you would have in the La Rambla in Barcelona.
The Serbian capital has been improving considerably, although there are some places where the risk of being a victim of theft is higher, and it is still far from being as safe as European capitals as Lisbon in Portugal or Madrid in Spain.
There are some excellent and (surprisingly!) inexpensive hotels in the best areas of Belgrade. You can find them below.
So, Belgrade is safe, but here are some extra tips.
While Belgrade is now considered a safer city, it is still essential for travelers to follow standard safety precautions. This includes being aware of local laws, monitoring local media for updates, and registering with their nearest embassy
Travelers should also exercise caution when using public transportation, walking in unfamiliar areas, and visiting crowded places5. By taking these simple steps, visitors can ensure a safe and enjoyable trip to Belgrade.
Travel Advice for a Safe Trip
1st — If you are visiting the city, there are plenty of options in terms of luggage storage, so you don't need to walk around with your carry-on bags. Reliable, convenient, and inexpensive luggage storage services you can find at Radical Storage.
2nd — If you want to walk around and see some gorgeous spots without the risk of getting lost (or worse), hire a guide. You can find some excellent and reliable guides and tours at Viator. They will give you insider information about historical facts and curiosities, and also warn you of risky areas and keep you safe.
3rd — Areas surrounding airports and train stations can be dangerous.  Book a transfer in advance from Belgrade's Nikola Tesla airport (or from any station) to your destination and vice versa, so you can avoid scammers and criminals. I often used Get Transfer for that and it always worked fine.
4th—Stay in a good hostel. Hostels are usually in the safest parts of cities (at least in Europe and South America), unlike hotels. Most hostels have private rooms that are as comfortable as a hotel, plus a friendly staff to give information. When looking for hostels, I visit Hostelworld and filter for those above grade 7.
5th — As a travel insurance provider for a trip to Belgrade (and anywhere else in the Balkans), we recommend Ekta.
Top 5 popular tours in Belgrade on a Budget (All Below $99 per person)
---
If you enjoyed this article answering the question Is Belgrade Safe? here are a few other reading suggestions for you:
The Most Stupid Thing You Can Do in 5 European Capitals
Making the Best of Your Time in Lisbon With No Worries
THESE Are the Cheapest Cities to Fly to In Europe
Levi Borba is the founder of The Expatriate Consultancy, creator of the channel The Expat, and a best-selling author. Some of the links of this article may be affiliate links, meaning that the author will have a commission for any transaction.