In the Swedish Capital, Rampant Crime is Shattering Illusions. Is Stockholm Safe still?
I am very suspicious of the traditional media. I am not some sort of conspiracy theorist, not even close to that.
But in the current monetization model that most journalists are part of, we all know that they need clicks, so readers see their ads or purchase their subscriptions.
This incentive tragic headlines and this is what we see when we look for news about Stockholm on the internet: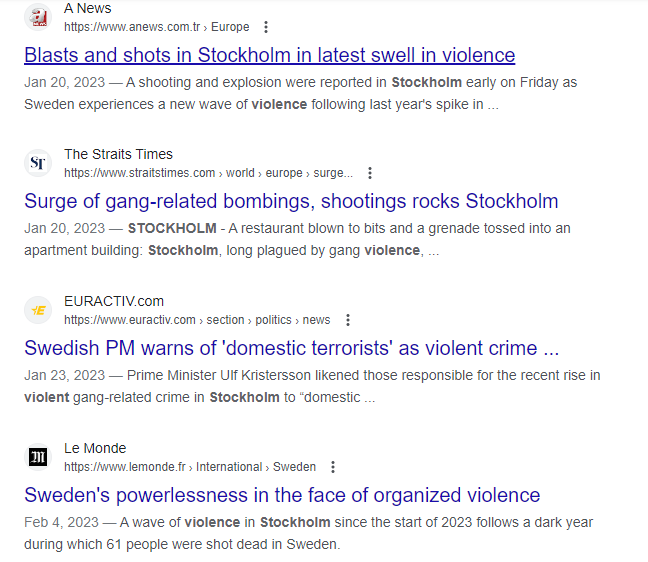 And all of this only in a space of two months in 2023.
Right now I am very cautious before writing about any city.
I don't want to overjudge any location (especially after my article about the most dangerous cities in Europe generate some explosive repercussions in newspapers like The Mirror, The Daily Star, and, according to The Express, what I wrote made the Bradford police chief furious).
I was just writing about facts, but still…
This is not the first time we publish a polemical ranking. On other occasions, we told you about:
Therefore, before answering our main question (Is Stockholm safe?), let's dive into some numbers.
So… How Safe Is Stockholm Really?
We compared the crime rates of Stockholm against 4 other major European capitals (Paris, Berlin, Rome, and Warsaw) in 5 different types of criminal offenses: rapes, murders, burglaries, assaults, and car theft.
I could compare it with other Scandinavian capitals, like the super-safe Copenhagen, but that would not give a proper dimension to the issue.
In the few cases where specific data for the city was not available, we used the national-level data. Sources are websites like Statista, Knoema, Macrotrends, and Brå.
Let's check how the Swedish capital performed:
Rape crimes (Rate per 100,000 people)
Stockholm, Sweden 6.9
Paris, France 2.1
Berlin, Germany 1.4
Rome, Italy 1.2
Warsaw, Poland 0.9
Murders (Rate per 100,000 people)
Stockholm, Sweden 0.9
Berlin, Germany 0.8
Rome, Italy 0.6
Warsaw, Poland 0.5
Burglaries (Rate per 100,000 people)
Stockholm, Sweden 539.9
Paris, France 396.7
Berlin, Germany 341.8
Rome, Italy 250.0
Warsaw, Poland 210.0
Assaults (Rate per 100,000 people)
Stockholm, Sweden 3,107.3
Paris, France 2,694.0
Berlin, Germany 2,332.5
Rome, Italy 2,020.0
Warsaw, Poland 1,600.0
Car theft (Rate per 100,000 people)
Stockholm, Sweden 1,080.0
Paris, France 740.0
Berlin, Germany 620.0
Rome, Italy 480.0
Warsaw, Poland 360.0
As we can see, Stockholm led every single indicator except the murder rate, where it followed in second place close to Paris. It is important to say, however, that at least in the case of the murder rate all these cities had considerably low numbers.
The same, however, cannot be said about the other modalities of crime.
But the crime rate of Stockholm also conveys us a curious message when we see it broken by region.
What the Stockholm Crime Rate Tell Us
The website Max-Security plotted on a map the areas that have the highest security risk in Stockholm according to the police.
Look at this map for a minute and tell me if you notice a pattern:
The fact that the riskiest areas in Stockholm are either in the far south or the far north of the city is not something really unknown.
There could be many other examples where violent crimes prevail in zones distant from the center of a major city. There are also some exceptions, where violence is concentrated in a zone very close to the city center.
There is, however, a striking similarity in what makes the most dangerous parts of Stockholm, London, and Glasgow that violent.
The Most Violent Parts of Stockholm
Tensta
Tensta is a suburb located in the northwest part of Stockholm. It is part of the Rinkeby-Kista borough and is known for its multicultural atmosphere. The neighborhood was developed in the 1960s as part of the Million Programme, a Swedish initiative to construct affordable housing for the growing population.
Nowadays, Tensta is home to approximately 20,000 residents, and at least 53% of them had a foreign background.
Criminal gangs (take note of this expression, because this is one of the roots of most violence issues in Sweden) have so much power there that they instituted district-wide curfews for the residents. Nobody could go out of their houses at risk of suffering severe penalties from the criminals.
This is something that we often see in Rio de Janeiro's poorest communities ("favelas"), but it was the first time I read about it happening in Europe.
Husby
Husby, also located in the northwestern part of Stockholm, is another neighborhood that has experienced significant challenges, particularly in terms of crime and social unrest.
It has gained notoriety for its higher crime rates compared to other parts of Stockholm, but also due to some instances of cultural clash (more than 80% of the district has an immigrant background).
A few years ago, women denounced that in Husby it was active some sort of morality police, that went around the streets harassing females that didn't have their hair covered.
Before that, in 2013, intense riots started in Husby and spread all across Sweden. Trucks burned, cars were destroyed, businesses were vandalized, and the once idyllic image of this suburb got obliterated.
Only 3 years later, it all happened again.
Rinkeby
In the same northwestern region of Tensta and Husby, there is also a neighborhood called Rinkeby (in a borough of the same name).
Just like in the previously mentioned areas, Rinkeby has a serious problem with organized crime and gangs.
One of the local cops from Rinkeby told France24 during an interview:
You'll see wounds, people who've been shot with AK47s, who've been stabbed, people who have war wounds. It's like a totally different society … another type of Sweden
One of the most feared gangs is called The Death Patrol.Criminal activities from this gang even spread to other European countries, like the murders they committed in Copenhagen.
Gangs are responsible for most of the bomb attacks in Sweden, and often riots start after gang members get killed by rivals, like during the Christmas of 2022.
Avoiding Bad Areas of Stockholm
As you noticed, the most dangerous part of the city is quite far from the center.
Therefore, embarking on a Stockholm sightseeing trip while bypassing the pockets of concern requires a blend of creativity and planning, but it is not that difficult.
By employing a proactive approach and exploring the city's vibrant offerings, you can enjoy the wonders of Stockholm while minimizing exposure to areas like Rinkeby and Tensta.
Here's a creative roadmap for a safer trip:
Explore Gamla Stan: Begin your Stockholm adventure in the enchanting Gamla Stan, the city's historic Old Town. Wander through its narrow streets, soak in the historic charm, and admire the captivating architecture while staying in a safer area of the city. Be aware, however, that petty crimes and scams in still happen close to tourist attractions.
Discover Stockholm's natural beauty by visiting Djurgården island, where you can explore lush parks, visit renowned museums like the Vasa Museum and enjoy the serenity of Lake Mälaren.
Prefer lively districts like Södermalm and Östermalm, known for their trendy shops, cafes, and boutiques. These neighborhoods offer a lively urban experience while staying away from areas with higher safety concerns.
Consider Guided Tours: more about it in a few paragraphs.
Where to Stay and The Safest Neighborhoods in Stockholm
If you are visiting Sweden's capital, you really don't need to expose yourself to a dangerous situation in Rinkeby.
As a modern Scandinavian city, Stockholm has plenty of green spaces, areas with substantial historical landmarks, and is easily accessible. So here is where you should stay to enjoy all that:
Norrmalm
Situated in the heart of Stockholm, Norrmalm is a bustling district known for its central location and excellent public transport connections, including the Stockholm Central Station.
Norrmalm is home to many iconic attractions, such as Sergels Torg, one of the major public squares in Stockholm, and the main pedestrian shopping street in the Swedish capital, Drottninggatan. The district offers a wide range of accommodation options, from three-star hotels to luxury establishments.
Östermalm
Located in the eastern part of Stockholm, Östermalm is a sophisticated and upscale district with excellent public transport connections, including the Östermalmstorg metro station. Östermalm is known for its elegant, contemporary architecture throughout, and the Östermalm Market Hall.
Södermalm
Located to the south of Stockholm's city center, Södermalm has a distinct bohemian atmosphere. Despite its edgy vibe, Södermalm is considered safe for tourists. It offers excellent public transport connections, including several metro stations like Slussen and Medborgarplatsen, making it easy to reach the Old Town.
These three districts in Stockholm (Östermalm, Norrmalm, and Södermalm) offer a safe and enjoyable stay for tourists. With good public transport connections to Stockholm's Old Town, a range of three, four, and five-star hotels, and unique attractions, each provides a distinct experience while ensuring comfort and convenience for visitors.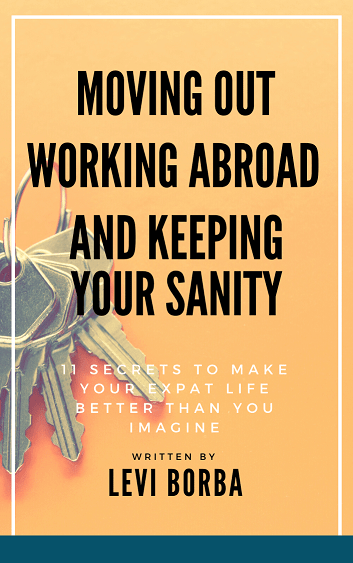 Stockholm: Travel Safety Tips
Here are some more specific, street-wise safety tips to visit Stockholm:
1st — If you visit Stockholm for a day trip, there are plenty of options in terms of luggage storage, so you don't need to walk around with your carry-on bags while seeing its many tourist attractions. Reliable, convenient, and inexpensive luggage storage services you can find at Radical Storage.
2nd — If want to discover some more isolated places or other Swedish cities, hire a guide. You can find some amazing guides and tours at Viator. Not only they will give you insider information about the gorgeous natural beauty of the country, but they will also warn you of risky areas and keep you safe.
3rd — Areas surrounding airports and train stations can be dangerous. Book a transfer in advance from one of the airports in Stockholm (or from any of the train stations) to your destination and vice versa, so you can avoid scammers and criminals. I often used Get Transfer for that and it always worked fine.
4th — Stay in a good hostel. Hostels are usually close to the tourist attractions in the safest part of the city area (at least in Europe), unlike hotels. Most hostels have private rooms that are as comfortable as a hotel, plus a friendly staff to give information. When looking for hostels, I visit Hostelworld and filter for those above grade 7.
5th – Remain alert in crowded places. Even in tourist areas, there are still cases of petty crime.
6th — As travel insurance for visiting Sweden (and any country in northern Europe), we recommend Ekta.
Conclusion: Is Stockholm safe to visit right now?
Despite its previous status as a safe city, recent incidents have shown that Stockholm has a certain exposure to risks of terrorist attacks, organized crime, gang activity, or dangerous situations.
This realization serves as a reminder that no city can guarantee absolute safety, no matter how beautiful or popular it may be. In light of these unsettling events, it is essential for travelers to exercise common sense, and extreme caution, and remain vigilant while exploring Stockholm's inner city. This is especially true during the summer months when the city attracts a large influx of tourists, increasing the likelihood of encountering potentially risky situations.
In addition to concerns about criminal activities and the threat of terrorism and even grenade attacks, Stockholm also grapples with other safety issues.
Visitors should be aware of the prevalence of alcohol-related violence, particularly in nightlife areas, where confrontations can quickly escalate. Petty theft remains a persistent issue in the city, with pickpocketing and thefts occurring in crowded areas or at closing times.
While public transportation in Stockholm is generally reliable, travelers should exercise caution, as crowded buses, trams, and subway stations can attract the attention of opportunistic criminals.
The Swedish police and security guards are present in public spaces, but just their presence may not be enough to combat the increasing dangers in the city. It is crucial for visitors to prioritize their personal safety and take necessary precautions.
Familiarizing oneself with the local neighborhoods and consulting with local authorities or trusted sources for up-to-date safety information is highly recommended. Additionally, travelers should consider employing safety measures such as using a money belt, securing travel insurance, and avoiding displaying signs of wealth.
While the city's allure in parts like Gamla Stan remains, it is crucial to be mindful of the potential risks and exercise vigilance at all times. By staying alert, following your own safety precautions (in the beginning of this article we gave you some really good ideas), and being aware of the changing safety dynamics, travelers can navigate Stockholm more cautiously in the face of its increasingly precarious environment.
---
If you enjoyed this article answering if is Stockholm safe, here are a few other reading suggestions for you:
THESE Are the Cheapest Cities to Fly to In Europe
9 Books about Relocating to Gain an Edge in Your Life
Levi Borba is the founder of the Expatriate Consultancy, creator of the channel The Expat, and best-selling author. Some of the links in this article may be affiliate links, meaning that the author will have a commission for any transaction.