Is Garden Grove, CA a safe place to live or visit?
Just minutes from Disneyland and Knott's Berry Farm, Garden Grove is in the upper reaches of famous Orange County. Its Crystal Cathedral, once home to the famous "Hour of Power" TV show, is still an iconic part of the city's architecture. Down the road, the historic Main Street maintains an old-town charm with a classic car show every Friday. All these fun sites and events make this city a fun place to visit. But these fun facts don't answer our main question: is Garden Grove, CA safe? To answer that, we dive into the facts:
Garden Grove is a community of approximately 170,000 people and is very diverse. It is an Asian-majority city, with the US' second largest population of Vietnamese Americans. The impact of Asian heritage reaches even further with the yearly, three-day Korean festival, and bustling Koreatown.
Additionally, Garden Grove knows how to celebrate! It hosts the annual Garden Grove Strawberry Festival on Memorial Day. Located in Village Green Park, the Strawberry Festival is the biggest community-based Memorial Day celebration in the Western US. Garden Grove is also known for its theater scene, boasting three theaters: the Garden Grove Playhouse, Gem Theater, and the Festival Amphitheater. Adding to the tradition, Steve Martin graduated from the local high school in 1963!
Crime in Garden Grove, California
Curious about which areas to steer clear of? Check out our special article about the most violent cities in California.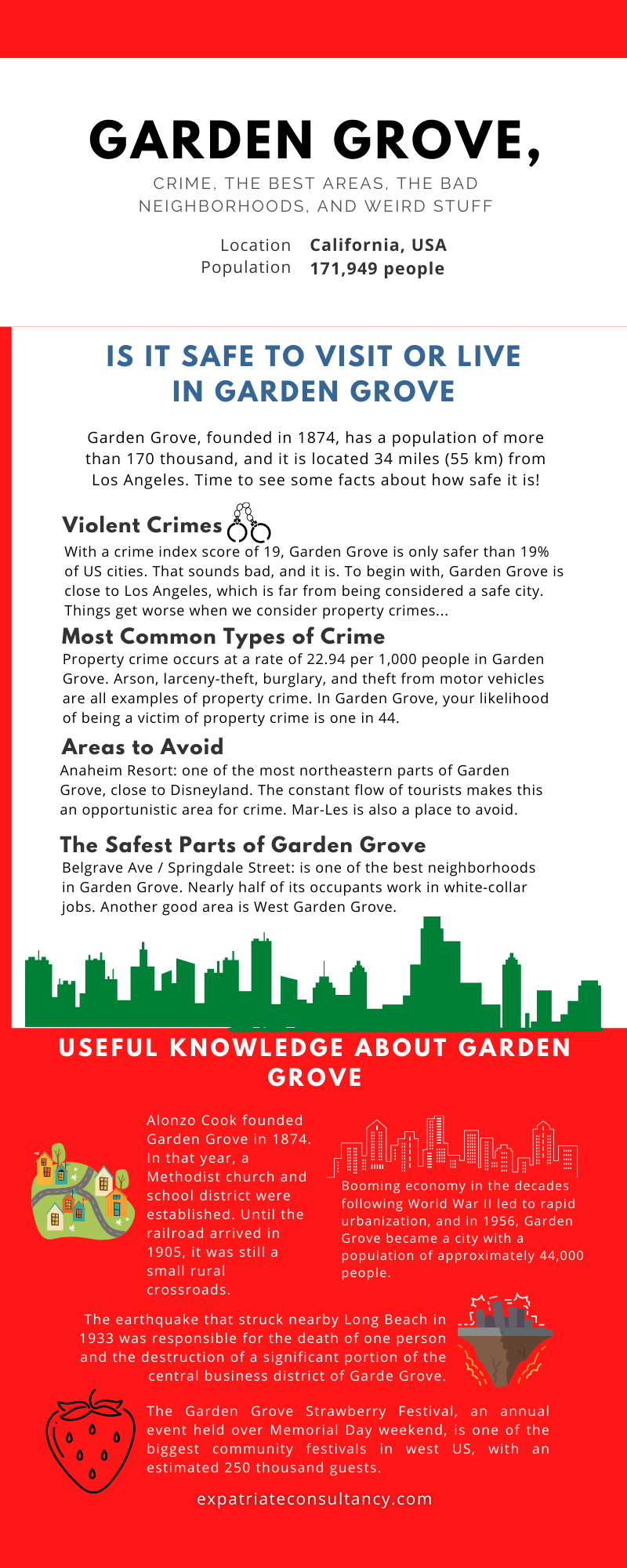 Garden Grove has a crime index score of 19 out of 100, meaning that it is only safer than 19% of US Cities. That sounds bad, but what does that mean for crime on the ground in Garden Grove, California?
For starters, Garden Grove is close to Los Angeles, a city FAR from being one of the safest large cities in the US (which is a rank that includes San Diego and nearby communities, like Chula Vista).
It is also very close to Anaheim, a city that we analyzed in this article. Our team also examined the crime rates and the best and worst neighbourhoods in other Californian cities, like Santa Rosa, Escondido, and Huntington Beach. And, of course, if you're hunting for a big, safe city in California, San Diego is worth a look.
The rate of violent crime in the city is 2.98, which is lower than the violent crime rate in California overall at 4.40. According to the National Institute of Justice, violent crime includes rapes, sexual assault, robbery, assault, and murder. This means that, on average, you will be less likely to become the victim of a violent crime in Garden Grove than you would be in California at large. However, this isn't the whole story.
Property crime is more common in Garden Grove.
Garden Grove has a property crime rate of 22.94 per 1,000 residents. Property crime includes motor vehicle theft, arson, larceny-theft, and burglary. This means that you have a one in 44 chance of suffering a property crime in Garden Grove. This is more than twice higher than the property crime rate of California in general, which is at 21.3.
While these statistics aren't great, Garden Grove isn't significantly outside the norm of crime for similarly sized cities in the US. Does that mean Garden Grove is safe? It depends on what your standard is. Compared to other large cities in California, Garden Grove is safe. For example, Los Angeles has a crime index of 14 out of 100, indicating Los Angeles is less safe on average than Garden Grove. In short, if you'd feel comfortable in Los Angeles, you should feel comfortable in Garden Grove.
The bottom line is that it's not the safest community in the United States, but like any other community, there are good areas and bad areas of the city. Being safe in Garden Grove boils down to knowing where the high crime areas are.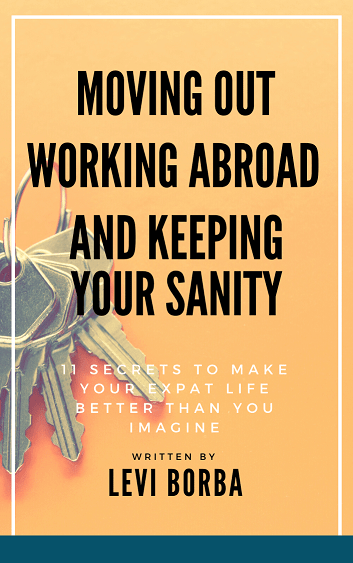 The Bad Areas of Garden Grove
As with any American city, you need to be aware of your surroundings and vigilant. While many of the bad areas of Garden Grove are concentrated on the east side, there are more dangerous areas sprinkled throughout the city. Here are some of the areas you should be most careful in:
Anaheim Resort – This is one of the most northeastern neighborhoods in Garden Grove, which approaches the amusement park area. The constant amusement park traffic and flow of tourists makes this a high opportunity area for crime. Many of the same issues apply to the International Northwest neighborhood, located to the west of Anaheim Resort. Avoiding these neighborhoods could be best to steer clear of more violent areas.
Mar-Les – This neighborhood is in the southeastern corner of Garden Grove, bordering the Willowick Municipal Golf Course. This is another lower-middle income neighborhood in Garden Grove, with a higher child poverty rate than 72% of communities in the rest of the US.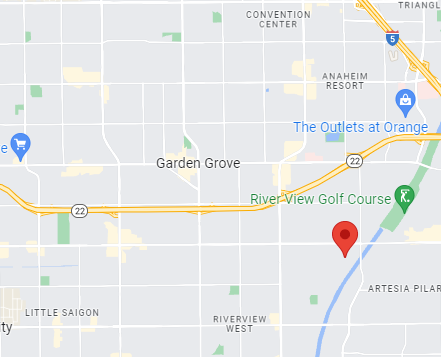 Artist Loft East – This neighborhood is densely populated urban community in the center of Garden Grove. The average income level is lower-middle like Mar-Les. The population density likely accounts for this neighborhood being more dangerous: more people often drive more crime.
Watch out for yourself and your belongings while in the bad areas of Garden Grove. Keep an eye on your things. Make sure you lock your doors and your house. While there are bad areas of the city, Garden Grove does have good neighborhoods as well.
Best Neighborhoods in Garden Grove
Although, like many places in the US, Garden Grove could be safer generally, there are some good neighborhoods that are safer on average. If you want to move to the city or drop by for a visit, you should consider relocating to or visiting these neighborhoods. They have some of the best things that Garden Grove has to offer:
Belgrave Ave / Springdale Street – this neighborhood is one of the best neighborhoods in Garden Grove. Nearly half of its occupants work in executive, managerial, and professional jobs, indicating high levels of educational attainment. Its real estate falls within the top 10% of most expensive neighborhoods in the US. Its affluence and education levels make it a desirable place to settle down in Garden Grove.
West Garden Grove – this is also one of the best neighborhoods in the city. The median income in West Garden Grove is $25,000 higher than in surrounding areas. The neighborhood is mostly comprised of large single-family homes, mostly owner occupied. With three parks in the greater area, West Garden Grove provides a calm, safer area for families in the area.
Edgar Park – Edgar Park is one of the best neighborhoods in Garden Grove to raise a family. There are excellent schools in the area, as well as high homeownership of single-family homes. This has created a strong sense of community, which accounts for Edgar Park's ranking among the top 12% of family friendly California neighborhoods.
In conclusion, there are a lot of good neighborhoods in Garden Grove, with good schools and safe community areas. Additionally, the city has a lot to offer in terms of community events and things to do. If you're ever in the area, make sure to get a taste of the wonderful restaurants, fun festivals, and thriving theater culture. Keep reading to get a small sampling of what to do in Garden Grove.
There are some excellent and (surprisingly!) inexpensive hotels in the best areas of Garden Grove. You can find them below.
What to Do in Garden Grove
While Garden Grove might not be the safest city in the US, it is reasonably safe if you stay aware of your surroundings and be careful. That shouldn't stop you from enjoying everything that the city has to offer. Here are a few ideas to get you started:
Check out authentic Korean food in Garden Grove's Koreatown: Garden Grove became home to many Asian immigrants through the 1970's and 80's. Koreatown's restaurants were started and are maintained by these families, offering authentic Korean food.
Visit the GEM Theater: This theater is historic gem of its own. Opened in 1920 for vaudeville shows, the GEM theater still hosts live theater and music within its walls. The theater maintains an intimate feel with stellar productions. It is certainly worth a visit if you're trying to figure out what to do in Garden Grove.
Walk through time at the Stanley Ranch Museum & Historical Village: Step back in time to when Garden Grove was a farming community. The Walt Disney Garage, which functioned as Walt Disney's first animation studio, should be of special interest to any Disney fan. Before visiting, make sure you check the hours. The Museum is run by the Garden Grove Historical Society, so the hours can be irregular.
Visit the historic Main Street: walking down Main Street in Garden Grove allows you to take in the character of the city years ago. Main of the buildings have maintained their original facings. The street is lined with lots of little shops, cafes, and restaurants. It can be a relaxing contrast to the amusement park chaos to the north at Disneyland.
Take a walk in Haster Basin Recreational Park: if you're looking for something even more relaxing, check out Haster Basin Recreational Park. This newly refurbished park has lots of paths for walkers and joggers alike. Picnic areas and sports equipment make it an ideal place for a relaxed, outdoor afternoon.
All in all, Garden Grove has a lot to offer to visitors and residents. From the famous, Strawberry Festival to the towering Crystal Cathedral, it has plenty to keep you busy. If you stay cautious and vigilant, you shouldn't have to worry about too much about crime rates in Garden Grove.
Other Tips for Visiting Garden Grove Safely
1st — If you are visiting the city, there are plenty of options in terms of luggage storage, so you don't need to walk around with your carry-on bags. Reliable, convenient, and inexpensive luggage storage services you can find at Radical Storage.
2nd — Areas surrounding airports and train stations can be dangerous.  Book a transfer in advance from the Los Angeles (LAX) Airport (or from any station) to your destination and vice versa, so you can avoid scammers and criminals. I often used Get Transfer for that and it always worked fine.
3rd — If you want to walk around and see some historical spots without the risk of getting lost or wasting your time, hire a guide. You can find some amazing and reliable guides and tours at Viator. They will give you insider information about historical facts and curiosities, and also warn you of risky areas and keep you safe.
---
If you enjoyed this article answering the question Is Garden Grove Safe?, here are a few other reading suggestions for you:
9 Books about Relocating to Gain an Edge in Your Life
The Most Violent Cities in Europe BY COUNTRY
THESE Are the Cheapest Cities to Fly to In Europe
Some of the links of this article may be affiliate links, meaning that the author will have a commission for any transaction.