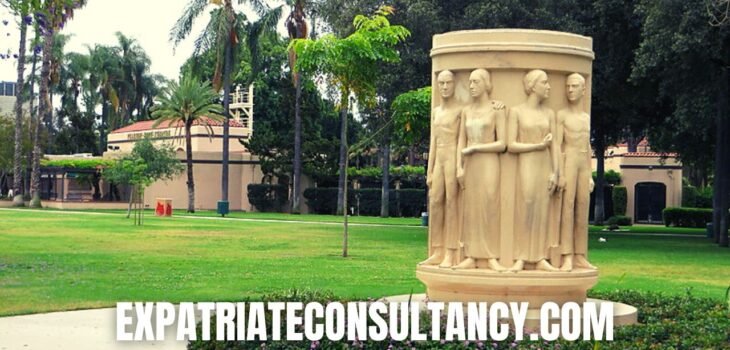 Is Anaheim, CA, a Safe Place to Visit or Live?
So, you're planning a trip to sunny Southern California, and you may be asking yourself – "Is Anaheim safe to visit?" Or, "Is this a place I could safely relocate to with my family?".
If that sounds more or less like something you were wondering to yourself, you've clicked on the right page!
Whatever your reason for your Anaheim visit, in this article, you'll find out all you need to know about the city's safe neighborhoods, dangerous neighborhoods, great places for you and your family to enjoy, and places to avoid.
But first, how about a little background info?
Anaheim was founded in 1857 by German migrants, and the name means "Home of Ana" in German, named after the nearby Santa Ana River (which names Santa Ana, a city that we wrote a very interesting article about).
Situated 25 miles south of Los Angeles, Anaheim is Orange County's second-largest city. With a population of 345,940, it's Orange County's most populous city and California's 10th most populous.
Our team also looked closely at the crime rates and the best and worst neighborhoods in other Californian cities, like Garden Grove or Santa Rosa, or Chula Vista, which is closer to San Diego. By the way, if you want a big city in California that's really safe, take a peek at San Diego.
Anaheim is known to have a plethora of entertainment to keep its visitors busy – bars, clubs, restaurants, you name it, Anaheim's got it.
And Disney lovers will be happy to know that Anaheim's most fabled resident is Mickey Mouse, who resides at the world-famous Disneyland California!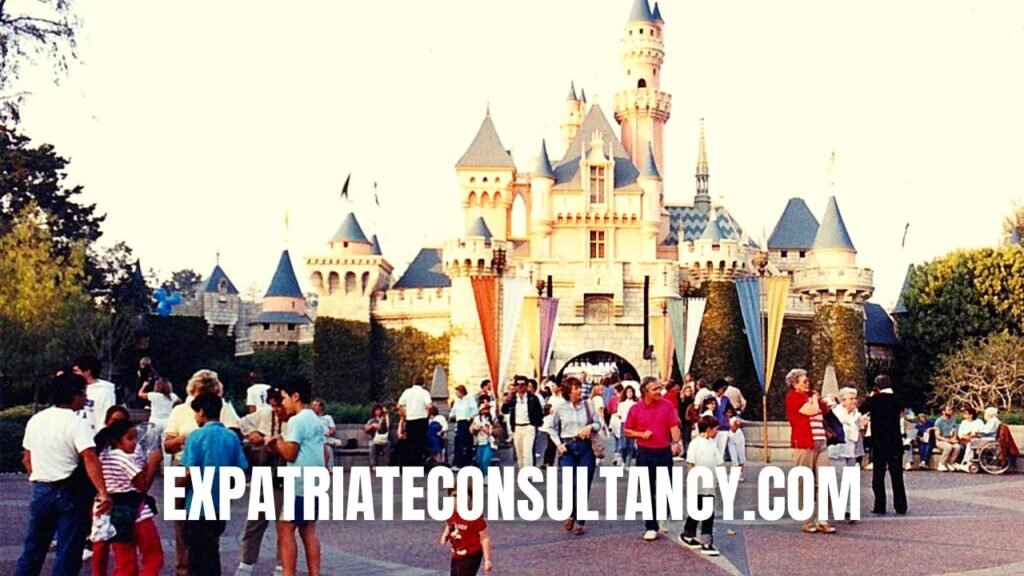 Sports are a big deal here. Anaheim is home to the MLB's Los Angeles Angels and the NHL's Anaheim Ducks. And as part of the Los Angeles Metropolitan area, both the Angels and the Ducks have heated rivalries with the L.A. Dodgers and L.A. Kings, respectively, who are just a short drive along Interstate 5.
So, now you know a little bit about one of Orange County's most happening cities, let's do a deep dive into the facts and answer your burning question:
Anaheim Crime Rate
If you want to know which cities to skip, our article on California's most violent cities is for you
How Anaheim's Crime Rate Compares to Other Middle Cities
Below you can see two tables.
The first table shows the crime rate (as well as the homicide rate and other information) of Anaheim and compares it with other cities we analyzed. By clicking on the name of each city, you will find a complete article with their best neighborhoods, areas to avoid, crime rates, etc.
The source of the data is the FBI reports.
Crime Rate of Anaheim (Proportional to the Population) Compared to Other Cities
Here the crime numbers are divided by the population and demonstrated as cases per 100,000 habitants, meaning that they are proportional to the number of residents.
| | | | | | | | |
| --- | --- | --- | --- | --- | --- | --- | --- |
| City | State | Population | Total Criminal Offenses per 100K Resid. | Assaults per 100K Resid. | Homicides per 100K Resid. | Rapes per 100K Resid. | Robberies per 100K Resid. |
| Escondido | CA | 150,507 | 4,857 | 931 | 3 | 15 | 93 |
| Chula Vista | CA | 275,978 | 3,265 | 718 | 2 | 11 | 91 |
| Palmdale | CA | 169,450 | 1,731 | 315 | 6 | 30 | 91 |
| Pasadena | CA | 135,732 | 2,696 | 412 | 3 | 4 | 132 |
| Santa Ana | CA | 310,227 | 2,698 | 280 | 5 | 47 | 129 |
| Santa Rosa | CA | 178,127 | 2,154 | 374 | 2 | 62 | 76 |
| Anaheim | CA | 346,824 | 2,918 | 196 | 5 | 38 | 119 |
| Huntington Beach | CA | 198,711 | 2,229 | 158 | 2 | 35 | 54 |
| Hialeah | FL | 220,490 | 1,961 | 145 | 3 | 12 | 45 |
| Tallahassee | FL | 196,169 | 3,879 | 545 | 12 | 103 | 122 |
| Honolulu | HI | 985,138 | 4,764 | 958 | 1 | 17 | 73 |
| Oklahoma City | OK | 670,872 | 7,705 | 1,430 | 15 | 61 | 97 |
| Pittsburgh | PA | 302,971 | 4,168 | | | | |
| Salt Lake City | UT | 205,929 | 15,723 | 3,009 | 9 | 132 | 215 |
Crime rate numbers. Total criminal cases, assaults, homicides, rapes, and robberies in multiple American cities we analyzed, in cases per 100K residents. Data from 2022, 2021 and 2020.
Crime Rate of Anaheim in Absolute Numbers Compared to Other Cities
City
State
Population
Total
Criminal Offenses
Assaults
Homicides
Rapes
Robberies
Escondido
CA
150,507
7,310
1,401
5
22
140
Chula Vista
CA
275,978
9,010
1,982
6
31
251
Palmdale
CA
169,450
2,934
533
10
51
155
Santa Ana
CA
310,227
8,370
869
15
145
401
Santa Rosa
CA
178,127
3,836
667
4
110
135
Anaheim
CA
346,824
10,122
681
16
133
412
Huntington Beach
CA
198,711
4,430
313
3
70
107
Tallahassee
FL
196,169
7,609
1,069
24
202
239
Honolulu
HI
985,138
46,933
9,438
8
166
719
Oklahoma City
OK
670,872
51,689
9,595
100
406
653
Pittsburgh
PA
302,971
12,629
Salt Lake City
UT
205,929
32,378
6,196
19
271
443
The numbers of total criminal cases, assaults, homicides, rapes, and robberies in multiple American cities we analyzed, in absolute numbers. Data from 2021 and 2020.
Ok, here's where we get into some cold, hard statistics!
Let's start with the positives.
Anaheim's violent crime rate – is lower than average
Although many factors determine how safe or dangerous a city is, Anaheim's lower than average violent crime rate indicates that statistically, you'd be safer from physical harm than in many other U.S. cities.
According to the FBI's Crime Data Explorer, violent crime includes aggravated assault, robbery, rape, and homicide. And per 100,000 residents, Anaheim had 353 reported violent crime incidents compared to the national average of 388 – making its violent crime rate 9% below the U.S. national average in 2020.
For some context, these numbers show that Anaheim is far less violent than nearby Californian cities with comparable population numbers like Bakersfield, Santa Ana, or Stockton.
And from a national standpoint, you'd be less likely to become a victim of violent crime in Anaheim than in cities such as Tampa, FL, Honolulu, HI, and Aurora, CO.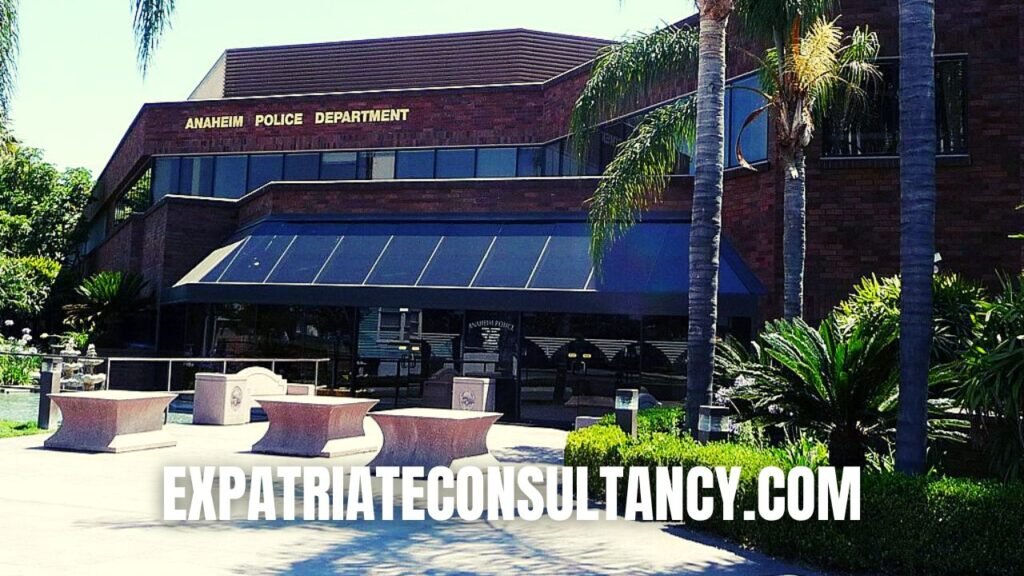 Anaheim's property crime rate – is higher than average
Yes, violent crime makes up only one part of the picture!
Property crimes in Anaheim (which include burglary, theft, larceny-theft, and motor vehicle theft) are 29% higher than the national average.
And Anaheim had 2,519 reported property crimes per 100,000 people compared to the national average of 1,958.
So yes, theft is an issue here.
The verdict – is Anaheim safe?
All-in-all, although Anaheim has a higher than average total crime rate compared to all U.S. communities (which combines cities and rural areas)…
Anaheim is far safer in terms of overall crime than many other U.S. cities. It is, for example, safer than Oklahoma City (although also more expensivei in terms of living costs).
Nearby L.A., for instance, has a much higher crime rate per capita than Anaheim – as do other major cities like Detroit, Chicago, and St. Louis.
BUT… please remember, statistics are only one factor when it comes to your personal safety.
Always take the necessary precautions when you travel to a new place.
It may seem painfully obvious, but simple things like not leaving valuables on your car seat, double-checking the locks on your front door, and staying away from notoriously dangerous areas after dark, go a long way in decreasing the likelihood that you or your loved ones will fall prey to any unscrupulous characters!
This brings us to our next point…
Worst Neighborhoods in Anaheim
As is true with virtually any city on the planet, asking whether it's safe or not will get you the same answer:
"It depends where you go."
And to be frank, Anaheim does have its ghettos.
So, while Anaheim may not have the crime statistics of some other U.S. cities, there are some areas you'll want to exercise caution in.
Anaheim Historic Colony District
Although this part of town definitely has some picturesque parts and an eclectic mix of people from different socio-economic backgrounds, it's also possible that you'd see gangs roaming the streets in some of the surrounding areas.
In particular, the Anna Drive neighborhood to the east of the district has received attention from the press over the years for police shootings, robberies, drug dealing, and gang activity. Best to keep your distance.
The Westside
If you plan on visiting Disneyland, you'll want to stay vigilant if you find yourself in some parts of the Westside. Some of the worst neighborhoods in Anaheim can be found to the west of the resort, where tourist robberies and muggings have been reported.
However, while some of the motels and apartment complexes in the immediate Disneyland area may look a little run down and are considered undesirable by some, you'll see lots of tourists walking outside the resort at all times of day, and safety levels are generally considered to be high.
Reports of homeless people around here are common, but the sizable police presence in the area means that criminal activity is kept to a minimum.
The Verdict
It's important to stress that both the Anaheim Historic Colony District and the Westside are far from no-go zones as a whole, but the answer to the question Is Anaheim safe could be negative in these places.
Yes, they have their sketchier areas that visitors would do well to keep away from, but there are also pleasant, safe, welcoming neighborhoods where you shouldn't run into much trouble.
So is Anaheim safe? The answer is yes, mostly. But as always, common sense is the best approach when visiting or relocating to a new city.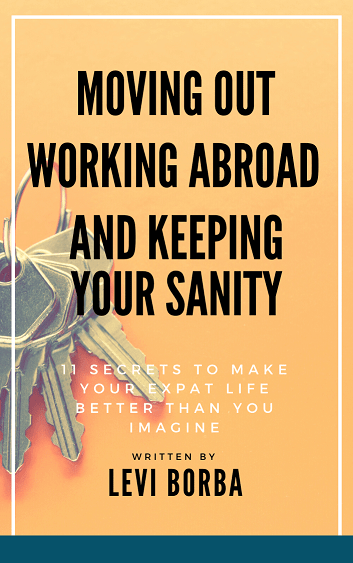 Best and Safest Neighborhoods in Anaheim
Now you've received a fair warning on some of the shadier sides of the city, let's move on to a cheerier topic – the best and safest neighborhoods in Anaheim for you to visit or relocate to!
Anaheim Hills
Anaheim Hills has been rated as one of the best places to live in Orange County. Some even call it the best neighborhood in the whole state of California – a ringing endorsement if there ever was one!
An affluent area with beautiful, modern housing, Anaheim Hills is hands down the most sought-after area of the city and ticks a lot of livability boxes. Gated communities? Check. Security patrols? Check. Gorgeous mountain and hillside views from your pristine crystal-clear outdoor pool? You bet!
Anaheim Hills even has two regional parks for you to hike around, go kayaking, or just relax and check out the wild deer (just watch out for wild coyotes!).
As you'd expect, living in Anaheim's best and safest neighborhoods comes with a hefty price tag – families should prepare to pay anywhere between $800,000 – $1.2million+ for a home in the hills.
Platinum Triangle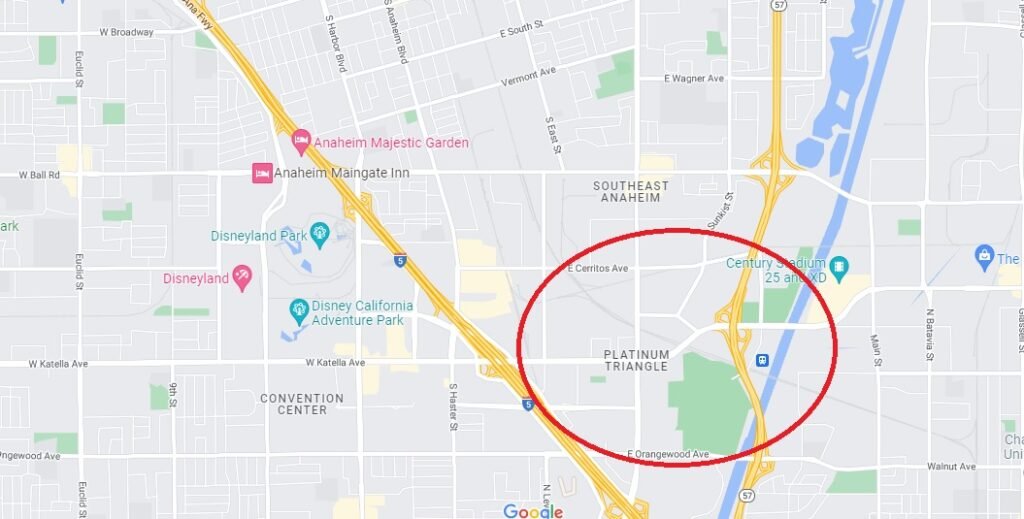 Platinum Triangle – where world-class entertainment meets premier business opportunities! If you're a professional or young entrepreneur, this new development was designed with you in mind.
A vibrant and up-and-coming area with money-making opportunities galore, Platinum Triangle has several million square feet of retail spaces, residential projects, restaurant projects, and office spaces just waiting for business savvy individuals like you.
The bars, dining spots, and other entertainment options that pepper the streets here will keep visitors and new residents busy. And perhaps most exciting of all? Platinum Triangle is the L.A. Angels and Anaheim Ducks's proud stomping grounds – two pro teams that bring a ton of lively Westcoast sporting passion to the area.
Top 3 popular tours in Anaheim and Los Angeles on a Budget (Below $109)
🎬 Los Angeles: Original Celebrity Homes Tour – Get a glimpse into the lives of the stars with this tour of celebrity homes in Los Angeles.
🐋 Whale-Watching and Orange County Beaches Tour from Anaheim – Enjoy a day of whale-watching and exploring the beautiful beaches of Orange County.
🌌 California Science Center and Griffith Observatory from Anaheim – Visit the California Science Center and Griffith Observatory for a day of learning and exploration.
There are some excellent and (surprisingly!) inexpensive hotels in the best areas of Anaheim. You can find them below.
Is Anaheim, CA, safe at night? What to do in Anaheim at night?
Yes – You'll be safe at night in most places. While Anaheim is not as safe as San Diego or San Jose, both in California and among the safest big cities in the US, and is also more dangerous than Huntington Beach, it is far from the level of criminality of Detroit or Baltimore.
Avoid some of the sketchier neighborhoods in the Westside and around the Anaheim Historic Colony District after dark, and you should be golden!
And as for what to do in Anaheim at night? – Your options are plentiful. Anaheim is an entertainment hub with lots for you to do. Here are a few highly-recommended spots to start you off:
The Honda Center
Home of the Anaheim Ducks, this arena also features world-class entertainment acts. Rock bands like The Who, Smashing Pumpkins, and Iron Maiden have all played here – and when the WWE comes to town, this will be the place for you to get in on the action.
Rumba Room
A classy, upscale dance club where you can take your partner by the hand and dance the night away to some sizzling Salsa rhythms.
House of Blues Anaheim
Delicious Southern-style cooking in a laid-back, bluesy atmosphere awaits you at House of Blues Anaheim. Beautifully decorated with original artwork and live music on most nights, it's a great place for date night or a fun dinner with the whole family.
Other Tips for Visiting Anaheim Safely
1st — If you are visiting the city, there are plenty of options in terms of luggage storage, so you don't need to walk around with your carry-on bags. Reliable, convenient, and inexpensive luggage storage services you can find at Radical Storage.
2nd — Areas surrounding airports and train stations can be dangerous.  Book a transfer in advance from the LAX Airport (or from any station) to your destination and vice versa, so you can avoid scammers and criminals. I often used Get Transfer for that and it always worked fine.
3rd — If you want to walk around and see some historical spots without the risk of getting lost or wasting your time, hire a guide. You can find some amazing and reliable guides and tours at Viator. They will give you insider information about historical facts and curiosities, and also warn you of risky areas and keep you safe.
4th—Stay in a good hostel. Hostels are usually in the safest parts of cities, unlike hotels. Most hostels have private rooms that are as comfortable as a hotel, plus a friendly staff to give information. When looking for hostels, I visit Hostelworld and filter for those above grade 7.
---
If you enjoyed this article answering the question Is Anaheim Safe?, here are a few other reading suggestions for you:
9 Books about Relocating to Gain an Edge in Your Life
Is Vancouver, one of the densest urban centers in Canada, a safe choice for tourists?
The Most Violent Cities in Europe BY COUNTRY
THESE Are the Cheapest Cities to Fly to In Europe
Some of the links of this article may be affiliate links, meaning that the author will have a commission for any transaction.