Is Escondido, in California, a safe place to live or visit?
A place steeped in history and diverse culture, Escondido offers excellent opportunities to discover its "hidden treasure." But does this destination have anything else to hide? Is Escondido safe?
Southern California is a booming economy that's a perfect hub for digital nomads and tourists alike, and Escondido is no exception. By the way, if a safe, big city in California is what you're seeking, check out San Diego.
This city of nearly 150,000 diverse residents is located 40 miles from the Mexican border. It's a city filled with history and Hispanic influence that dates back to before the American Revolutionary War. Still, to this day, many traditions and customs are practiced, including delicious Mexican food, folk music, and colorful spirits.
The city of Escondido translates into Spanish for "hidden." The early settlers named this city because it offers several "hidden treasures" that invite people to come and experience its appealing features.
So, with so many activities and things to see in Escondido, what else could anyone visiting need to know? Well, besides fun and entertainment, there is also the priority of safety and security. And with that said, this next question comes to mind:
Is Escondido, CA safe?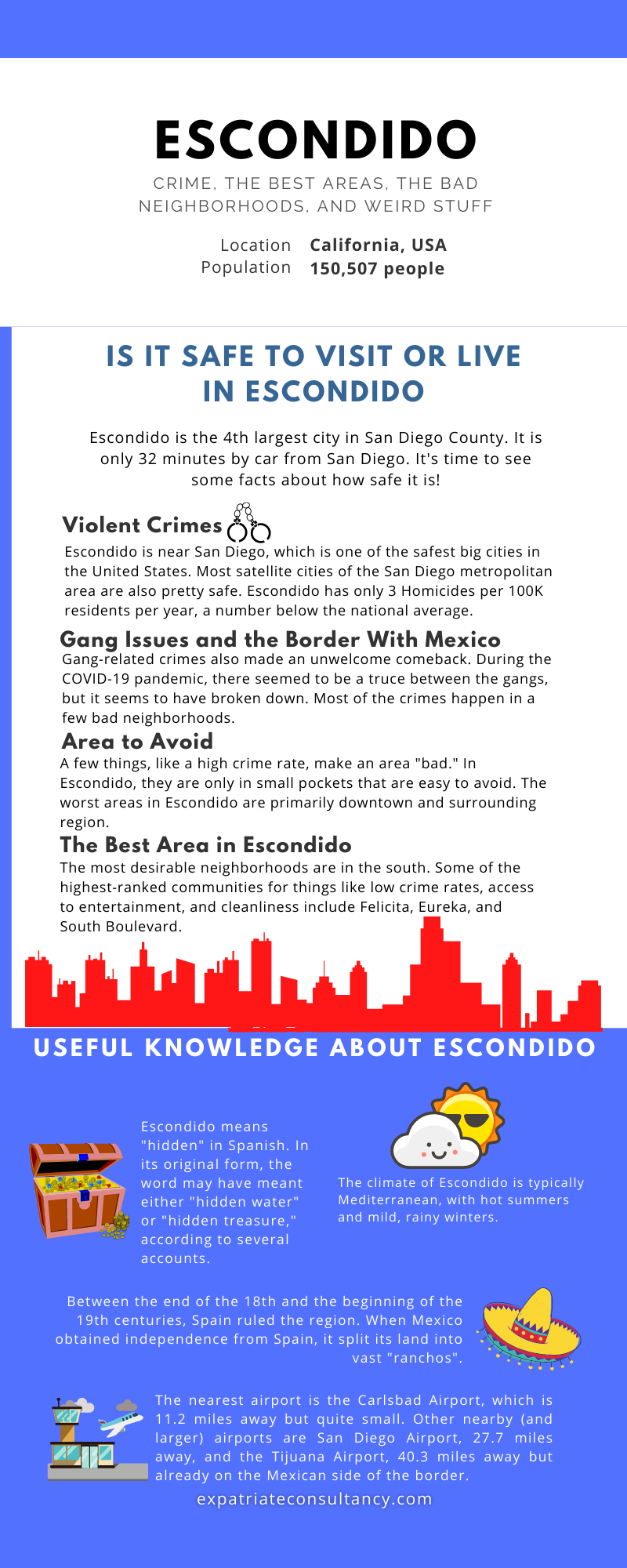 The overall short answer to this question is "somewhat yes". Escondido's crime rate is approximately 349.51 per 100,000, which is about 24% lower than the national average. Neighborhoods in Escondido are considered safe places where residents can live easily and stay calm. That's not to say that this town has a spotless reputation; however, people coming to Escondido can travel with peace of mind.
A curious fact: Escondido is close to San Diego, which is considered one of the safest large cities in the US. Most satellite cities of the San Diego metropolitan area also are relatively safe (like Santa Rosa, analyzed in this article, or the rich community of Chula Vista). This is especially true if you compare it with cities metropolitan areas of other large American cities.
Our team also looked closely at the crime rates and the best and worst neighborhoods in other Californian cities, like Anaheim, Huntington Beach, and Garden Grove.
So let's dive in and uncover more of what this "hidden treasure" has to offer, ranging from its crime rate and bad areas to the best neighborhoods and why Escondido might be right for you to call home.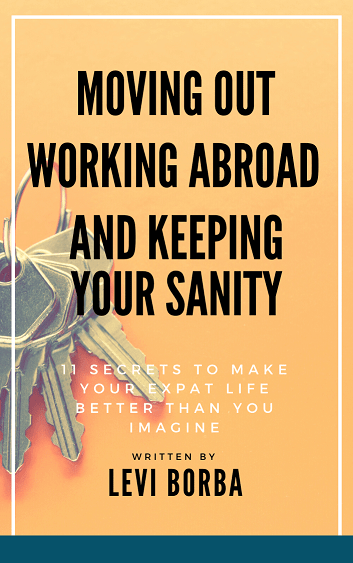 Escondido Crime Rate
PS: Wondering where to avoid? Read our article about California's most dangerous cities.
How Honolulu's Crime Rate Compares to Other Cities
Below you can see two tables.
The first table shows the crime rate (as well as the homicide rate and other information) of Honolulu and compares it with other cities we analyzed. The source of the data is the FBI reports.
Crime Rate of Honolulu (Proportional to the Population) Compared to Other Cities
Here the crime numbers are divided by the population and demonstrated as cases per 100,000 habitants, meaning that they are proportional to the number of residents. By clicking on the name of each city, you will find a complete article with their best neighborhoods, areas to avoid, crime rates, etc.
| | | | | | | | |
| --- | --- | --- | --- | --- | --- | --- | --- |
| City | State | Population | Total Criminal Offenses per 100K Resid. | Assaults per 100K Resid. | Homicides per 100K Resid. | Rapes per 100K Resid. | Robberies per 100K Resid. |
| Escondido | CA | 150,507 | 4,857 | 931 | 3 | 15 | 93 |
| Chula Vista | CA | 275,978 | 3,265 | 718 | 2 | 11 | 91 |
| Palmdale | CA | 169,450 | 1,731 | 315 | 6 | 30 | 91 |
| Pasadena | CA | 135,732 | 2,696 | 412 | 3 | 4 | 132 |
| Santa Ana | CA | 310,227 | 2,698 | 280 | 5 | 47 | 129 |
| Santa Rosa | CA | 178,127 | 2,154 | 374 | 2 | 62 | 76 |
| Anaheim | CA | 346,824 | 2,918 | 196 | 5 | 38 | 119 |
| Huntington Beach | CA | 198,711 | 2,229 | 158 | 2 | 35 | 54 |
| Hialeah | FL | 220,490 | 1,961 | 145 | 3 | 12 | 45 |
| Tallahassee | FL | 196,169 | 3,879 | 545 | 12 | 103 | 122 |
| Honolulu | HI | 985,138 | 4,764 | 958 | 1 | 17 | 73 |
| Oklahoma City | OK | 670,872 | 7,705 | 1,430 | 15 | 61 | 97 |
| Pittsburgh | PA | 302,971 | 4,168 | | | | |
| Salt Lake City | UT | 205,929 | 15,723 | 3,009 | 9 | 132 | 215 |
Crime rate numbers. Total criminal cases, assaults, homicides, rapes, and robberies in multiple American cities we analyzed, in cases per 100K residents. Data from 2022, 2021 and 2020.
Crime Rate of Honolulu in Absolute Numbers Compared to Other Cities
City
State
Population
Total
Criminal Offenses
Assaults
Homicides
Rapes
Robberies
Escondido
CA
150,507
7,310
1,401
5
22
140
Chula Vista
CA
275,978
9,010
1,982
6
31
251
Palmdale
CA
169,450
2,934
533
10
51
155
Santa Ana
CA
310,227
8,370
869
15
145
401
Santa Rosa
CA
178,127
3,836
667
4
110
135
Anaheim
CA
346,824
10,122
681
16
133
412
Huntington Beach
CA
198,711
4,430
313
3
70
107
Tallahassee
FL
196,169
7,609
1,069
24
202
239
Honolulu
HI
985,138
46,933
9,438
8
166
719
Oklahoma City
OK
670,872
51,689
9,595
100
406
653
Pittsburgh
PA
302,971
12,629
Salt Lake City
UT
205,929
32,378
6,196
19
271
443
The numbers of total criminal cases, assaults, homicides, rapes, and robberies in multiple American cities we analyzed, in absolute numbers. Data from 2021 and 2020.
Considering that Escondido is so close to the Mexican border and part of a greater San Diego district, Escondido is generally safe. In pockets, crime is more apparent, involving drugs, gangs, and violent crimes. Still, residents say that you should be fine if you don't engage in that activity. Again, every city will have its issues, and Escondido, California, is no exception. So let's get to the heart of the matter:
What is the crime rate in Escondido, CA?
Between 2020 and 2021, violent crimes rose slightly from 569 to 604, but property crimes declined from 2,697 registered violations to 2,625. The overall crime index dropped from 3,266 to 3,229. According to Neighborhood Scout, a website and online database of U.S. neighborhood analytics, Escondido is safer than 25% of cities in the U.S., and its violent crime is lower than the national average.
Last year, gang-related crimes also made an unwelcome reappearance. An apparent truce between gangs during the COVID-19 outbreak appears to have broken down. The crime rate is concentrated in certain bad areas. For that reason, the numbers may appear to be higher than expected.
According to crime figures issued last month by the San Diego County Sheriff's Department, homicides, rapes, and thefts decreased in Escondido in 2021, although other violent crimes, such as robberies and assaults, increased. But as a whole, crime is dropping in Escondido.
While some of the discrepancies between 2020 and 2021 might be attributed to predicted annual swings in crime data, some data movements are undoubtedly affected by the pandemic's hit on the criminal justice system. Many communities around the United States are still scrambling to restore their courts and policing back to normal. This issue is not unique to Escondido, CA.
The Bad Areas of Escondido
A few factors make an area a "bad" area, such as poor sanitation, unemployment, poverty, and exceptionally high crime rates. Escondido is not a town without these things, but luckily they are only in small pockets that are easy to avoid.
What are the bad areas of Escondido, CA?
The worst areas in Escondido are primarily along the center and outskirts of the city's downtown, with other bad areas being on the east side along the Escondido Creek and Escondido Creek Bikeway. The North Broadway Avenue, by the city's historic downtown main street, also has some spots where drugs and theft are slightly higher.
According to SANDAG data, the pockets of bad areas are significantly greater than the city's inland neighbors to the west, San Marcos and Vista. The data also reveals that crime in Escondido declined.
Areas to Avoid in Escondido (Darkest Blue)
Escondido is just like any other city. You may have some spots that are worse than others. Residents agree that it's relatively safe. It's also got some great neighborhoods worth checking out.
The Best Neighborhoods In Escondido, CA
Escondido is a "hidden treasure" with a vibrant downtown, top-grade recreational opportunities, tons of art and entertainment, museums, craft beer, food, and so on.
Everything from fun music venues to black box theatrical performances and large-scale stage shows is available. The historic downtown district has over ten galleries and 19 sites on the self-guided public art walking tour. There are also several options to participate in art, glass-making, and dancing classes. So, you can believe that Escondido has some great neighborhoods to offer.
What are the best neighborhoods in Escondido, CA?
The city's most desirable neighborhoods are in the south, while more inexpensive homes are in the direction of the west. Some of the highest ranked communities for things like low crime rates, access to entertainment, and cleanliness include Felicita, Eureka, and South Boulevard.
Felicita
Felicita has a rich history dating back long before the American Revolution. A nearby Indian village is one of the country's largest and oldest. Grinding holes and other artifacts from the Northern Diegueno Indians' centuries-old society can still be found today. The Felicita pageant, based on the book Indian Stories of the Southwest, which was staged in the park from 1928 to 1931, gave the area its name. A hidden gem in Felicita is an art gallery that goes by the name of "A Ship in the Woods." This place has many art vendors and food vendors to sit in the shade. There's plenty of live music to dance to. A great vibe, for sure.
Eureka
Many new families overlook this beautiful community because it is located on the border of Valley Center and Escondido, California. Eureka is in the county of San Diego, a county that is home to several of the most incredible places to live in California. Be sure to check out Dixon Lake. It's a great place to go camping and trailblazing. While you're out that way, you should also stop by Daley Ranch, a conservation area with over 20 miles of hiking, biking, and horseback riding trails. Amazing views!
South Boulevard
South Boulevard is a neighborhood with many attractions and places for families to hang out and enjoy the weather. Some top places to check out include the oldest park in the area, Grape Day Park, which features historic buildings and community events. Another attraction is the San Diego Zoo Safari Park, home to over 300 species of African and Asian animals. It's definitely worth checking out.
There are some excellent and (surprisingly!) inexpensive hotels in the best areas of Escondido. You can find them below.
Is Escondido a Good Place to Live?
Due to its Mediterranean environment, Escondido's weather is more enjoyable than other cities along the Pacific coast. Because it is further inland from the shore, the days are slightly different than you'd experience in adjacent areas.
Escondido is about 30 miles northeast of downtown San Diego and 20 minutes from the coast. It offers the best of both worlds – the city and the beach! You'll find main attractions, stunning vineyards, artisan breweries (excellent craft beer), one-of-a-kind arts and culture, mouthwatering dining experiences, and a charming historic downtown.
The Top Reasons to Live in Escondido
A community with wonderful people
It has a young population, with most residents under the age of 34. Escondido also has a diverse population that makes the neighborhoods enjoyable. According to a survey, residents in Escondido believe that the city has a strong sense of community.
Wine drinkers' haven
The Deer Park Winery & Auto Museum is set on 15 acres of vines. It offers award-winning estate wines such as Sangiovese, merlot, zinfandel, and chardonnay, among others.
Deep roots in history
There are plenty of historical sites and museums to explore. It helps to put many things into perspective when surrounded by almost 1,000 years of history in the area. There are tons of attractions and museums to check out and bring the family.
Overall Pros of living in Escondido:
There are many fun things to do in Escondido and surrounding San Diego.
Living costs are low in comparison to many other cities in California.
Overall Cons of living in Escondido:
Because the housing market is so competitive, it might be hard to find the exact home or neighborhood you want to live in.
So overall, there are some great features to this "hidden" gem of a city. However, as mentioned earlier, it's not without its issues. If you're in the San Diego area and are looking for a beautiful place to visit or call home, Escondido might be the place for you.
Other Tips for Visiting Escondido Safely
1st — If you are visiting the city, there are plenty of options in terms of luggage storage, so you don't need to walk around with your carry-on bags. Reliable, convenient, and inexpensive luggage storage services you can find at Radical Storage.
2nd — Areas surrounding airports and train stations can be dangerous.  Book a transfer in advance from the San Diego Airport (or from any station) to your destination and vice versa, so you can avoid scammers and criminals. I often used Get Transfer for that and it always worked fine.
3rd — If you want to walk around and see some historical spots without the risk of getting lost or wasting your time, hire a guide. You can find some amazing and reliable guides and tours at Viator. They will give you insider information about historical facts and curiosities, and also warn you of risky areas and keep you safe.
---
If you enjoyed this article answering the question Is Escondido Safe? here are a few other reading suggestions for you:
9 Books about Relocating to Gain an Edge in Your Life
The Most Violent Cities in Europe BY COUNTRY
THESE Are the Cheapest Cities to Fly to In Europe
Some of the links of this article may be affiliate links, meaning that the author will have a commission for any transaction.