Is Santa Ana, CA a safe place to live or visit?
Welcome to one of the most colorful US destinations on the map. In this city, the scenery and exciting nightlife of Southern California make for a delightful visit. But is Santa Ana safe?
Because if you are California dreaming, you've come to the right place. Santa Ana is for anyone looking to have a good time. It has lots of outdoor activities, open-air markets, art galleries, and easy access to beautiful white-sand beaches. It is also on the way to Disneyland.
Santa Ana is a flourishing suburban center located about 20 minutes southeast of Los Angeles. This beautiful destination is the second-largest city in Orange County, in the LA metropolitan area, with a population of just over 330,000.
Remember: Don't confuse Santa Ana with the also Californian city of Santa Rosa (a city that we also wrote about). The first is close to Los Angeles, while the second is near San Diego.
Santa Ana is also very close to Anaheim, a city that we analyzed in this article. Our team also examined the crime rates and the best and worst neighborhoods in other Californian cities close to Los Angeles, like Garden Grove and Huntington Beach.
Even while it lacks the spotless reputation of other cities in the US, there are still plenty of things to do, see, taste, and experience in this cultural hub in Southern California.
To help you understand how safe the city truly is, we'll dive deep into the facts and look at some maps and graphs to help give you the confidence you need to check out the best places to stay and things to do in Santa Ana, California.
We have answers for you if you are considering visiting Santa Ana but are concerned about its safety. So, are you wondering:
How safe is Santa Ana, California?
PS: Want to know more about the most dangerous cities in California? Check this.
Santa Ana has a reputation for having a lot of crime. For starters, Santa Ana is close to Los Angeles, a city FAR from being one of the safest large cities in the US.
However, the touristic areas of Santa Ana are generally safe overall. Most of the popular features and attractions are outside the areas that tend to be dangerous, even during the day. Santa Ana is less secure than the state and national average and falls within the 12th percentile for safety. That means that 88% of cities are safer than Santa Ana, and only 12% are more dangerous.
Knowing what places to avoid and where to stay makes all the difference. That's where we come in! So let's take a closer look at the crime rate in this suburban area.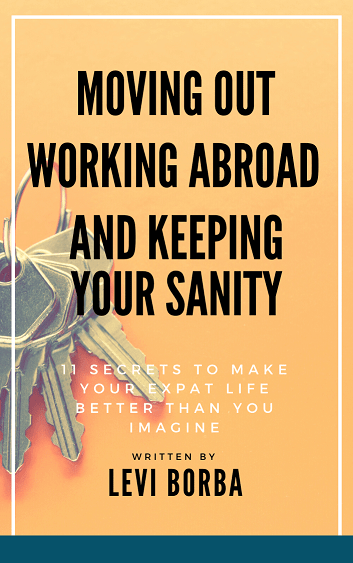 Santa Ana Crime Rate: Gangs and Criminal Activity
How Santa Ana's Crime Rate Compares to Other Cities
Below you can see two tables.
The first table shows the crime rate (as well as the homicide rate and other information) of Santa Ana and compares it with other cities we analyzed. The source of the data is the FBI reports.
Crime Rate of Santa Ana (Proportional to the Population) Compared to Other Cities
Here the crime numbers are divided by the population and demonstrated as cases per 100,000 habitants, meaning that they are proportional to the number of residents. By clicking on the name of each city, you will find a complete article with their best neighborhoods, areas to avoid, crime rates, etc.
| | | | | | | | |
| --- | --- | --- | --- | --- | --- | --- | --- |
| City | State | Population | Total Criminal Offenses per 100K Resid. | Assaults per 100K Resid. | Homicides per 100K Resid. | Rapes per 100K Resid. | Robberies per 100K Resid. |
| Escondido | CA | 150,507 | 4,857 | 931 | 3 | 15 | 93 |
| Chula Vista | CA | 275,978 | 3,265 | 718 | 2 | 11 | 91 |
| Palmdale | CA | 169,450 | 1,731 | 315 | 6 | 30 | 91 |
| Pasadena | CA | 135,732 | 2,696 | 412 | 3 | 4 | 132 |
| Santa Ana | CA | 310,227 | 2,698 | 280 | 5 | 47 | 129 |
| Santa Rosa | CA | 178,127 | 2,154 | 374 | 2 | 62 | 76 |
| Anaheim | CA | 346,824 | 2,918 | 196 | 5 | 38 | 119 |
| Huntington Beach | CA | 198,711 | 2,229 | 158 | 2 | 35 | 54 |
| Hialeah | FL | 220,490 | 1,961 | 145 | 3 | 12 | 45 |
| Tallahassee | FL | 196,169 | 3,879 | 545 | 12 | 103 | 122 |
| Honolulu | HI | 985,138 | 4,764 | 958 | 1 | 17 | 73 |
| Oklahoma City | OK | 670,872 | 7,705 | 1,430 | 15 | 61 | 97 |
| Pittsburgh | PA | 302,971 | 4,168 | | | | |
| Salt Lake City | UT | 205,929 | 15,723 | 3,009 | 9 | 132 | 215 |
Crime rate numbers. Total criminal cases, assaults, homicides, rapes, and robberies in multiple American cities we analyzed, in cases per 100K residents. Data from 2022, 2021 and 2020.
Crime Rate of Santa Ana in Absolute Numbers Compared to Other Cities
City
State
Population
Total
Criminal Offenses
Assaults
Homicides
Rapes
Robberies
Escondido
CA
150,507
7,310
1,401
5
22
140
Chula Vista
CA
275,978
9,010
1,982
6
31
251
Palmdale
CA
169,450
2,934
533
10
51
155
Santa Ana
CA
310,227
8,370
869
15
145
401
Santa Rosa
CA
178,127
3,836
667
4
110
135
Anaheim
CA
346,824
10,122
681
16
133
412
Huntington Beach
CA
198,711
4,430
313
3
70
107
Tallahassee
FL
196,169
7,609
1,069
24
202
239
Honolulu
HI
985,138
46,933
9,438
8
166
719
Oklahoma City
OK
670,872
51,689
9,595
100
406
653
Pittsburgh
PA
302,971
12,629
Salt Lake City
UT
205,929
32,378
6,196
19
271
443
The numbers of total criminal cases, assaults, homicides, rapes, and robberies in multiple American cities we analyzed, in absolute numbers. Data from 2021 and 2020.
The crime rate in Santa Ana is noticeably higher than the national average for cities in the United States. Santa Ana has a rate of almost 30 crimes per 1,000 residents. However, it's not a city with the highest crime rate, especially considering other dangerous communities in Southern California. Additional note-statistics for the crime rate in Santa Ana include:
The chance of becoming a victim of a violent crime is 1 in 37.
The crime rate is higher than in 76% of California's cities.
2,476 crimes are committed annually in the city for every 100,000 residents.
Santa Ana has one of the country's highest motor vehicle theft rates.
Gangs are a concern for many residents in Santa Ana.
Santa Ana residents are a bit concerned about gangs and crime in Orange County. There have been many efforts and crackdowns to curb the rise of gangs like the violent 6th St. Gang, with mixed results.
Recent arrests in connection with robberies and slayings by the 6th St. Gang are on the rise, with the police department's anti-gang efforts dating back to the mid-1980s when the problem first originated. According to the FBI crime data, most violence is connected to other gang members and isolated to specific areas of Santa Ana. Most gang activity is isolated to the north and southwest of Santa Ana.
Bad Areas of Santa Ana, CA
Believe it or not, Santa Ana still rates as one of the greatest cities to live in California due to its booming economy, nightlife entertainment, and annual festivals. But that doesn't change the fact that Santa Ana isn't without its challenges. There are still some very bad to worse areas that you'll want to avoid when visiting this diverse cultural suburban area. So the question arises:
What are the bad areas of Santa Ana, CA?
Some areas you might want to avoid, especially at night, are mostly outside the center towards the south and southwest; you may also run into some trouble to the north. The areas you'll want to be cautious of are Fairhaven, Laurelhurst, and Park Santiago.
Fairhaven
Fairhaven is located to the northeast of downtown Santa Ana. This area is where you'll find the Santa Ana cemetery. Violent crimes are reported here more often than in any other Santa Ana area on the map. Just recently, a family was gathered to honor the anniversary of a loved one, and two were shot, leaving one injured and one dead. Fairhaven's total crime rate is 283% higher than the national average. Still, it takes the cake, with its violent crime rate 778% higher than the national average.
Laurelhurst
Laurelhurst is located to the southwest of downtown Santa Ana. This neighborhood is located not too far from some areas below the poverty level, which is why you'll hear many reports of violent crime. Although the total crime rate is only 8% above the national average, here, the violent crime rate is almost 500% higher than in the rest of the country.
Park Santiago
Park Santiago is located to the north of downtown Santa Ana. This area has a police presence, but its residents have reported that police response time is slow, especially when needed. Park Santiago's crime rate is 66% above the national average, with property crime at 13%. What stands out the most is violent crime. It's almost four times the national average in the United States.
Areas to Avoid in Santa Ana, CA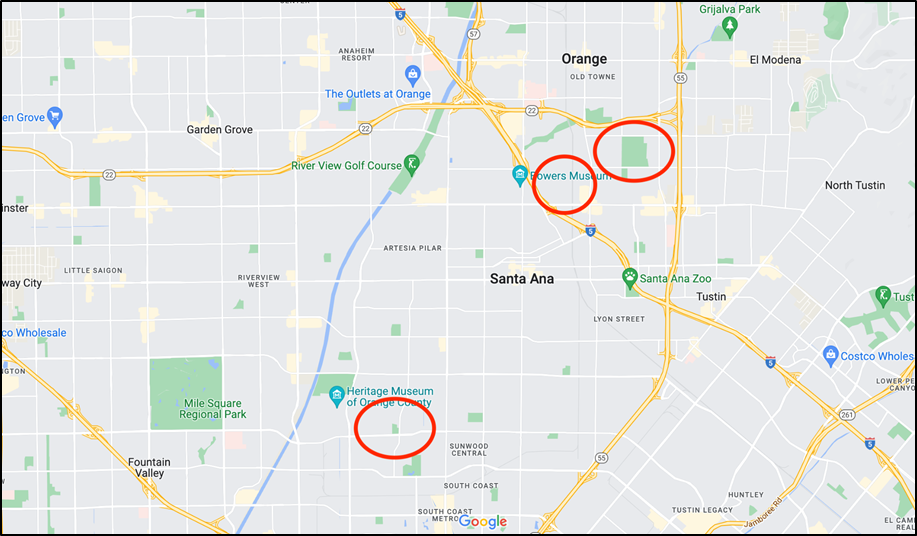 Having said all that, Santa Ana is still a generally safe place to visit. The crime statistics are out of balance due to some areas with excessive crime rates, but these are only isolated cases. Its crime-ridden reputation comes mostly from having affluent neighborhoods surrounded by poor regions.
Recommendations For Bed And Breakfast In Santa Ana, California
Usually, staying at a hotel in Southern California can be extremely expensive if you're trying to find a room with a bed, shower, and toilet all in one place. But with these helpful recommendations, you'll find a wide range of B&Bs at prices starting at $39 a night!
Piece of Mind – Starting at $100
Visitors can check out Santa Ana Artist's Village and Fairhaven Memorial Park Mortuary, all within two miles of the place. These are two of Santa Ana's major attractions that are easy to get to. Also, don't miss out on the famous historic site, Kellogg House.
Sunland Motel – Starting at $80
Here you'll have access to some of the most incredible food that Santa Ana has to offer. Santa Ana is a culturally diverse suburb, so you can be sure to find almost every type of cuisine from all around the world! Another major draw is how close the Santa Ana Zoo is. It's less than a mile from the motel.
Bposhtels Anaheim – Starting at $39
For those who are traveling with a car, Bposhtels Anaheim offers free on-site parking, lodging with a bar, free WiFi access throughout the building, and complimentary breakfast. The Crystal Church, the Business Expo Center, and Angel Stadium of Anaheim are all within a 19-minute walk. Downtown Disney California is 1.3 miles away from the property, so you can check out all the action at a very affordable price!
All these hotels mentioned above, with discounted prices, you can find on the link below:
Things To Do In Santa Ana At Night
Orange County, California, knows how to do it right at night. At the center of Orange County, Santa Ana has plenty of daytime activities. Still, the nightlife is where it's at here in this suburb. You'll find a range of nighttime activities that range from taking a stroll on a cool night breeze down a harbor to riding a giant Ferris wheel. Santa Ana is full of nightlife!
So, what are the best things to do in Santa Ana, CA, at night?
Dana Point Harbor
Dana Point Harbor is a top tourist attraction during the day. People can go on whale-watching cruises, kayaking, paddle boarding, and much more. But the place comes to life at night with the many restaurants, bars, shops, and some of the loveliest cool night breezes. So be sure to take a stroll down Dana Point Harbor while you're in Santa Ana.
The Ferris Wheel at Irvine Spectrum Center
This giant Ferris wheel in the heart of the Irvine Spectrum center stands 108 ft. tall. This Ferris wheel offers a beautiful view of Southern California's city lights up at the top. Not only that, but the Ferris wheel is surrounded by top-of-the-line shopping brand malls and a fantastic courtyard. The lovely square is surrounded by palm trees and beautifully lit street lights.
The Fifth Rooftop Restaurant & Bar
Get ready to kickstart a fun summer on a rooftop sky view bar and restaurant at The Fifth Rooftop Restaurant & Bar. This delightful spot sits directly across the street from Disneyland and offers a breathtaking view of the sunset every night. The Fifth, as it's known, is an open-air restaurant that is perfect for you to gather. Here you'll find the best hand-crafted cocktails, delicious food, and gorgeous rooftop views of Southern California.
Whether traveling alone or bringing along friends and family for a spectacular vacation, you'll find plenty of activities and sights in Santa Ana, California, without hitting your wallet.
Other Tips for Visiting Santa Ana Safely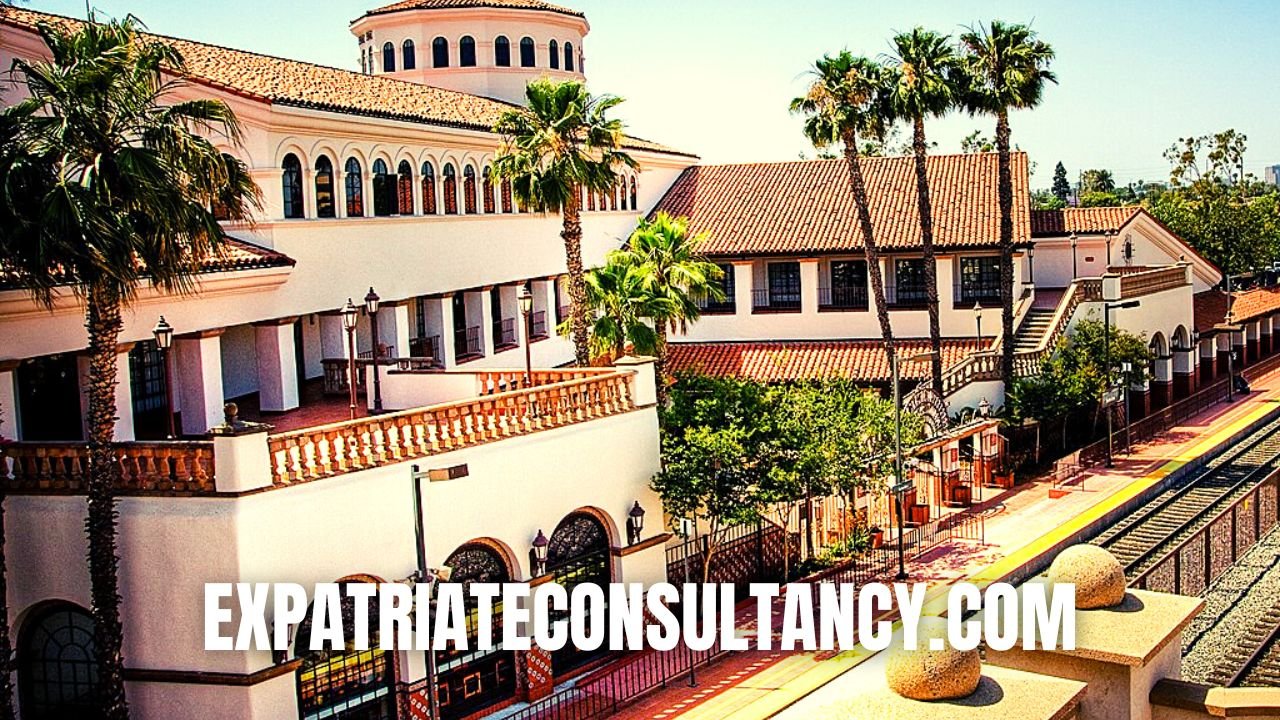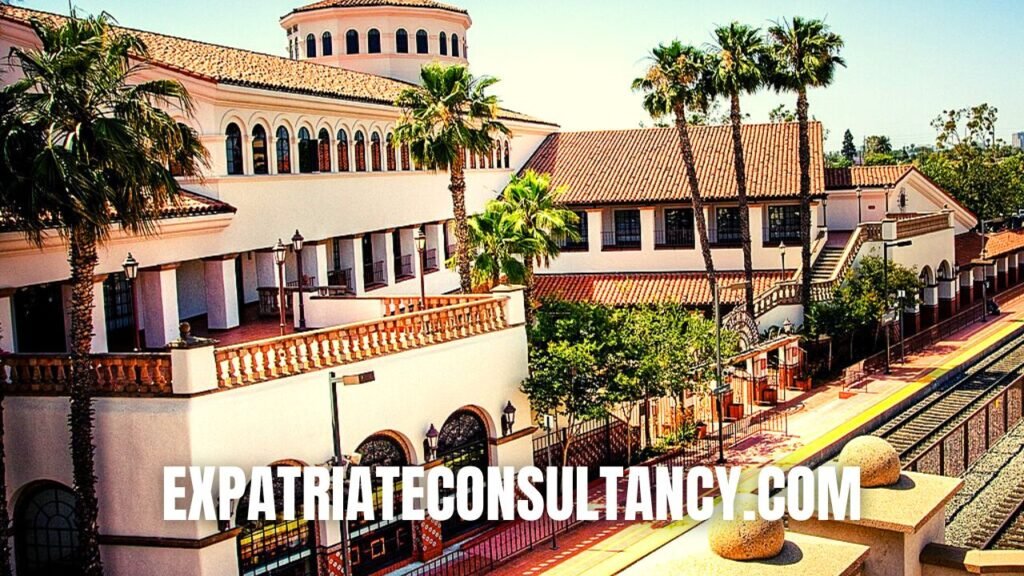 1st — If you are visiting the city, there are plenty of options in terms of luggage storage, so you don't need to walk around with your carry-on bags. Reliable, convenient, and inexpensive luggage storage services you can find at Radical Storage.
2nd — Areas surrounding airports and train stations can be dangerous.  Book a transfer in advance from the John Wayne Airport (or from any station) to your destination and vice versa, so you can avoid scammers and criminals. I often used Get Transfer for that and it always worked fine.
3rd — If you want to walk around and see some historical spots without the risk of getting lost or wasting your time, hire a guide. You can find some amazing and reliable guides and tours at Viator. They will give you insider information about historical facts and curiosities, and also warn you of risky areas and keep you safe.
---
If you enjoyed this article answering the question Is Santa Ana Safe? here are a few other reading suggestions for you:
9 Books about Relocating to Gain an Edge in Your Life
The Most Violent Cities in Europe BY COUNTRY
THESE Are the Cheapest Cities to Fly to In Europe
Some of the links of this article may be affiliate links, meaning that the author will have a commission for any transaction.