Best countries to start a new life – Part 1
A question we had: I was just a recently graduated countryside boy with no money in the bank. I asked myself how could I move out. What are the best places for remote workers and what are the best countries to start a new life with no money?
In the next paragraphs, we will give you the answer. But first, a bit of context.
Since I was 15, I dreamed about living abroad, for multiple reasons. Some were real, like my willingness to escape the Brazilian violence (including the murder of a family member). Others were fantasies from my mind, or as the maxim says, the feeling that the grass always looks greener on the other side of the fence.
This plan to move abroad even influenced my choice for a university degree. That is why I refused to apply to law school and studied economics and management.
But most Brazilian expatriates already have either solid careers, luring recruiters from abroad, or they have deep enough pockets to invest overseas and gain an investor's visa.
I had none of it.
I was just a recently graduated countryside boy with no money in the bank. I asked myself how could I move out. What were the best countries to start a new life with no money? (I excluded most developed investment markets because, well, they have their own problems).
One year after graduation, I found the answer. I moved to the first country on this list. There I lived until I move to the next (also on this list), and then to another country which, you guessed correctly, is here too.
One disclaimer: when I write you can move to these countries with no money, it doesn't mean that no qualifications or skills are necessary. In fact, it is the opposite. Almost all these countries will require something from their immigrants. Either a specific diploma or a well-written business plan (but don't worry about the funding, they help you with that).
Let's start with the first country where I moved to, with no money and no solid career to write on a CV: Chile
Check also: 9 books that you should read before moving abroad.
Best Place to Start a New Life in South America: Chile
Almost every time someone talks about moving to Chile, he means Santiago. The Chilean capital alone concentrates almost one-third of the entire country's population. It is also the services and financial center of the nation. So, unless you are planning to work in Chile's northern mining industry or with tourism in the dazzling southern regions, it is likely you will live around Santiago.
The demographic concentration in the capital, while causing issues like traffic and pollution, brings a benefit. Easy access to infrastructure, finance, and talents. The Chilean government wants to cement Santiago as the entrepreneurial hub of South America — rivaling São Paulo and Buenos Aires. For this purpose, they created Start-Up Chile.
Start-Up Chilereceives funds from the Ministry of Economy, Ministry of Development & Tourism, Ministry of Foreign Affairs, and Ministry of the Interior.
This means one thing: they have the resources to fund good ideas.
For approved business plans, Start-Up Chile provides up to $78,000 in equity-free funding through different support programs.
They require that the entrepreneur remains in the country for a period between four months to one year to implement and expand the business. They also offer training and facilitate contact with investors and a free co-working space in Santiago.
In addition to the funds, they grant the entrepreneur a one-year work visa and a list of business contacts. You don't even need to speak Spanish for all that.
Chile also has a few booming industries, like mining and tourism, that hire foreign young professionals with little to no experience. I was one of them.
What do you need to live in Chile?
A good business plan containing a proper competitive analysis, if you want to launch an enterprise and access Start-Up Chile funds. Or the skills required by industries like mining (especially copper mining).
What makes Chile one of the best countries to start a new life?
There are concerns about the violence increase in certain regions. Still, Chile remains one of the safest and most stable countries in South America.
There is good air connectivity both with Europe and the rest of the American continent.
Santiago also has a pleasant climate.
A high number of businesses and incubators do not require the Spanish language — or provide Spanish lessons, as was in my case.
Inexpensive and good places to stay until you find a definite place to live. Using the search field below, you can find some really nice hostels in Santiago (where I lived).
Did I also mention that they have good, inexpensive wine?
Disadvantages of living in Chile.
After decades of economic growth — journalists nicknamed it the South-American tiger — in recent years Chile reached a plateau, and some negative indicators like violence and unemployment increased.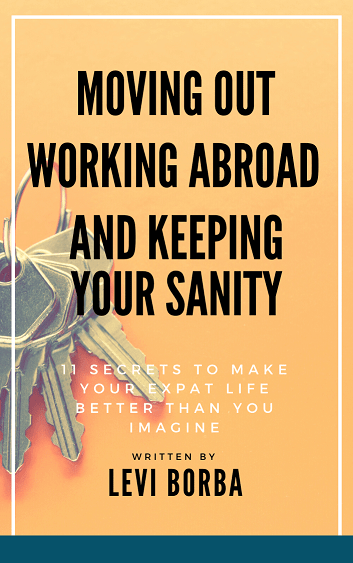 Best Countries to Be a Skilled Expat: The United Arab Emirates / Qatar / Bahrain
Instead of one country, here grouped 3. I did it because they are similar — although someone that lived in Doha, like me, would never compare it with Dubai in terms of entertainment (but at least Qatar is extremely safe in terms of violent crimes).
Just like in Chile, most of the expatriates will converge to Santiago, in the United Arab Emirates (the UAE), they will be in Abu Dhabi or Dubai. In Qatar, expatriates will concentrate in Doha. In Bahrain, the logical choice is Manana.
When we talk about immigrants in the GCC (the region comprising these 3 countries plus a few others) we are not talking about a smaller share of the population. Quite the opposite: foreigners make up the largest portion of these Arabic countries. They represent an overwhelming 88.5% of the entire UAE population.
While the internet is full of memes and tales about Emirati or Qataris with gold-plated Lamborghinis and private jets, you don't need to be a millionaire to live there. In fact, you don't even need to worry about a place to live.
So, if you ever asked yourself how to start a new life with nothing, while at the same time you have some of the skills that GCC countries need, here is the answer.
If you have the knowledge GCC employers are looking for — and can survive excruciating temperatures during summer — they will provide you with all the basic needs plus a comfortable salary.
Industries like finance, air transportation, and Oil & Gas actively seek western professionals to fill both entry and managerial roles.
What do you need to live in the UAE?
There are multiple sets of skills and qualifications that can land you a good job in Dubai, Doha, or Abu Dhabi. Any of these will soar your chances:
Naval engineering
Petroleum engineering
Pilot certification
A Tourism and Hospitality degree or certification
Aerospace engineering
Experience in Financial Institutions
What makes the UAE/Qatar/Bahrain some of the best countries to start a new life?
Good air connectivity — even though the UAE has less than 10 million inhabitants, it has 2 of the world's largest airlines. Qatar also has a national carrier with a global reach.
The GCC countries are among the few in the world with no personal income tax.
Above-average salaries.
Disadvantages of living in the UAE.
High living costs (if you are looking for a temporary place, compare accommodation prices on HostelWorld and Trivago).
Scorching heat during half of the year.
Cultural idiosyncrasies that may cause a considerable cultural shock — although in the UAE or Bahrain they are less evident than in neighboring countries like Saudi Arabia.
Best Country to Move to Start Over as a Student: Canada
While Canada is the second-largest country in the world, here we will focus on a specific region called Saskatchewan.
It is a province larger than France but with little over one million inhabitants. This means lots of land and prairies.
If you got a degree and would like a bucolic life, this is a good place for you. They offer tuition reimbursements of up to 20,000 Canadian dollars.
Saskatchewan's Graduate Retention Program was created to convince young people to remain in the province once they finished their studies. It's now used as a recruitment tool to bring in young professionals from around the world.
Besides the tuition reimbursement, the region offers a tax rebate of up to $20,000 to its inhabitants. The amount depends on what is your diploma and is paid over seven years.
Other attractive places for students in Canada are Montreal, a city known for its safety, and Vancouver.
After getting a degree and a job in Canada, a lot of people aim to stay and get permanent residence. Nowadays, it's possible to become a Canadian citizen through common law marriage in Canada (mariage de fait au Canada), which allows getting permanent residence if you live with your Canadian partner in a conjugal relationship at least for one year.
Due to its high standards of living, Canada became also a retirement destination for Americans.
What do you need to live in Canada?
You are eligible for the Graduate Retention Program (GRP) rebate if you:
What makes Canada one of the best countries to start a new life?
Saskatchewan has a lower cost of living than more urban areas of Canada.
Disadvantages of living in Canada.
High taxes.
Specialized requirements in terms of skills and qualifications that are eligible for the immigration program.
Easiest European Country to Move To by Ancestry (In Europe): Italy
I will start the section about Italy by stating a fact: there are places there where you can buy real estate for 1 euro. Italy (more specifically Milan) is also one of the cheapest places to fly into Europe coming from America and has two cities among the best retirement destinations in Europe.
The sale price is a symbolic value for abandoned houses and train stations. While the prospective owner of these properties would need to invest in renovation, local governments often offer extra help.
The Sicilian town of Troina, for example, offers successful applicants a "restyle bonus" of up to €15,000, plus another €10,000 for energy efficiency upgrades. There is a requirement for a €5,000 deposit, but they return it to you once renovations are done.
Besides Troina, there are dozens of other cities or villages with similar offers, like Augusta in Syracuse, Taranto in Puglia, Bivona in Sicily, Maenza in Lazio, and Nulvi in Sardinia. There is even an option in the middle of the alps, in the village of Oyace in the Aosta Valley.
Moving to Italy by ancestry
You may very well be eligible for Italian citizenship by birth, as are the majority of persons of Italian heritage. All you need to do is demonstrate how the right to claim Italian citizenship was transmitted from an ancestor who was born in Italy to you under Italian law.
The incentive for descendants of Italians to move back to Italy is one of the government's strategies to solve one of the worst population collapses in Europe.
Prior to August 15, 1992, Italian citizenship was restricted; in order to acquire citizenship in another nation, an Italian-born person had to relinquish their Italian citizenship. Due to their country of birth, children born to Italian citizens in the USA or other nations that recognize jus solis (by the soil) acquired dual citizenship.
Given that Italy follows jus sanguinis, you can claim citizenship by ancestry (by bloodline). All you need to do is to prove that your Italian ancestor was, in fact, a citizen of Italy or had the legal capacity to do so at the time of their birth. This citizenship by blood can subsequently be transferred down the lineage to the next generations.
What do you need to live in Italy as an investor?
If you want to join the 1-Euro Houses program, what you need is:
Plan a restructuring and revaluation project (often within 365 days of purchase).
Support notarial fees for registration.
Once you have all the permits, start the work within the time decided by the municipality.
To guarantee the correct execution of the works by the buyer, the municipality asks to take out a surety policy of between €1,000.00 and €5,000.00. The policy expires at the end of the completed works, usually within 3 years.
And, of course, 1 euro to buy the property.
What makes Italy one of the best countries to start a new life?
Since most of the properties in the 1 euro program are in rural areas, the cost of living is lower than in urban regions. The job prospects are also meager, so it appeals more to remote workers, investors, or pensioners.
Disadvantages of living in Italy.
At least to purchase a house in the 1 euro program, the person needs to present a well-rounded renovation plan. The investor also needs to handle the purchase bureaucracy, and Italy is quite a bureaucratic country by European standards.
Best Country to Move to Start Over with a Small Investment in the EU: Poland
There are 2 ways to move to Poland without having money.
One way is similar to what I did. I opened a business, and Poland is one of the countries with the smallest financial requirements for obtaining an entrepreneur visa: 100 000 zlotys or more — this is equivalent to €22,000. (Here you can compare it with the requirements of other European countries for an entrepreneur visa).
But wait! You told me about having no money and now you are talking about 20K euros?
Yes. But you don't need to have this money in your account. Poland is a stable country with an attractive economy. With a decent business plan and some pitch training, you can find investors. That is what I did.
The second way to move to Poland with no money is to work in IT.
IT professionals in Poland are well-paid when compared to most professions because there is a deficit in qualified people, and the tech industry in the country is booming. This results in industries sourcing talents abroad.
What do you need to live in Poland?
A good business plan that will convince investors to buy your idea, and convince the government to grant you an entrepreneur visa.
OR
Qualifications and skills in IT and project management.
What makes Poland one of the best countries to start a new life?
PS: Uber there is also quite cheap, in case you need it.
Disadvantages of living in Poland.
If you are thinking about moving to Poland, remember that Colligere Expat Consultancy can help you with that.
What Is the Best Country to Move to Start Over? Conclusion
The reason why each of these countries was chosen, you can check in the paragraphs above, as well as the basic requirements for immigration.
Best Place to Start a New Life in South America: Chile
Best Countries to Be a Skilled Expat: The United Arab Emirates / Qatar / Bahrain
Best Country to Move to Start Over as a Student: Canada
Easiest European Country to Move To by Ancestry (In Europe): Italy
Best Country to Move to Start Over with a Small Investment in the EU: Poland
Remember that in most cases, either to move temporarily or permanently, governments require a valid insurance policy. My favorite (and cheapest) choice of insurance provider for these cases is Ekta.
---
What about your thoughts? In your opinion, what are other places that you would place on a list of the best countries to start a new life with no money? There is also a video version of this article about places to start a new life abroad.
Subscribe to my articles (for free) and receive the digital book 20 Essential Hacks for Saving Money While Travelling.
Best Place to Visit in Europe on Each Month of the Year (2023)
The Best Lessons I Learned about Moving Away from Home (After Doing It 14 Times).
If you wish to become a Medium member and have access to articles like this, check this link. It is only $5 per month.
---
Levi Borba is CEO of expatriateconsultancy.com, creator of the channel The Expat, and best-selling author. You can check his books here, his other articles here, or his Linkedin here.