Is Vancouver, a densely populated urban center, a safe choice for tourists?
Canada is known for its friendly people and hospitality, but did you know that it's also home to the fifth most livable city in the world? Vancouver is surrounded by magnificent misty mountains, blessed with shimmering sea sunsets and striking foliage all year round! Still, beauty can come in tandem with danger (Rio is proof of that), so, is Vancouver safe?
Vancouver can cater to just about any interest. Are you looking to shop until you drop? What about wine and dining? Are you ready to experience live electric entertainment? Or how about adventuring in the wide open outdoors? Don't worry. Vancouver has got what you need.
It is one of the best places in the world for international students (although, differently than Saskatchewan in Canada, they will not pay you to study there), and also one of the top destinations to study medicine. We also wrote a guide about Canada as a retirement destination for pensioners and remote workers.
Alright, so I know what you might be wondering – what's the catch? Although Canada is one of the cleanest and safest countries in the world (even some of the safest cities in Mexico, like Guadalajara, are more dangerous than Canada), some curious tourists may also be asking:
How safe is Vancouver?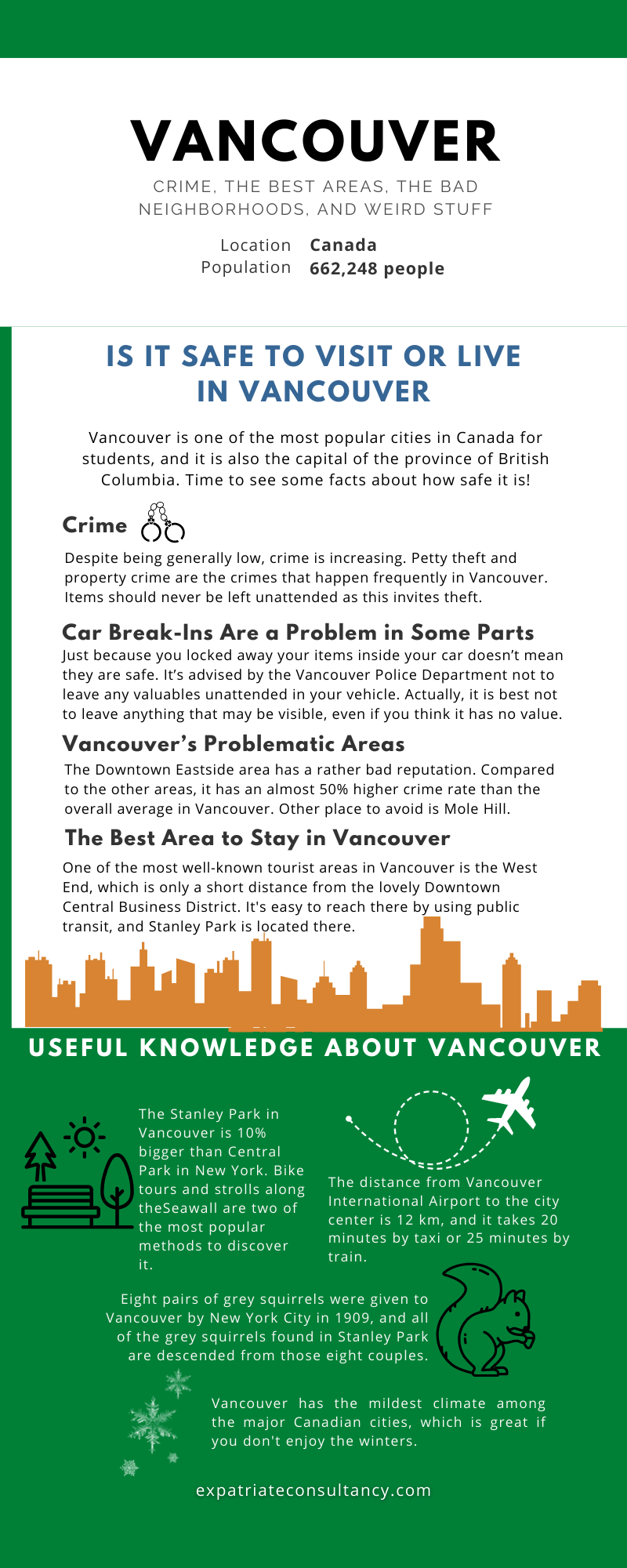 Vancouver overall is a generally safe place for any tourist to visit. For being such a large and densely populated urban center, Vancouver is mostly without major crime. But like any major city, you should always take the appropriate precautions. In this article, we'll dive deeper into how safe the city is, areas you have to see, places you should avoid, and what downtown Vancouver offers.
So if you want to find out if Vancouver is the right destination to visit, you've come to the right place!
What Is The Crime Rate In Vancouver, Canada?
When you want to look at the crime rate in Vancouver, you almost have to break it up into two categories: Vancouver and Metro Vancouver.
Overall, in Vancouver, although some minor crimes are reported, major violent crimes and assaults are rare. Personal safety when walking alone down the streets is very good, especially when speaking about tourists.
That being said, Vancouver isn't without its problems (just like Montreal, which we covered in this article, or Toronto, that we covered here). Although crime is moderately low, it is on the rise. The crime that is common in Vancouver is petty theft and property crime. Leaving items unattended invites them to be taken. That means, even if you're going to step away for one second, you should always have your belongings on or right next to you with a vigilant eye.
Another crime wave that is trending is car break-ins.
Just because you locked away your items inside your car doesn't mean they are safe. It's advised by the Vancouver Police Department not to leave any valuables unattended in your vehicle. Actually, it is best not to leave anything that may be visible, even if you think it has no value. Something to note is that a car break-in is not likely to happen where there are many people around.
I know that all sounds a little scary, but good news exists. The trend of car thefts has recently dropped over the last couple of years, and it's looking like 2022 will follow that same direction.
Number of Incidents
Vancouver is the largest city in British Columbia, Canada. And with every major city, there will be some bad apples. But relax. You shouldn't worry too much if you're heading to Vancouver.
Canada has a reputation for being welcoming and friendly. By taking these few precautions, you can rest assured that you won't likely have anything broken into or have any valuables stolen.
So what is the crime rate in Canada?
Vancouver's crime rates are higher than the national average.
However, violent crimes are 6% lower than the average.
Compared to British Columbia, Vancouver's crime rates are 12% lower.
Vancouver is safer than more than half of the cities in Canada.
Crime rates in Vancouver are dipping year over year by 5%
In the next paragraphs, there are some important key takeaways if you are visiting or moving to the city. Take note of them, especially the districts mentioned.
Bad Areas of Vancouver
Okay, so you're headed over to visit Vancouver for a few days, and you might be wondering, what are the bad areas of Vancouver?
As mentioned before, Vancouver is relatively safe and very livable. It also ranked the #6 city in the world for health and safety! That being said, some bad neighborhoods have higher crime rates, such as Downtown Eastside, Mole Hill, and Historic Japantown. While these aren't places tourists should avoid at all costs, you'll have to be more careful when traveling with valuables or walking alone at night.
Top 3 Bad Areas of Vancouver
1. What is Downtown Eastside Like?
Depending on who you ask, Downtown Eastside is an area that covers anywhere from 10-50 blocks in size and sits a few blocks east of Downtown Vancouver's central business district. Hence, "Downtown Eastside." This is one of the oldest areas in Vancouver, along the intersection of Main Street and Hastings.
The Downtown Eastside area has had a rather bad reputation for some time now. Compared to the other areas, the Downtown Eastside has an almost 50% higher crime rate than the overall average in Vancouver. This place isn't dangerous to pass through during the day. Still, drug addicts and an increasing homeless problem make things a bit erratic after sunset.
2. What is Mole Hill Like?
Mole Hill is a small Vancouver area with deep history and heritage. Unfortunately, this area is one of the most crime-ridden areas. Mole Hill scored almost twice as high compared to the rest of the national average. Here in this small community with a population of about 500, you have a 1 in 13 chance of becoming a victim of crime. Once again, if proper precautions are taken, you will be fine. The risk of encountering danger while traveling through this area is low, just try not to travel alone and always keep an eye on your possessions.
Daily Crime in Mole Hill, Vancouver per 100,000 People
3. What is Historic Japan Like?
The area has a population of about 6,000 citizens. Still, it makes up a large percentage of the crime rate in Vancouver. A lot more tension was added to the area once the pandemic hit. This area was one of the hardest-hit regions in Canada. Not only that, but a lot of fear and uncertainty about the origin of Covid-19 contributed to a lot of Asian discrimination.
Bad Areas of Vancouver
Things are starting to shape up in these bad areas. Renovations and a lot of funding are coming in to try and preserve these historic regions as national landmarks. These areas shouldn't sway you from visiting Vancouver's fantastic cultural hub. Just mind essential safety tips, and you'll be fine!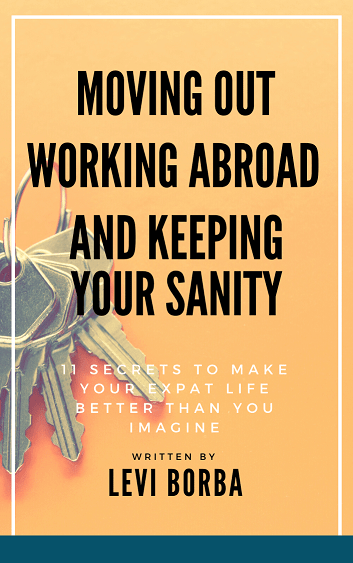 Where To Stay In Vancouver?
Vancouver is a top destination for outdoor adventures such as hiking, boat rides, and even a "skip" in a seaplane! Vancouver is swimming with all types of ethnic foods, top-notch shopping, and great sightseeing. But while you're there, check out Downtown Center, Gastown & Chinatown, and the famous West End!
There are some excellent and (surprisingly!) inexpensive hotels in the best areas of Vancouver. You can find them below.
Downtown Center
If you're checking out Vancouver, you'll most likely spend some time in the Downtown area. The City Center is where you'll find several suitable hotels down the Financial District. Many travelers are in this part of town for business. Still, even tourists should consider staying close to the fun, where you'll find excellent public transportation to get you around!
Gastown & Chinatown
While visiting the largest city in British Columbia, you'll have to check out some of its oldest architecture in Vancouver. This area is beaming with life and has a history all over its cobblestone streets and Victorian buildings. There's a great photo op at the Gastown Steam Clock that bursts with hissing steam every 15 minutes on the dot. You'll also find tons of souvenir shopping and fabulous authentic ethnic restaurants and bars!
The West End
Located just a stone skip away from the beautiful Central Business District Downtown, the West End of Vancouver is one of the most famous destinations for tourists. It's straightforward to get to using public transportation and houses the most famous tourist attraction in the entire city, Stanley Park.
Is Downtown Vancouver Safe?
Downtown Vancouver is where it's at if you're looking for a booming, trendy, and top-rated urban center. In Downtown Vancouver, you can rest easy knowing that it's ranked one of the safest places to visit in the world! As of late, it's been a hub for young business professionals of all types to meet up and connect.
Just remember, as mentioned previously, to avoid Downtown eastside.
In the other parts of Downtown Vancouver is where you can shop at the epic Pacific Centre Shopping Mall, check out the latest art and fashion at the Vancouver Art Gallery, and also explore the Vancouver Public Library. Some curious good news: Uber rates in Vancouver are far cheaper than in large American cities like NY.
You'll be able to enjoy all of what Downtown Vancouver offers and feel safe and secure while doing it. This place is fantastic and a must-visit if you're thinking of having a stay in British Columbia, Canada. So join the over 8 million people visiting this city every year
Ps: If you are still in doubt about a move to Vancouver or another city, check out our Expat Living City Guides, with information about cities for expatriates and digital nomads all over the world!
Other Tips for Visiting Vancouver
1st — If you are visiting the city, there are plenty of options in terms of luggage storage, so you don't need to walk around with your carry-on bags. Reliable, convenient, and inexpensive luggage storage services you can find at Radical Storage.
2nd — Areas surrounding airports and train stations can be dangerous.  Book a transfer in advance from the Vancouver International Airport (or from any station) to your destination and vice versa, so you can avoid scammers and criminals. I often used Get Transfer for that and it always worked fine.
3rd — If you want to walk around and see some historical spots without the risk of getting lost or wasting your time, hire a guide. You can find some amazing and reliable guides and tours at Viator. They will give you insider information about historical facts and curiosities, and also warn you of risky areas and keep you safe.
4th—Stay in a good hostel. Hostels are usually in the safest parts of cities, unlike hotels. Most hostels have private rooms that are as comfortable as a hotel, plus a friendly staff to give information. When looking for hostels, I visit Hostelworld and filter for those above grade 7.
---
If you enjoyed this article answering the question Is Vancouver Safe? here are a few other reading suggestions for you:
Is Buenos Aires safe? (Nearly everyone gets it very WRONG)
The Most Violent Cities in Europe BY COUNTRY
THESE Are the Cheapest Cities to Fly to In Europe
Levi Borba is the founder of the Expatriate Consultancy, creator of the channel The Expat, and best-selling author. Some of the links of this article may be affiliate links, meaning that the author will have a commission for any transaction.